< Back to News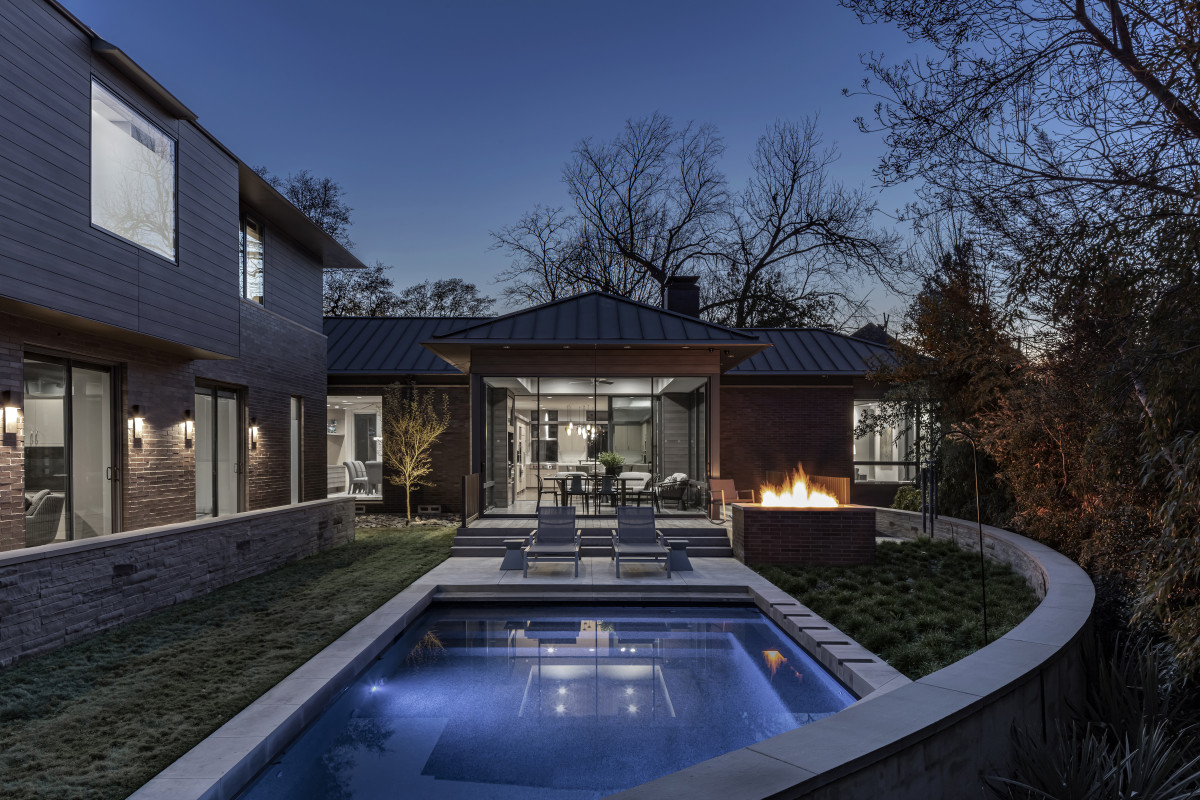 40 Years of Redefining Outdoor Spaces
The History of Bonick Landscaping
Toting his Snapper lawnmower around North Dallas with his WT White High School buddies, Glenn Bonick had no idea what paramount success was in store for him. When his friends went off to college, Glenn stayed behind and continued to grow his business. One day, a client asked if he could build a hot tub and a gazebo for them, and he did so without previous knowledge or experience. Little did he know, it would be the inception of his company's landscape construction legacy. Forty years later, and he's still in awe that his humble, one-man operation has blossomed into a local luxury brand, with a nearly 100-person team, redefining outdoor spaces for the upper 1% of DFW estates.
But, as many company founders have learned, success often takes time, sacrifice, trial and error, and a lot of creative problem-solving. Glenn admits that he was too  'hands-on' in the beginning. "When I finally stepped back and let others lead, I quickly realized I should have let go and let others be successful a lot sooner." Of course, it's easier to relinquish the reigns when you are discerning about building your team—only pristinely skilled artisans, designers, innovators, forward-thinkers, organizational wizards, scientific sleuths, and team players need apply.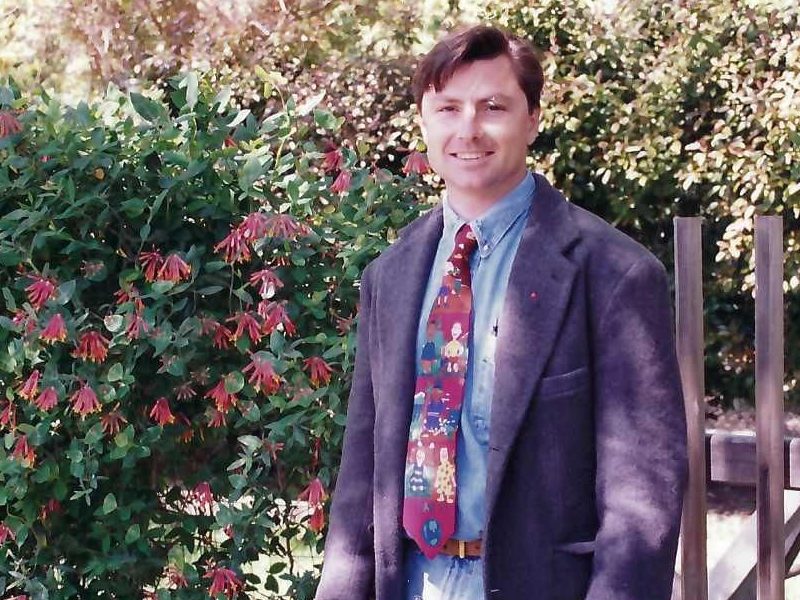 What Sets Bonick Landscaping Apart
In addition, the team at Bonick Landscaping marches to the beat of a well-oiled, client-centric, family-friendly drum. In order to perfect the art of outdoor spaces, Bonick's core values are lived out daily. They attribute this practice to their overall success—not only within their staff, but with their families, clients, contractors, vendors, and collaborative industry partners.
Bonick Landscaping's Core Values
1. Practice Servant Leadership
At Bonick, every employee is expected to support and encourage their teammates to succeed—by serving, you are also leading.
"Teamwork requires trust, excellent communication, and personal accountability.  I enjoy this because this allows us to maximize our efficiency, focusing on our strengths, and providing the client with a seamless and dynamic creative process." – Tom Nugent
The same holds true for collaborative relationships with their respected industry partners. When collaboration is done right, it becomes harmonious, where the work of one echoes the other and the end result is a seamless symphony of design.
John Hawkins of Hawkins-Welwood Homes believes that "by selecting collaborative partners who uphold similar values, everyone accepts mutual responsibility, and joint success evolves naturally." (He also notes that when working with Bonick, he also doesn't have to spend his time trying to solve a problem.)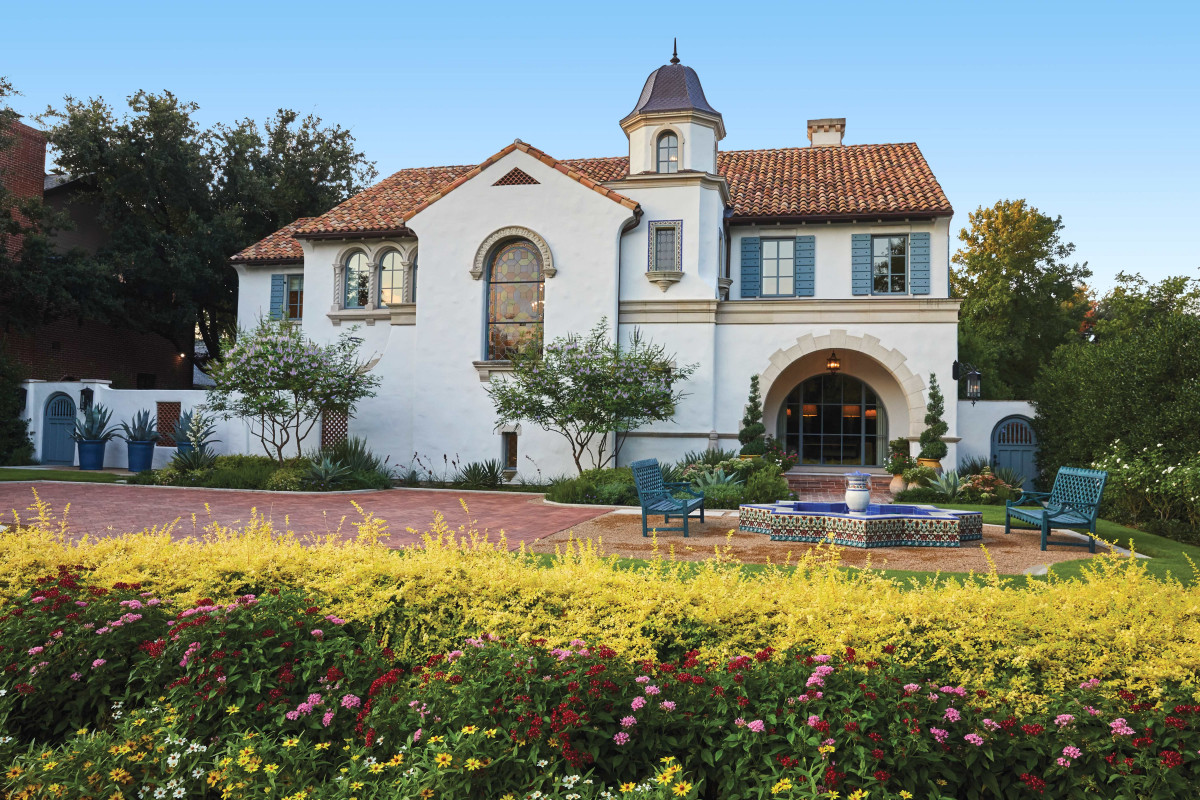 "Bonick's native plant selections beautifully complement our home. Their installation was flawless and maintenance has been perfect. It's no wonder people stop us on the street and ask who created this landscape." – Karen and Harry
2. Pursue excellence.
Pursuing excellence is about getting better every day. It's a belief that one should always strive to improve. The end result is reflected in Bonick's impeccable attention to detail. Whether it's meticulous logistics or superior craftsmanship, it's a key ingredient in the coveted recipe resulting in Bonick's numerous local and national awards in both service and design.
Bonick's exquisite Hill Country-style Ursula project featured a series of divinely-detailed, interconnected outdoor spaces that won them the prestigious Grand Award of Excellence for Residential Design from the National Association of Landscape Professionals in 2017.
Architect Bentley Tibbs attests that Glenn and his team's strengths lie in their "ability to edit down to the essentials, focus on the details , and forecast the future of a design and how it will evolve over the years." It's this forward-thinking design mentality that makes Bonick masters of their modern craft.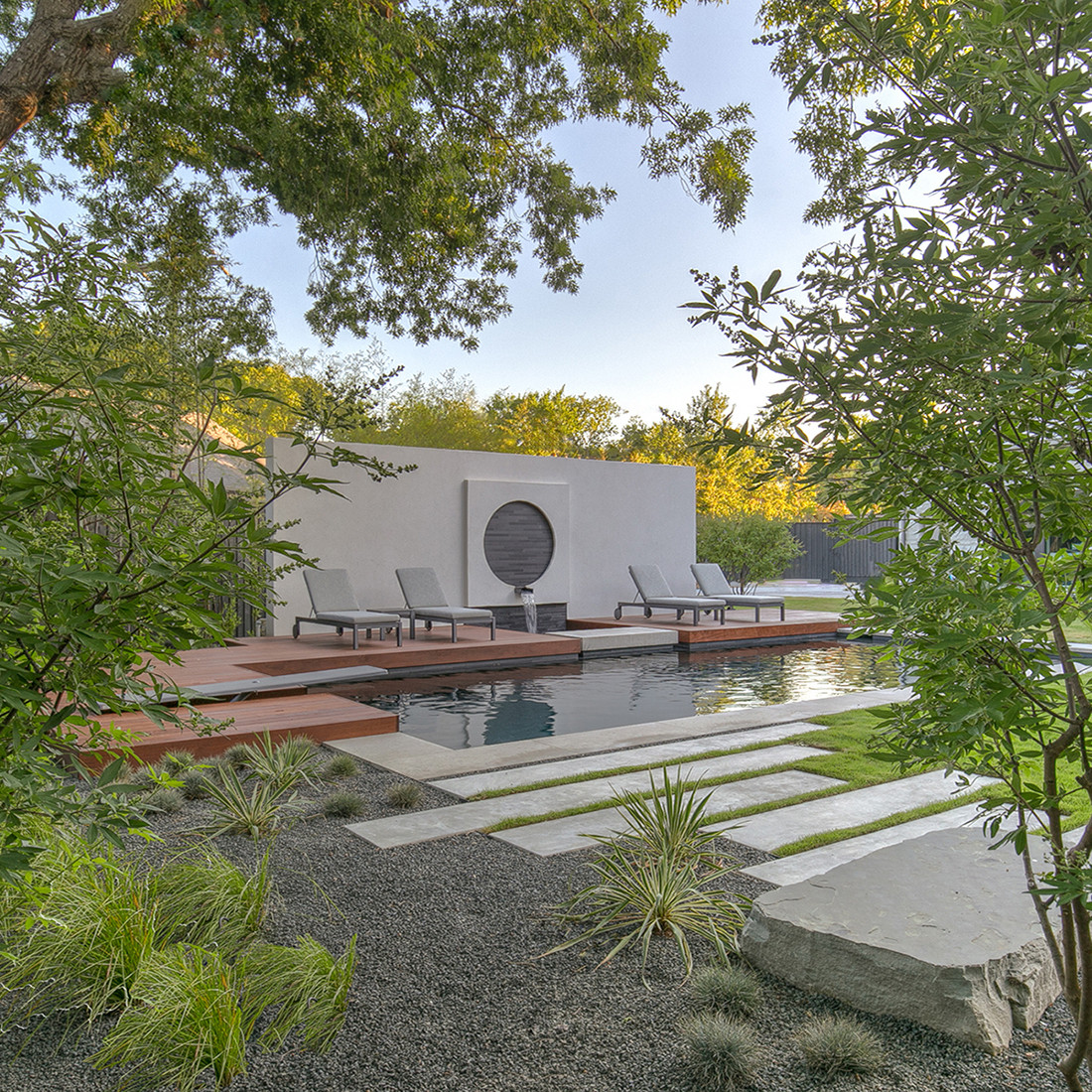 The soft, subtle, yet stand-out details of this serene outdoor space in collaboration with architect Bentley Tibbs, builder Mark Siepela and interior designer, Alice Cottrell intertwines a variety of complementary textures to achieve backyard bliss for years to come.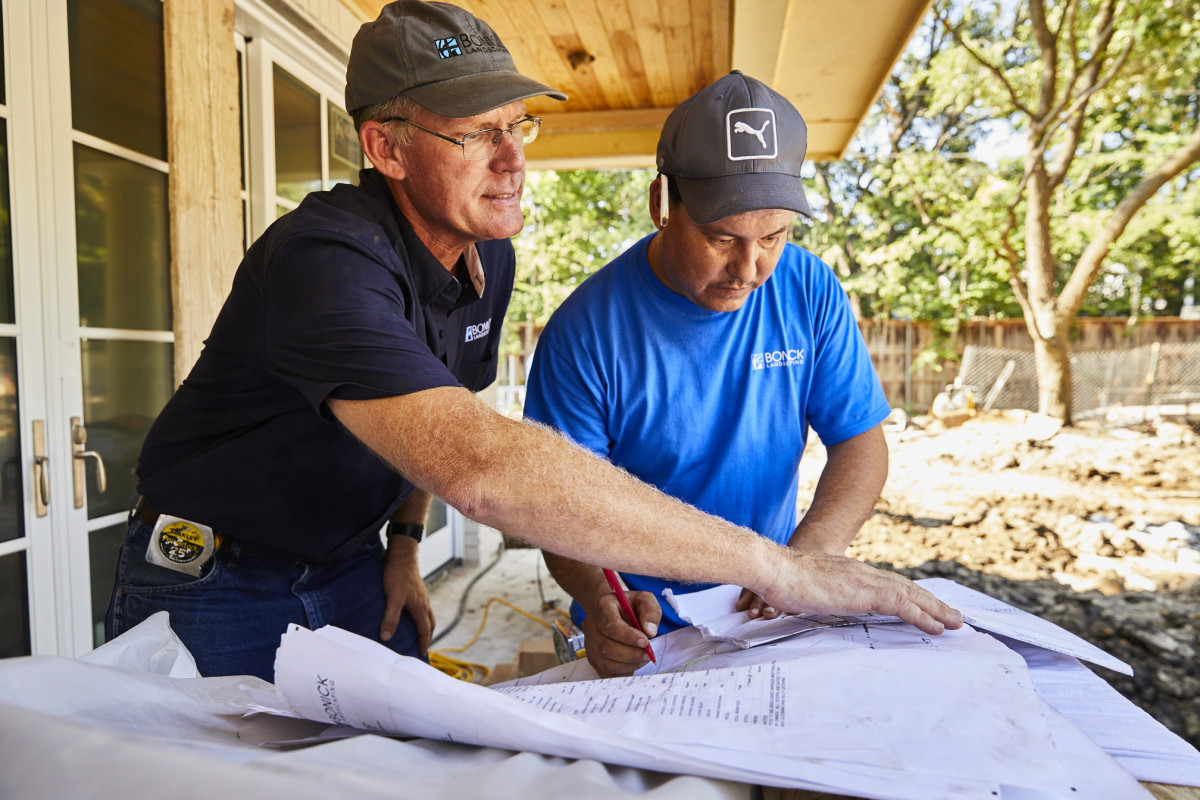 3. Be a creative problem solver.
A leading innovator in their field, they strive to challenge themselves to stay current in their knowledge—both horticulturally and within their construction practices. Whether it's diagnosing mysterious turf issues, perfecting an eco-friendly custom feature, or rallying together to salvage plants and assist clients with frozen pipes after an unprecedented freeze,  the team at Bonick excels at resolving any challenge thrown at them.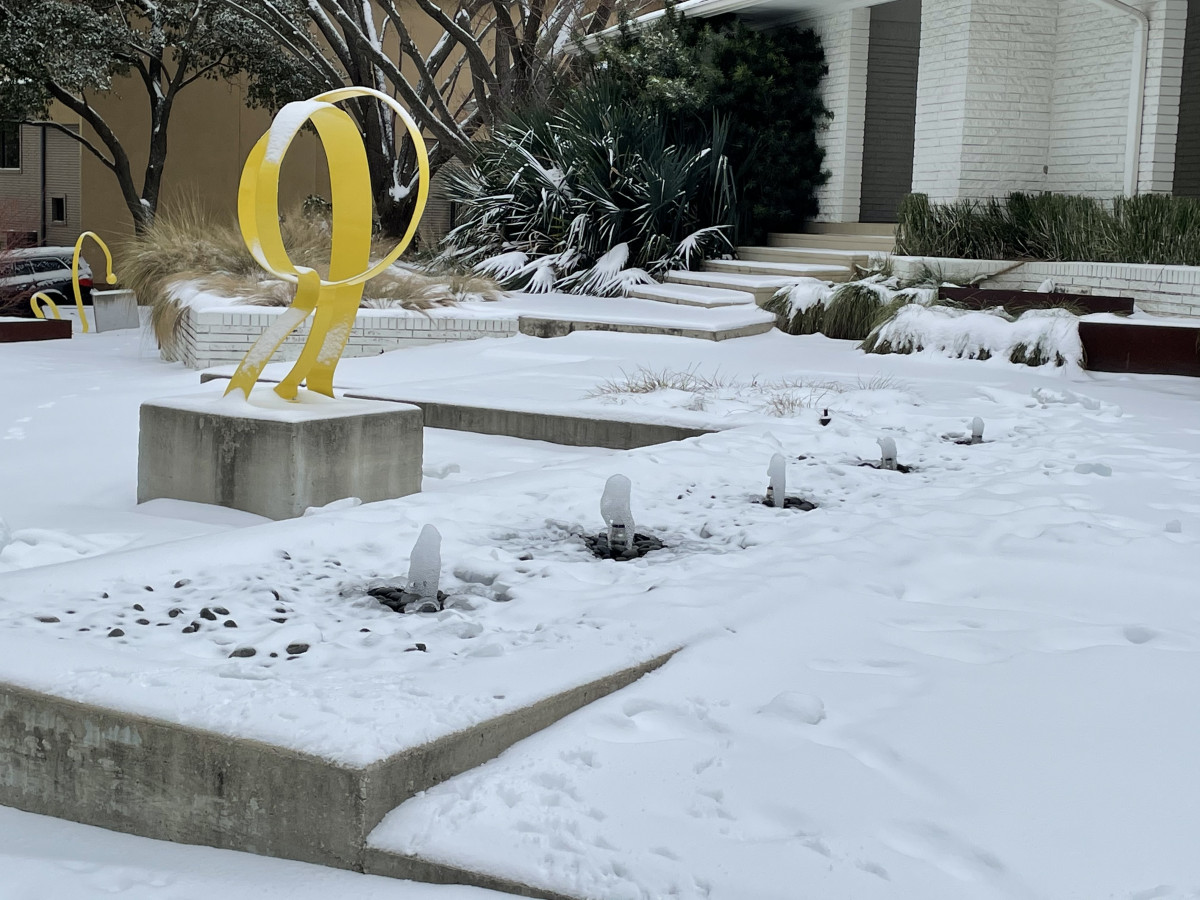 "We are a can-do company. If we receive a request for something we've never done before, we say, 'Sounds great—let's figure out how to accomplish it!" – Glenn Bonick
The team at Bonick not only works together to correctly identify and agree upon the challenge needing to be solved, but they pursue a unified approach to decide upon the best solution before carrying it out.
"I ask questions and provide alternate solutions. If they request a correct plant, but in the wrong place, I work with them to inform them about plant survival in shade vs sun and explain how planting in the correct location improves plant performance. Sometimes I also have to provide plant alternatives…Some things look great on paper but aren't always the most practical solution." – Ralph Edge
4. Embrace team/family first
When I've interviewed the staff at Bonick, the common denominator is always an enthusiastic discussion about the family-oriented culture within their workplace.
"We treat each other as family—we essentially adopt one another and take time out of our day to help each other out. In the corporate world, people come and go and keep their distance. Here, it's family." – Lisa Tran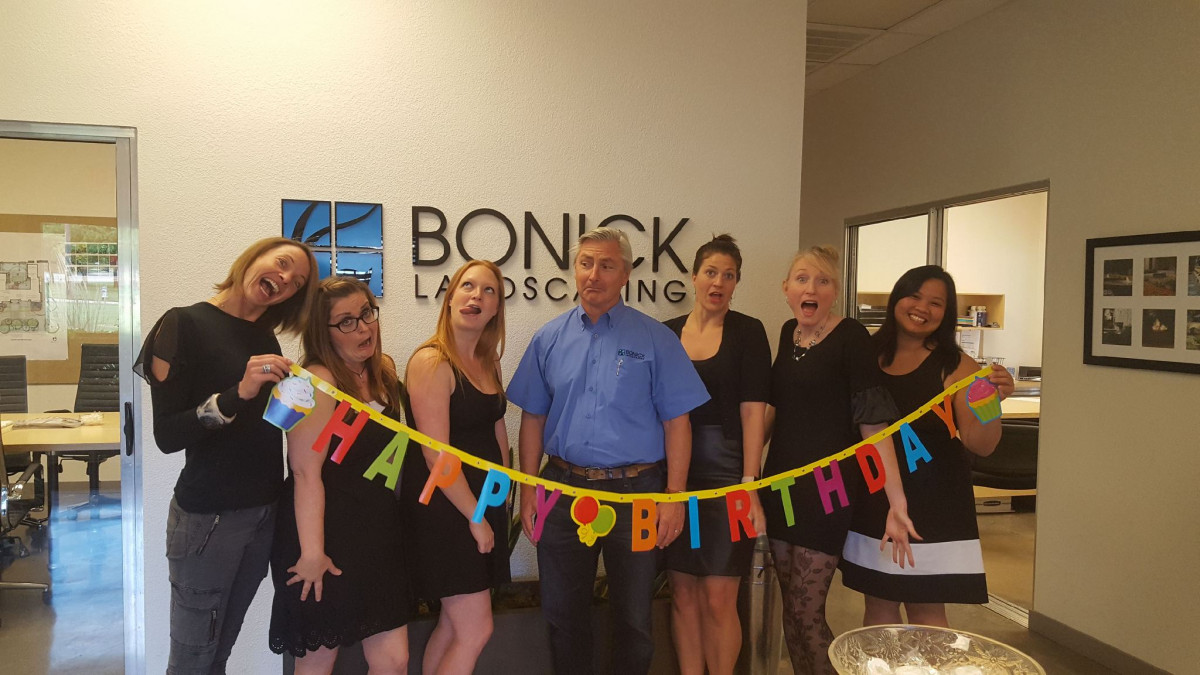 Bonick is a very family-oriented company, both in terms of seeing their team as a family, as well as acknowledging the importance of their real families to their happiness and well-being. From a company perspective, they embrace each other's strengths and work together to compensate for each other's weaknesses and pursue the joint goal of success.
"There are many moving parts and pieces to each role that may have the same outcome—it's just that one person may be the grease, the other the wheel, and another the axle. Overall, the wheel moves, but it takes a team effort." – Brandy Salinas
From a family perspective, it means always striving to work "smart" so that a  balance can be maintained. Having the opportunity to relax and recharge away from work is a big part of one's general well-being, as well as productivity. In fact, it's this mentality that is at the heart of Bonick's design sense when creating their notably tranquil outdoor spaces.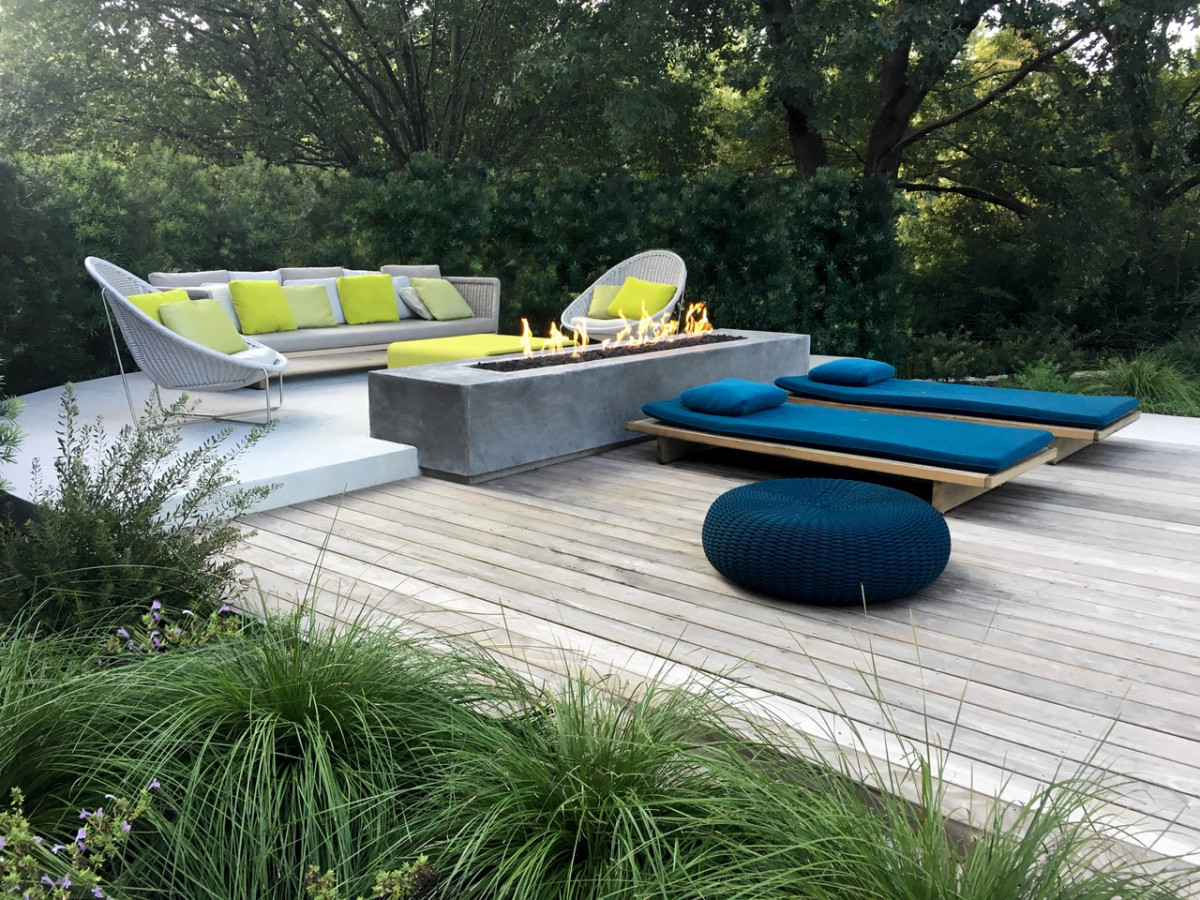 "Bonick created a truly serene place of beauty and harmony where we can disconnect, reflect, and restore the balance in our lives." – Julie and Elliot
5. Be professional and accountable.
"Above all, we hold respect for one another.  We listen, communicate and problem solve as a team." – Michael Pappas
Accountability fosters and builds trust. Trust is crucial both with each other and with clients. However, between the unpredictable North Texas weather, material shortages, and various situations out of anyone's control, squeezed deadlines and other challenges are sometimes unavoidable. Instead, the team at Bonick focuses on the things they can control, such as respecting others, taking responsibility for themselves, their attitudes and actions, how they treat and support each other, and how they approach and solve their collective challenges together as a team.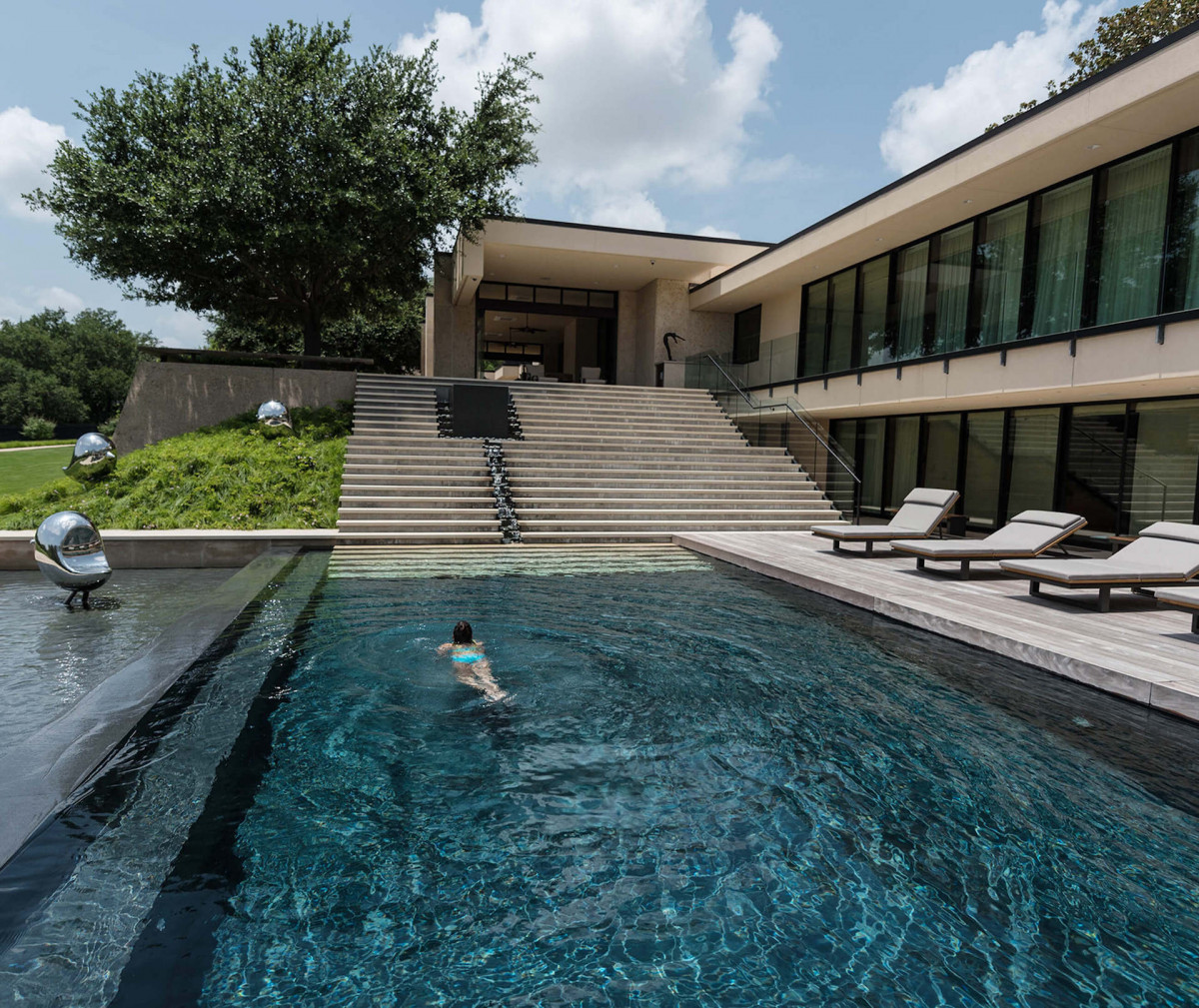 This award-winning collaborative renovation of a Fort Worth mid-century modern estate with Hocker Design Group required considerable investigation to execute its substantial level of details. Innovative features include a motor court with biological water feature and koi pond, numerous large-scale sculptures, concrete blade walls, a cobblestone dancing deck fountain, an exposed aggregate fire pit, and a swimming pool of black granite with a water feature and dual negative edges.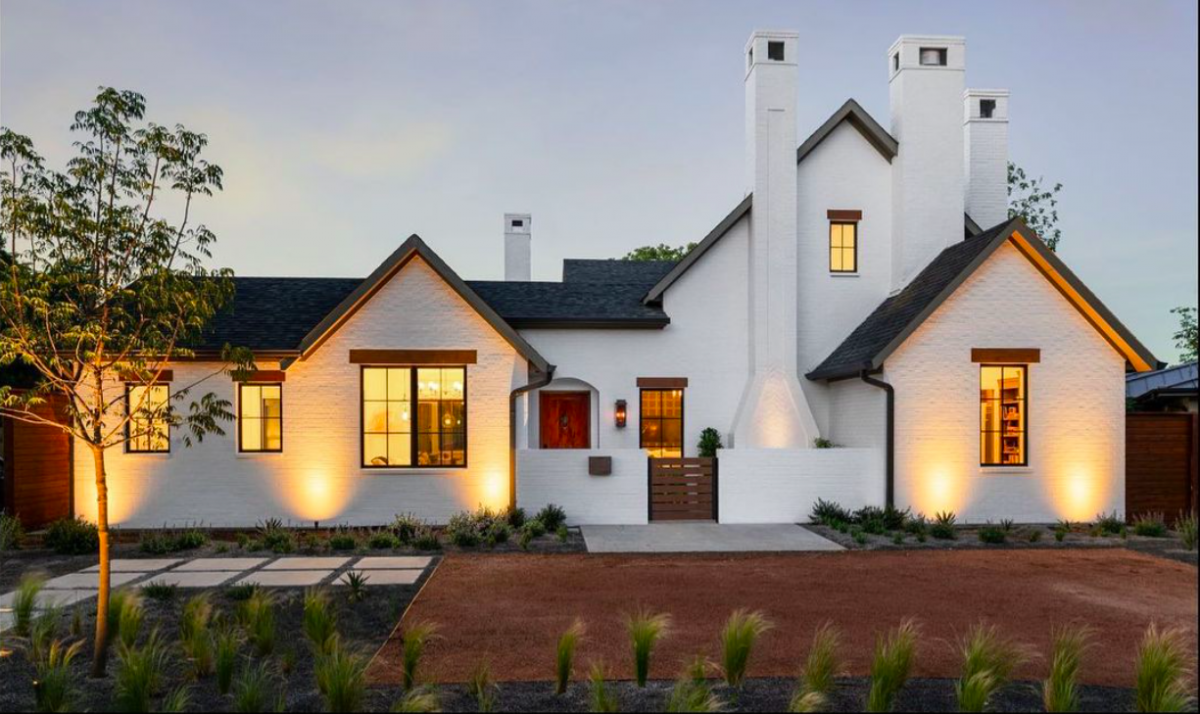 "Working with Bonick is the seamless process we enjoy, as they catch the vision for our design quickly and contribute creativity that enhances the project according to their expertise.  The design-build approach allows my clients to rest easy, knowing that the end result will match what has been conceptualized.  I personally love how their solutions are unique and fresh, which exposes the thoughtfulness and talent of Bonick's team." – Sarah Harper, Harper Design Projects
Furthermore, they aim to maintain consistent communication with their clients, and their clients, in turn, show their appreciation through their continued loyalty. From listening to their requests, offering alternate solutions, working with their schedules, and keeping them updated on the project, client-relations is an essential part of the Bonick process.
"In the beginning, I learned how important it was to actively listen to clients and get to know them so that I could get a clear understanding of what they wanted, and also to anticipate their needs. As the company has grown, I learned it is just as important to keep employees happy as it is to keep clients happy—probably more so." – Glenn Bonick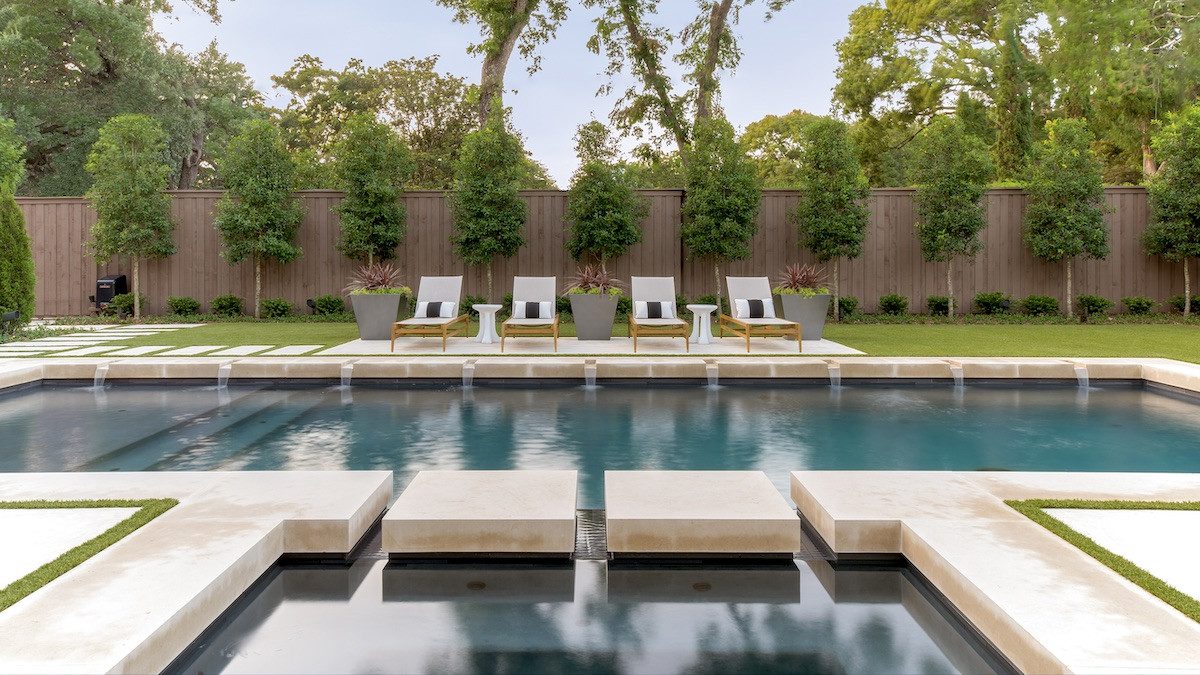 "This was our second pool and landscape project with Bonick. Their design expertise, attention to detail, and work quality are simply second to none. We couldn't imagine doing a landscaping project with another company." – Lauren and Jonathan
2022 and Beyond
Celebrating their 40th anniversary in 2022, Bonick Landscaping brings four decades of knowledge and expertise to every project. Their drive and determination to stay ahead of the curve and produce projects of superior quality give them an edge in their ever-competitive industry; their constant pursuit of remaining at the pinnacle of innovation and design to continue providing their clients with outdoor spaces tailored to their unique personalities and aesthetics will take them into the next decade and beyond.
— by Tammy Dalke Vanderkolk

About Bonick Landscaping
For 40 years, Bonick Landscaping has served Dallas and Fort Worth area clients looking for out-of-the-ordinary luxury landscape design and pools by offering the best in service, workmanship, innovation, and plantings. Services include hardscape and landscape design, pool designs, pool construction and installation, lawn care services and garden maintenance (overall estate management), pool maintenance, and more. For discerning clients in Dallas who want to express their own distinctive style through their landscaping, Bonick Landscaping can help you realize your dream. Call us at 972-243-9673 or visit our website at www.bonicklandscaping.com.
---
You might also enjoy:
Exceeding Client Expectations: An Interview with Glenn Bonick
Bonick Landscaping Wins Houzz Design and Service Awards for 5th Year in a Row