< Back to News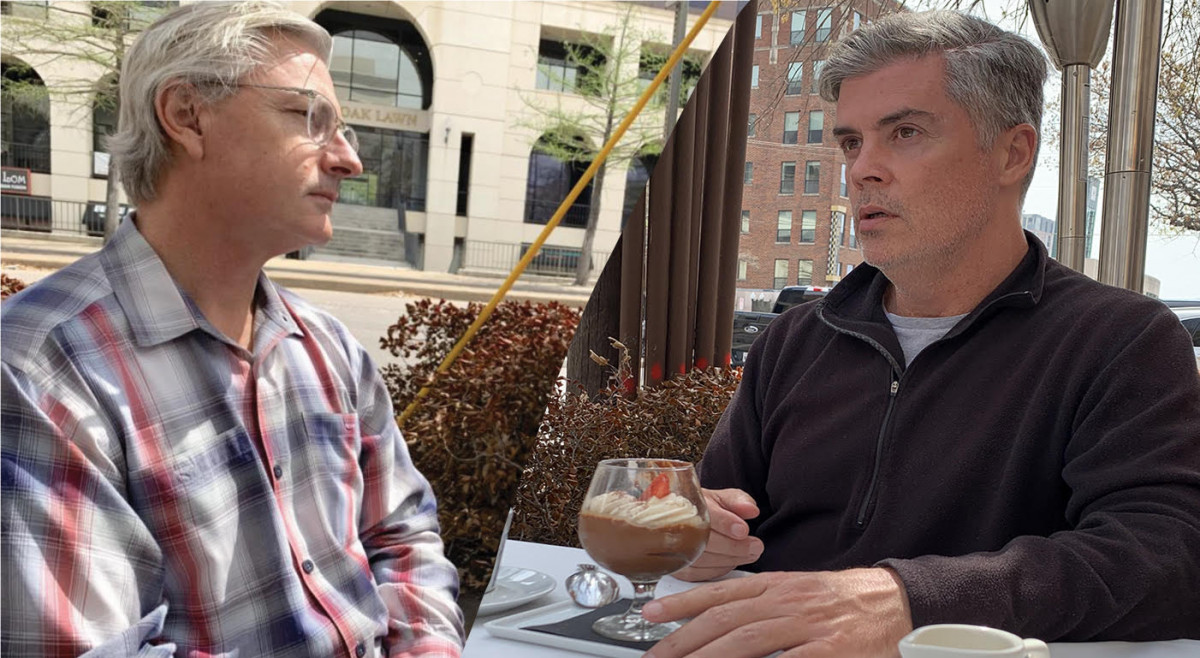 Seamless Synchronicity: A Candid Conversation with Glenn Bonick & Bentley Tibbs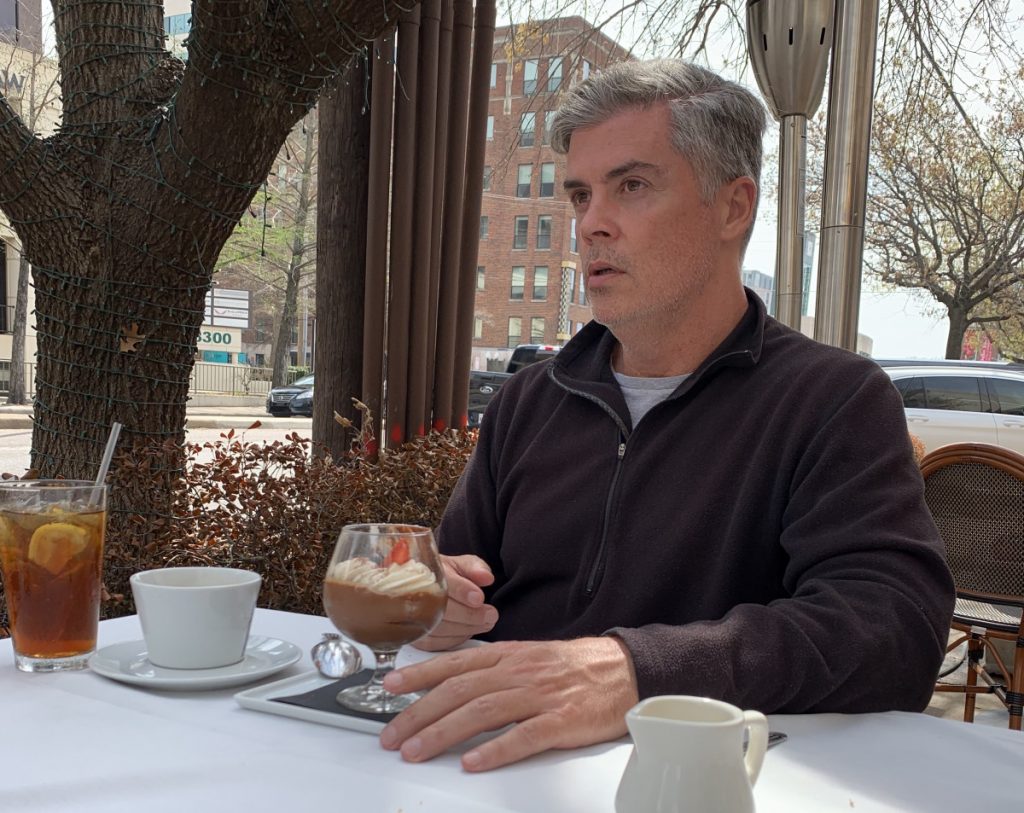 For this month's spotlight article, I set out to conduct an interview with Dallas Architect, and one of Bonick's talented collaborative partners, Bentley Tibbs. What transpired instead, was me playing witness to a beautiful collision of creative minds as Glenn Bonick, Bentley, and I dined together on the bustling street patio of Parigi. Words were often minced by the clamor of passing DART buses and delivery trucks as we bonded over crab dip, carbs, cocktails, mocktails, and eventually, decadent chocolate mousse. Captivated by the contagious creativity percolating from their candid conversation, I aimed to absorb it rather than transcribing it in its entirety or attempting to alter its course.
Instead of rattling off my calculated list of inquisitive interview questions, I silently observed a scene reminiscent of an impromptu Anthony Bourdain episode. We enjoyed fine food, intellectual conversation, and Bentley regaled us with his travel tales. I felt like a fly on the adjacent bistro chair as Glenn organically posed questions to Bentley, and I soaked in the savvy insight that these two suave, silver-streaked style makers expelled.
However, Bentley and I did have one important thing to discuss—our mutual love for our charming neighborhood (he lives two blocks from me). At the southeast corner of White Rock Lake, nestled between the Arboretum and Ferguson Road, Little Forest Hills truly is a collaborative, eclectic community. Comprised of artists, architects, designers, and intellectuals, lovers of food, wine, nature, and recreation, it is a place where people look out for one another and gather together outdoors—especially during this past pandemic year. With its rolling hills, birds, and other wildlife, it truly is a feast for the senses. Bentley made his home here in a humble 900 sq foot house that boasted a blank slate for him to work his magic (which he more than doubled in size). I've often walked my dogs past his pristine corner, admiring its clean lines and Bonick's latest seasonal installation, sometimes catching a glimpse of Bentley's treasured rose blooms peeking over the fence.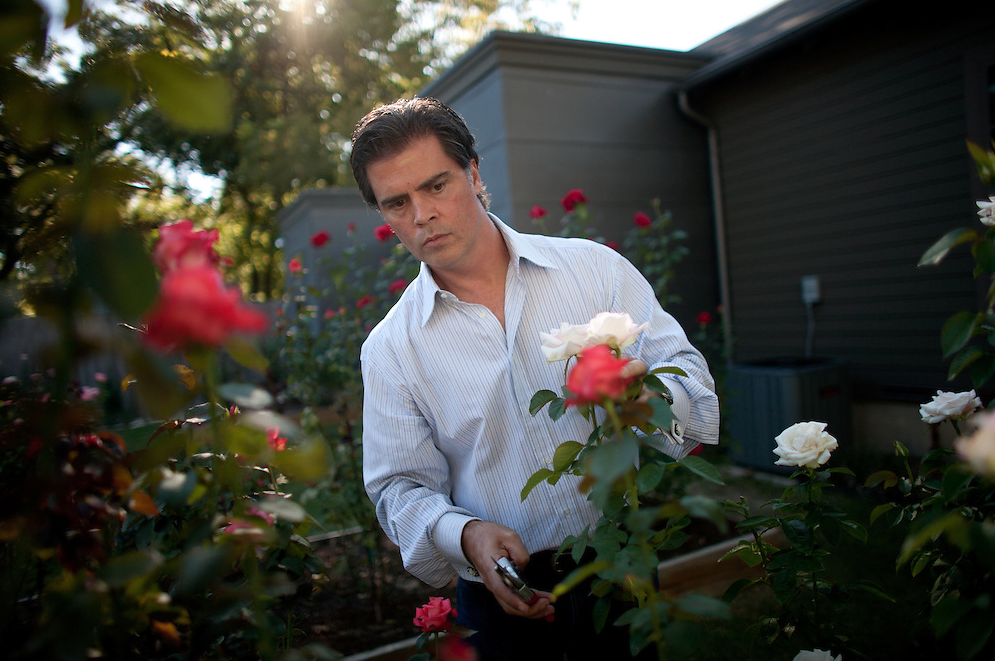 Bentley Tibbs in his spectacular rose garden | Photo by Allison V. Smith
Bentley's Formative Years
Growing up in the Mississippi delta, Bentley spent much of his childhood playing in old dilapidated buildings on the family farm Hushpuckena, informing his early influences. "Everything was old and dirty, but I thought it was beautiful. The smells, sounds, textures, the sun coming through a hole in the hay barn. There was a richness that I saw even as a kid."
But, Bentley Tibbs didn't set out to be an architect. In fact, after attending Rhodes, he studied landscape architecture at Texas A&M. (He was even part of the Aggie Bonfire leadership team!) Once he realized he was focusing more on buildings, he switched to architecture and loved every minute of it. He even studied abroad in Italy, where he gained an education and profound inspiration for the rich simplicity of building materials.
Unwittingly landing himself a job with the dean of Texas architecture, Frank Welch, Bentley learned under one of the best.
"I didn't know who he was, but my classmates suggested I go see Frank. I walked up to his office and someone happened to have left the week before so Frank needed someone. He gestured to the photos of Frank Lloyd Wright lining the walls and then just got up and left. Scared the hell out of me. He came back, silently went through photos of his own work, and told me to get started."
"What was it like to work with Frank?" Glenn inquired with eager curiosity, expressing what "a badge of honor" it was, as Frank had fostered some great architects.
Speaking of the late Frank Welch stirs up a fond, yet somber reminder of his absence and Bentley is visibly moved, pausing briefly before speaking.
"Frank was wonderful. He'd talk about architecture without talking about architecture. Luckiest thing that ever happened to me professionally and personally. When I started seeing my partner at the time, Frank said, 'If he's not good to you I won't like him.' He was very supportive when I went out on my own, too."
Bentley always wanted to be on his own, and he did so after four short, but dedicated years with Frank.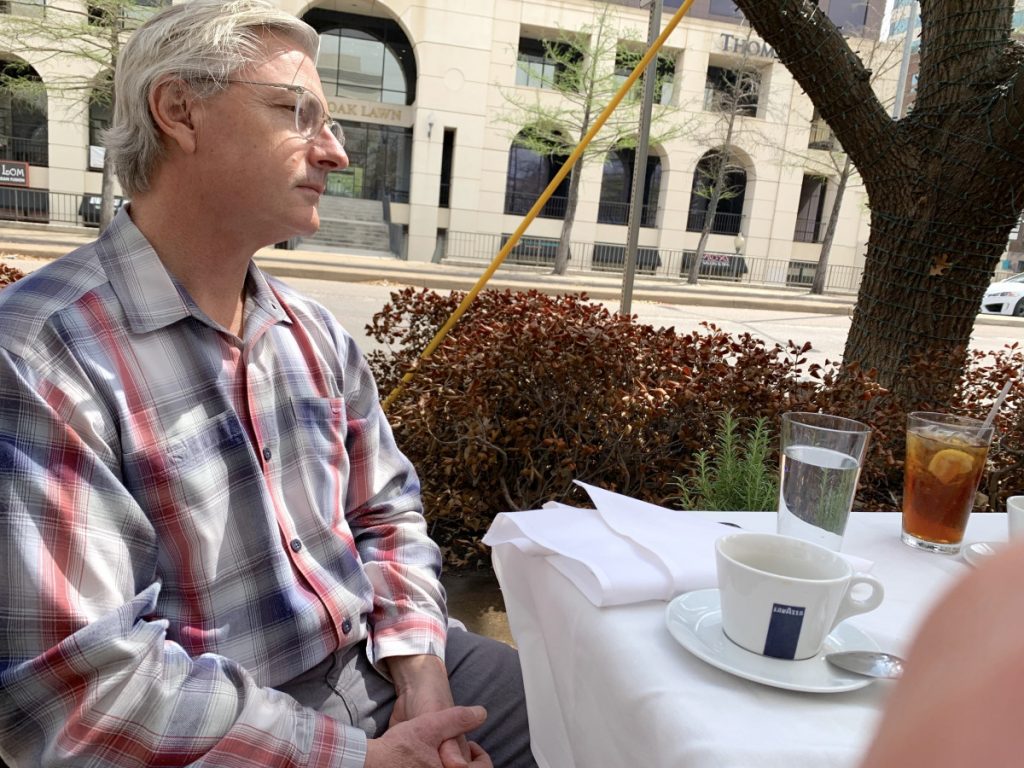 Glenn sips his coffee and inquires about Bentley's unique style. Bentley, who describes his aesthetics in terms like "lush and quiet," refers back to how Glenn and his team excel at details and reiterates how simplifying something over and over until it gets down to its most essential core can result in something amazing.
Glenn and I are flabbergasted as Bentley illustrates this concept, relating it back to writing his graduate thesis. He submitted his paper and was told repeatedly "Mr. Tibbs, half as much." After about twenty rounds of revisions, Bentley had finally whittled it down to an astounding 1 page of essential prose.
The two cajole about some of today's "bad" designs and agree that many can be contrived and sterile. As Bentley puts it," Things don't have to be expensive but nothing should be cheap." He values simplicity and attention to detail and prides himself in "fussy details no one cares about until they see the finished product".
Collaborative Carolyncrest project with Bonick Landscaping, Bentley Tibbs, & Mark Siepela
Beyond Blurry Lines
Growing up in Chicago, I've always been fascinated with art in all its various forms— especially architecture. Surrounded by Frank Lloyd Wright creations and fanfare, I had a special appreciation for how one could seamlessly intertwine a structure with its natural surroundings. In the same vein, Bentley encourages his clients to think about the landscape very early in his design process. However, they don't always heed his advice.
"They see everything that's equally important as secondary," he remarks. "It's all a series of spaces —some happen to be indoors and some outdoors, but they all should intertwine. Ideally, they should be seamless. They speak to each other and dance with each other in a way that connects the dirt to the sky. Textures, quality of light, proportions, etc. Sunlight is as much a building material as steel or wood."
His poetic words paint pictures in my mind, and I'm baffled how anyone could fail to fall under their spell and not entrust him to shepherd their entire process. Yet, this modest master of "southern modernism", as he puts it, doesn't like to interject his opinions until after he's fully heard his clients.
"I don't want to look at photos people bring me at first. I just want to listen. People come to us to help us find what they are often unable to articulate."
Glenn quietly agrees.
It's obvious that these two valiant visionaries share a mutual admiration for one another. Equally modest yet distinctly different, they speak in turn—Glenn, understated and edited, and Bentley, vivid and verbose. Upon careful deliberation, they determine that they met on a previous collaborative project around 8 years ago. Since then, they became fans of one another's work and have referred each other for more. The effortless ease in which the two communicate is evident and I surmise that it surely carries over into their professional relationship.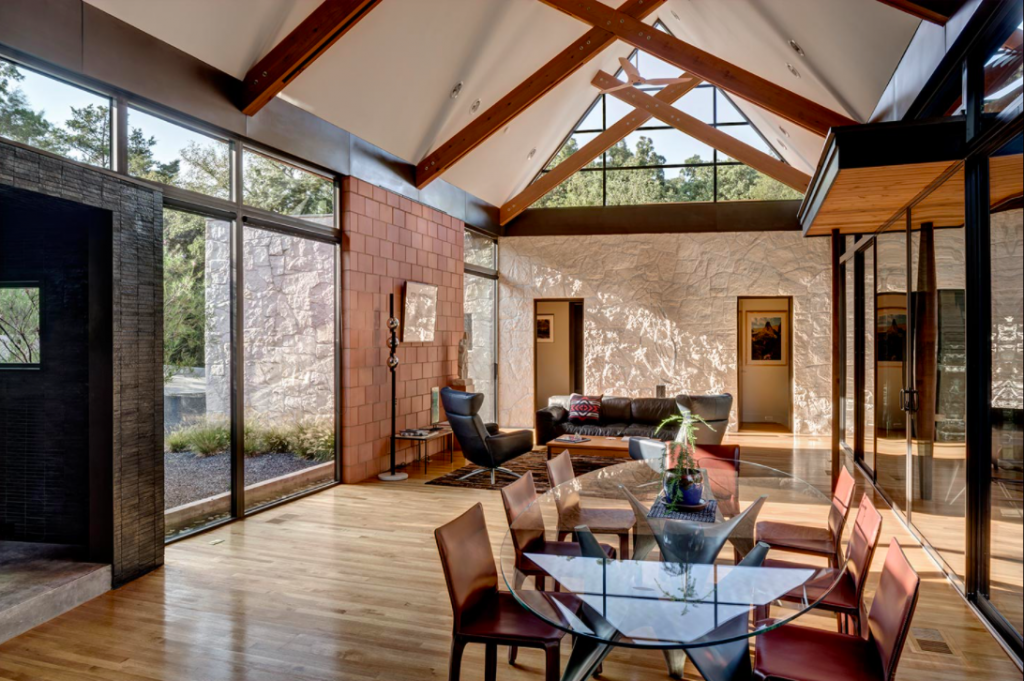 Bentley Tibbs' Tree House; Photo by Charles Smith
Digging Deep
Finally, they dig deep.
Bentley: "If you weren't a landscape architect, what would you see yourself doing?"
Glenn: "I could see myself in the mountains following what my youngest son is doing. I don't know exactly what that would look like. I like to build things. I like construction, problem-solving. I could never be in the money world—I have to have challenges that creatively inspire me. I like the dirt. I like living things. I like to look into the future and see what it will become in 10 years."
Bentley admits that he is also hands-on. He even prefers to hand-draw his designs instead of utilizing the computer.
"Digging, mulching, spraying. I just love it. I always have. There's something about dirt, sweat, and blood. Holding a pencil and erasing my mistakes."
The two agree that Glenn's strengths lie in his ability to edit down to the essentials, focus on the details, and forecast the future of a design and how it will evolve over the years.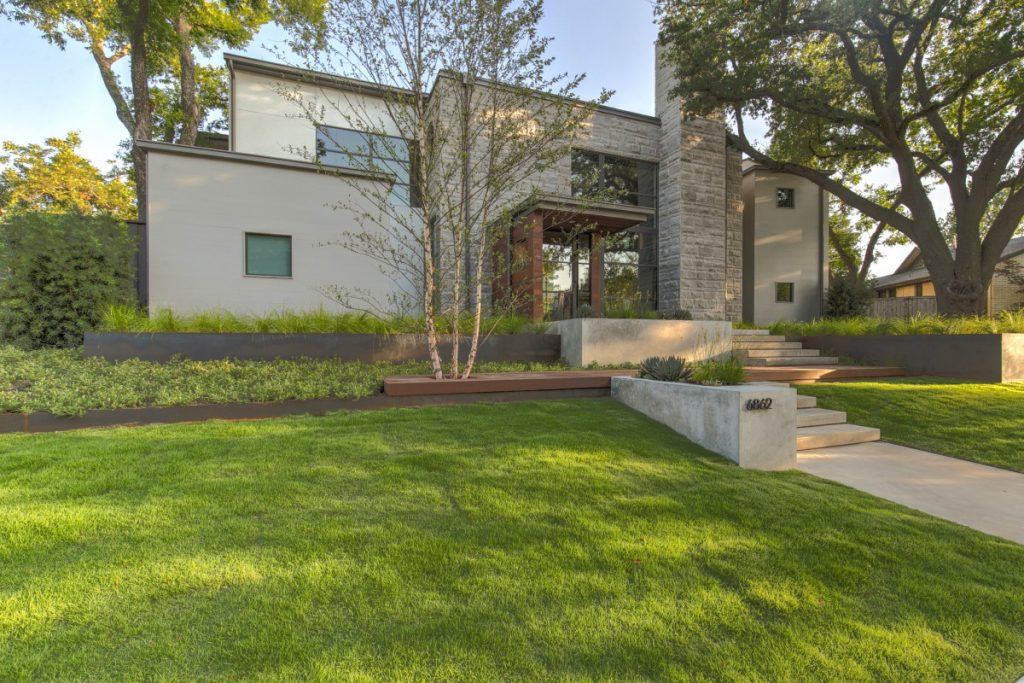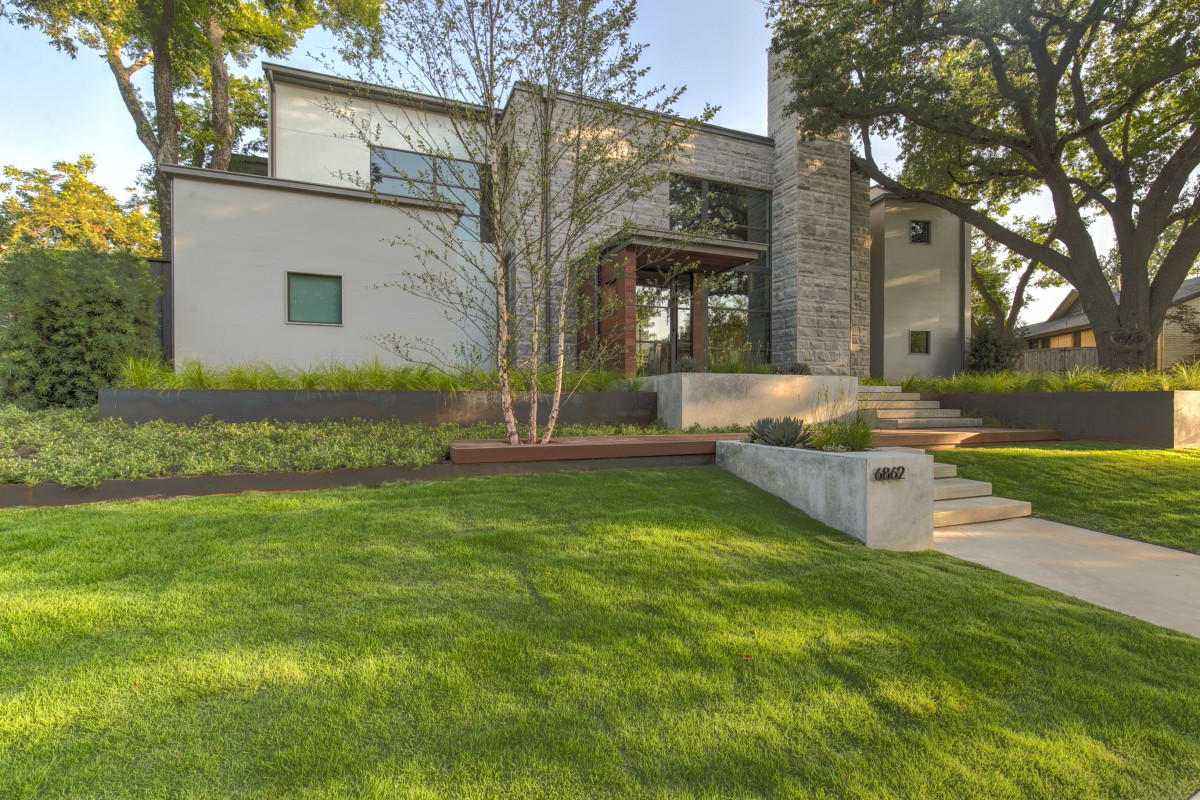 Collaborative Carolyncrest project with Bonick Landscaping, Bentley Tibbs, & Mark Siepela
Conclusions on Collaboration
I savor the privilege of listening to these two accomplished creatives almost more than the fine food we feasted upon. Bentley finally has to dash, as we had been dining alfresco for over two hours, and he's indulged us right into his next appointment (which he already pushed once for us). Bentley again urges Glenn to take his wife to Florence and Venice before the year is up.
My caffeinated enthusiasm spills over into my drive-time call with Paula, our marketing director, as I explain how this assignment morphed into something even more magnificent. I imagine this is often how their clients feel when they see the finished product—more fabulous than they could have fathomed. Our conversation illustrated the concept of collaborative design so succinctly—when collaboration is done right, it becomes harmonious, where the work of one echoes the other and the end result is a seamless symphony of design.
Many thanks to the illustrious Bentley Tibbs and Glenn Bonick for allowing me to tag along on this stimulating sit-down.
– Tammy Dalke Vanderkolk
---
With over 35 years of industry experience, Bonick brings its seasoned expertise to work alongside the finest Dallas & Fort Worth architects, home builders, interior designers, and other landscape architects. Learn more about our collaborative process or contact us today.