< Back to News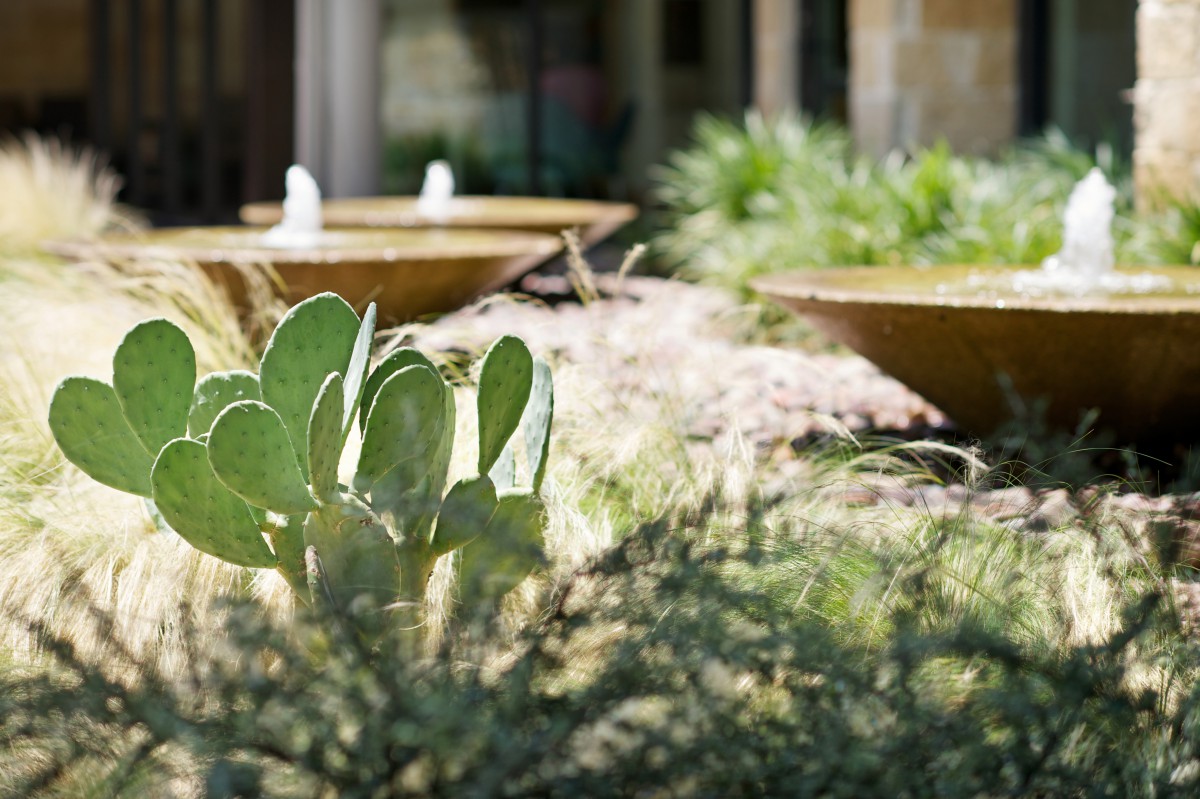 Bonick Landscaping Earns 2017 NALP Grand Award of Excellence for Residential Design
We are honored to announce that Bonick Landscaping recently accepted the 2017 National Association of Landscape Professionals' distinguished Grand Award of Excellence in the residential design/build category for our Ursala Lane project. Our talented designer, Jon Raney, created the landscape plan and exterior features for this Hill Country-style new construction home in two phases.
Phase One
In the initial phase of this project, our clients requested a landscape that would complement the Hill Country contemporary architecture of their home. They also desired a large, outdoor entertaining area complete with full kitchen, fire pit, outdoor shower, and expansive lawn for their children to play. In order to screen the large master bath windows, we created a private courtyard with a mosaic-tiled outdoor shower and rain curtain.
The site presented some challenges. Drainage was critical due to the site being very flat. Consequently, we installed a twelve-inch pipe under the house prior to the foundation in order to discharge at the front of the property.
To complement the style of the home,  we created a natural landscape through the use of native grasses, cactus, agave, and regionally-adapted plants. Hardscape materials included: limestone paving, block benches and retainers, integral colored and sandblasted concrete walks, drive and patio, and mosaic tile.
Phase Two
After spending time in their new retreat, the homeowners realized their need for more privacy from the driveway. As a solution, for phase two of this project, we removed the fire pit and updated the outdoor living space with coordinating limestone privacy walls and fireplace. We also added a custom vent hood for the grill.
In phase two, our client also wanted to incorporate a large swimming pool with spa. This request challenged us to minimize damage to the existing landscape while building the pool, deck and patio. Executing this phase in a limited space required accurate timing of material deliveries and work performed.
Photography by Sara Donaldson
For over 30 years, Bonick Landscaping has served Dallas area clients with the highest standards looking for out-of-the-ordinary luxury landscape design and pools. We pride ourselves in offering the best in service, workmanship, and plantings. Services include landscape design, construction, garden management, pools and collaborative projects with landscape architects and other industry professionals.
For discerning clients in Dallas who want to express their own distinctive style through their landscaping, Bonick Landscaping can help you realize your dream. Call us at 972-243-9673 or email us.