< Back to News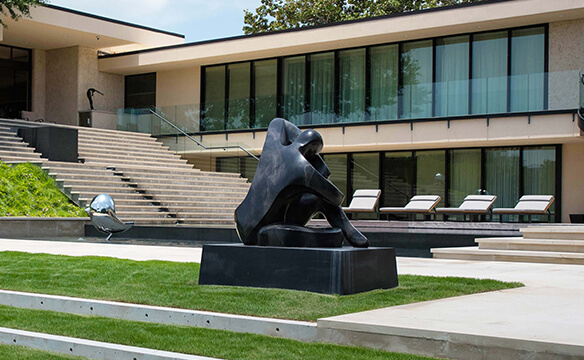 Bonick Landscaping Wins National Award for Excellence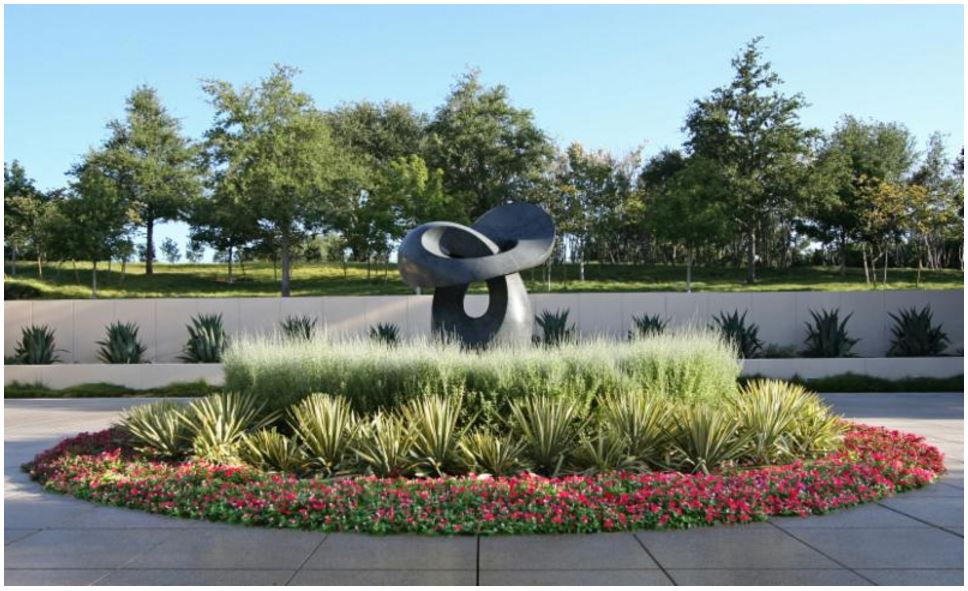 Bonick Landscaping is proud to announce it is the winner of the prestigious 2016 National Association of Landscape Professionals GRAND Award of Excellence for construction and installation.
This residential project, designed by Hocker Design Group, posed complex construction and installation challenges, which is why they turned to Bonick Landscaping to execute their vision.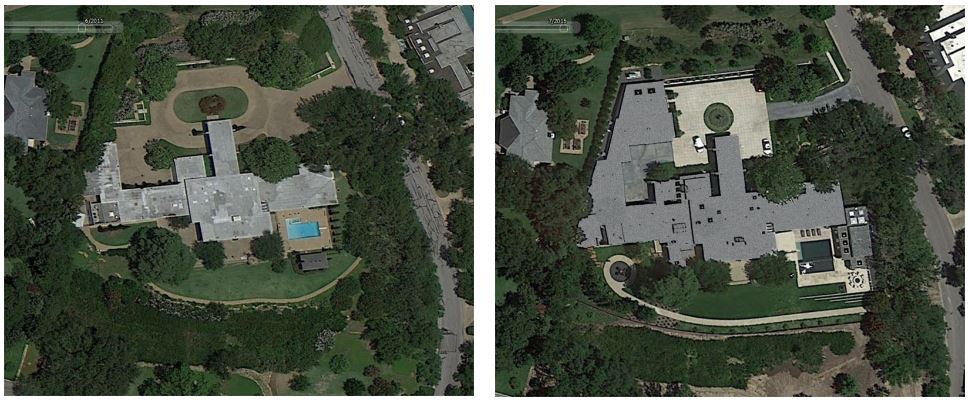 The scale of the project can be seen in the before and after aerial photos, above.
The poured concrete motor court, ground to expose a smooth aggregate surface, features precision saw cuts on a 3-foot grid.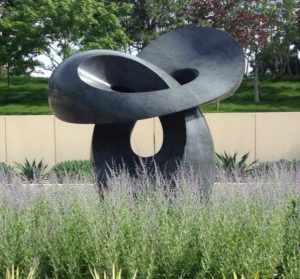 The carved stone sculpture at center of the motor court required a large crane and coordinating with qualified art handlers for placement and installation.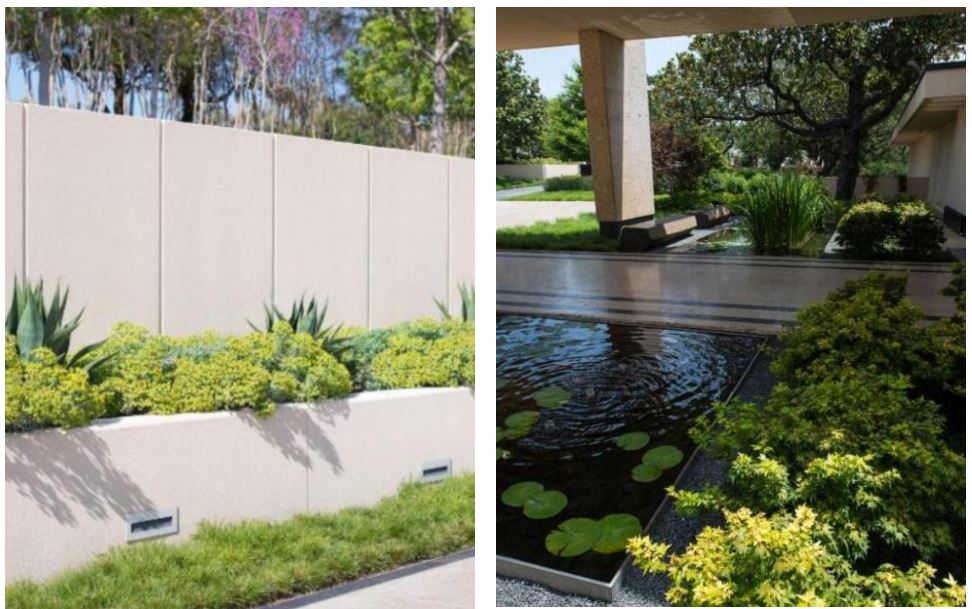 A low planter wall displays agave plants that act as living "sculptures" (left). The covered entry to the front door is flanked by a koi pond and a bog planted with irises that act as a natural filtration system (right).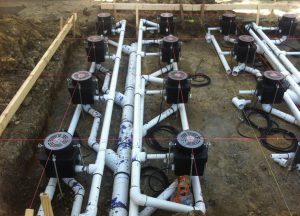 Five pumps and an extensive network of plumbing provides precision control of the LED lighting and water volume, allowing for a unique night time experience.
A cobblestone courtyard with a dancing deck fountain was built. On two sides of the fountain, an angled wall of structural concrete was added and faced with large polished black granite slabs.

Natural stone slabs create a meandering path around the lawn (left). An exposed aggregate walkway leads to an outdoor sculpture room. Large magnolias that were craned in provide privacy from the neighboring property while creating a natural backdrop to the sculpture (right).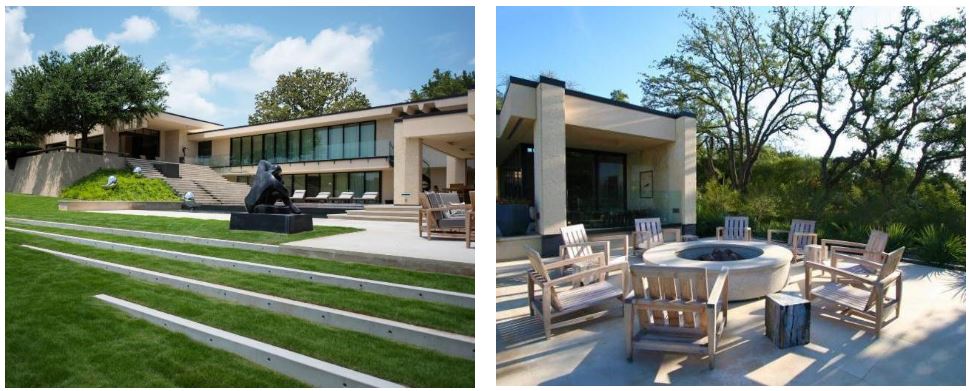 A series of concrete "blade" walls (left) terrace the lawn and act as steps to the custom concrete fire pit made of exposed aggregate with a limestone cap.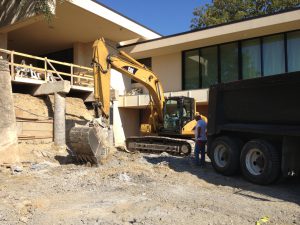 Excavating for the concrete stairs and new pool. A hidden service room below the stairs will house the pool equipment and surge tank.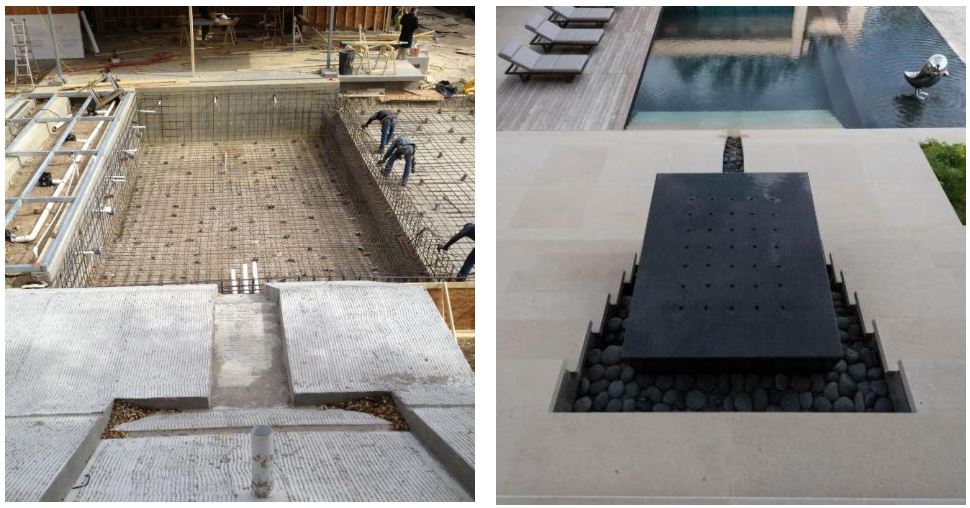 A structured shell of steel (left) supports the concrete stairs and black granite water feature (right).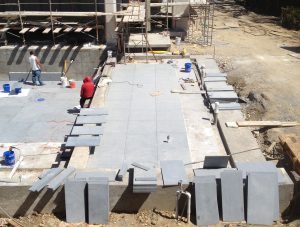 The same 3-foot paving grid used on the back terrace and front motor court are carried into the pool area by using 3-foot x 3-foot black granite slabs.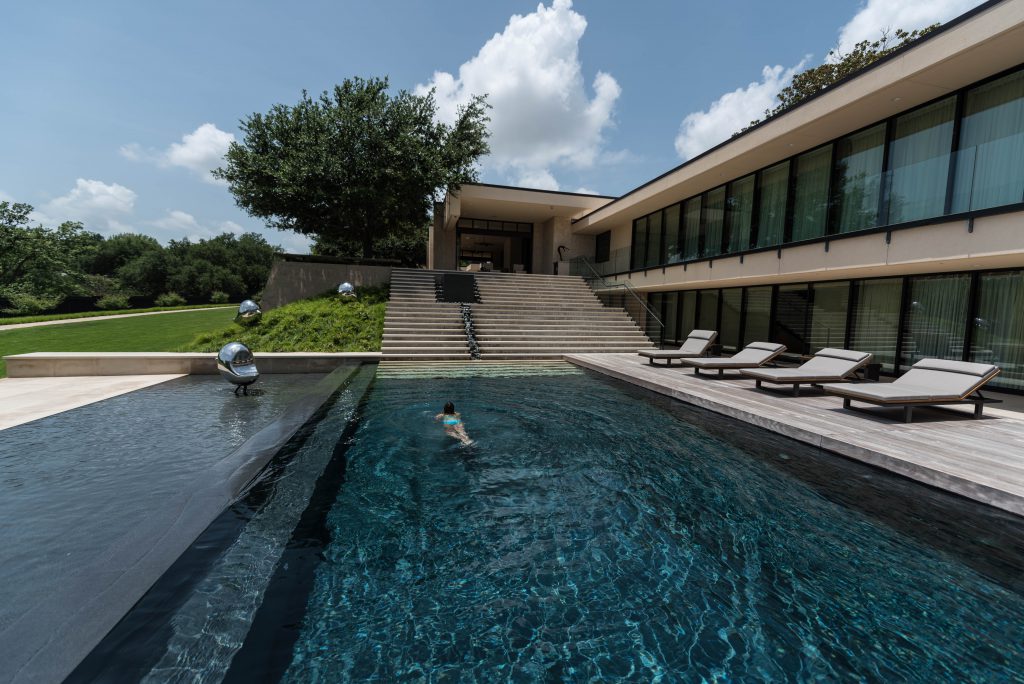 With dual negative edges, one side of the pool disappears under the ipe deck while the other side "disappears" into the limestone terrace below.
We want to thank Hocker Design Group and the homeowner for allowing us to be part of this amazing project and for the opportunity to continue to maintain and nurture its growth.
For over 30 years, Bonick Landscaping has served Dallas area clients with the highest standards looking for out-of-the-ordinary luxury landscape design and pools by offering the best in service, workmanship, and plantings. Services include hardscape and landscape design, pool designs, construction and installation, lawn care services and garden maintenance, pool maintenance, and more. For discerning clients in Dallas who want to express their own distinctive style through their landscaping, Bonick Landscaping can help you realize your dream. Call us at 972-243-9673 or email us. Visit our website at www.bonicklandscaping.com.