< Back to News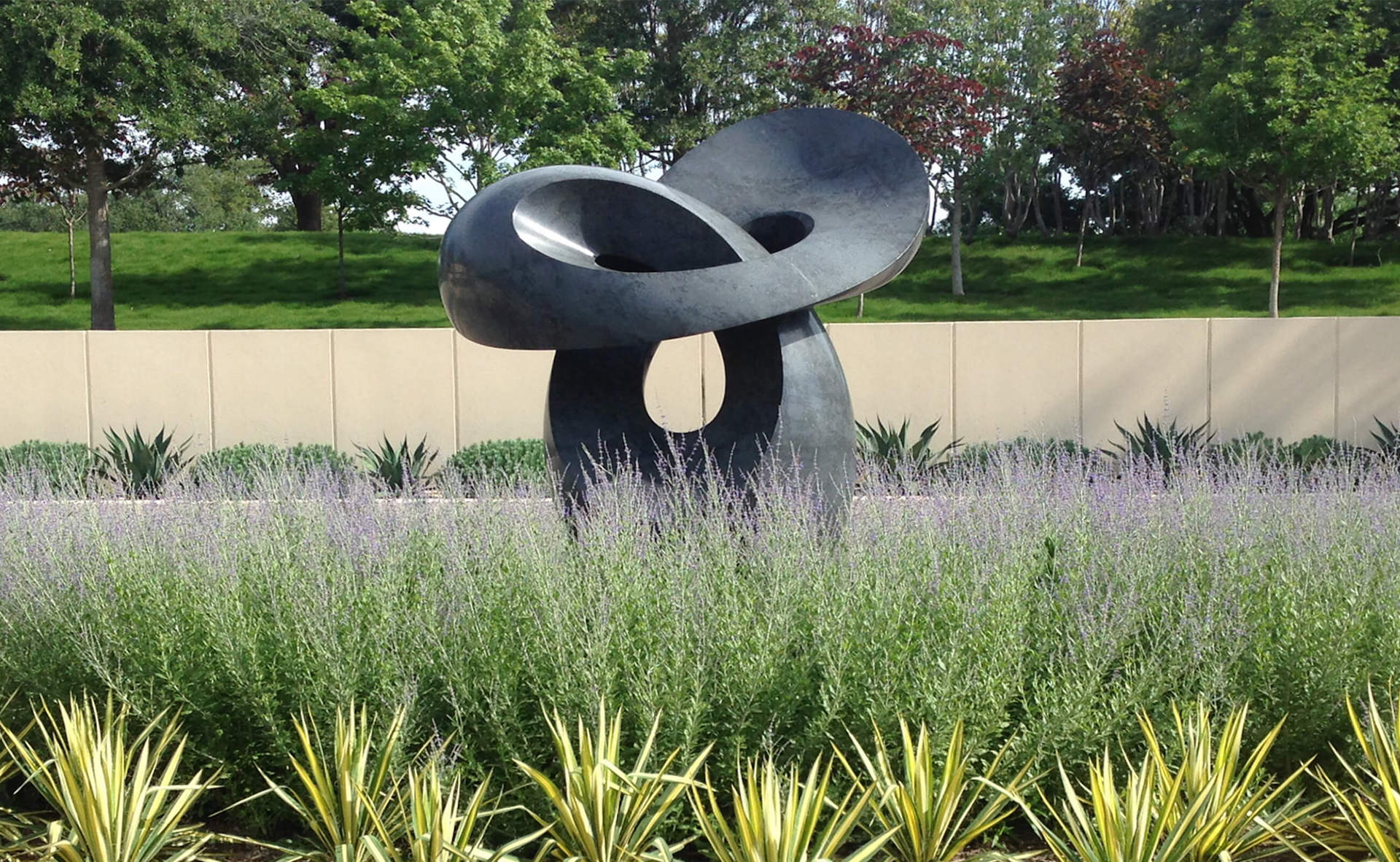 8 Considerations in Selecting Outdoor Sculpture
Choosing Appropriate Outdoor Sculpture for Your Estate Gardens
DFW boasts an emerging art scene, and one of its many highlights is its sublime outdoor sculpture artists. From the gardens of the
Nasher
or
Modern
to the exquisite exhibits at the
Dallas Art Fair
or the eclectic pieces that adorn our city squares, outdoor sculpture elicits joy from its beholders throughout our metroplex. But why limit yourself to an occasional viewing of the Vortex? You can admire art from the comfort of your own home by incorporating garden sculpture into your landscape. Whether desiring a splash of sophistication or uplifting spirits with whimsy, adding sculpture to your outdoors can instill a sense of personal style, enhance the beauty of your landscape, spark conversation, increase the value of your estate, and provide enjoyment for years to come. Join us on a journey through (just a few) significant Dallas sculptures and discover how to select estate treasures appropriate for your outdoor spaces.
1. Types of Outdoor Sculpture
What we may perceive as sculpture actually extends far beyond the traditional form. From colorful, artistic creations to large pottery or benches, architectural trees, sculptural walls, or even resplendent water features, there is optimum sculpture for every aesthetic.
(Left) An alley of trees aligns a Dallas courtyard, dancing in perfect symmetry when illuminated. (Right) This custom, sculptural water feature plays against the pool to create a stunning reflection reminiscent of the evening sky.
2. Selecting the Appropriate Style
Before selecting your garden sculpture, consider the style of your home, your landscape, and your personal taste. Does your estate boast clean, contemporary flair, or more of a Mediterranean vibe? Also, think about what emotion you'd like your art to evoke. Do you wish to exude elegance or perhaps infuse a little humor? All of these elements come into play when selecting the perfect piece for your surroundings.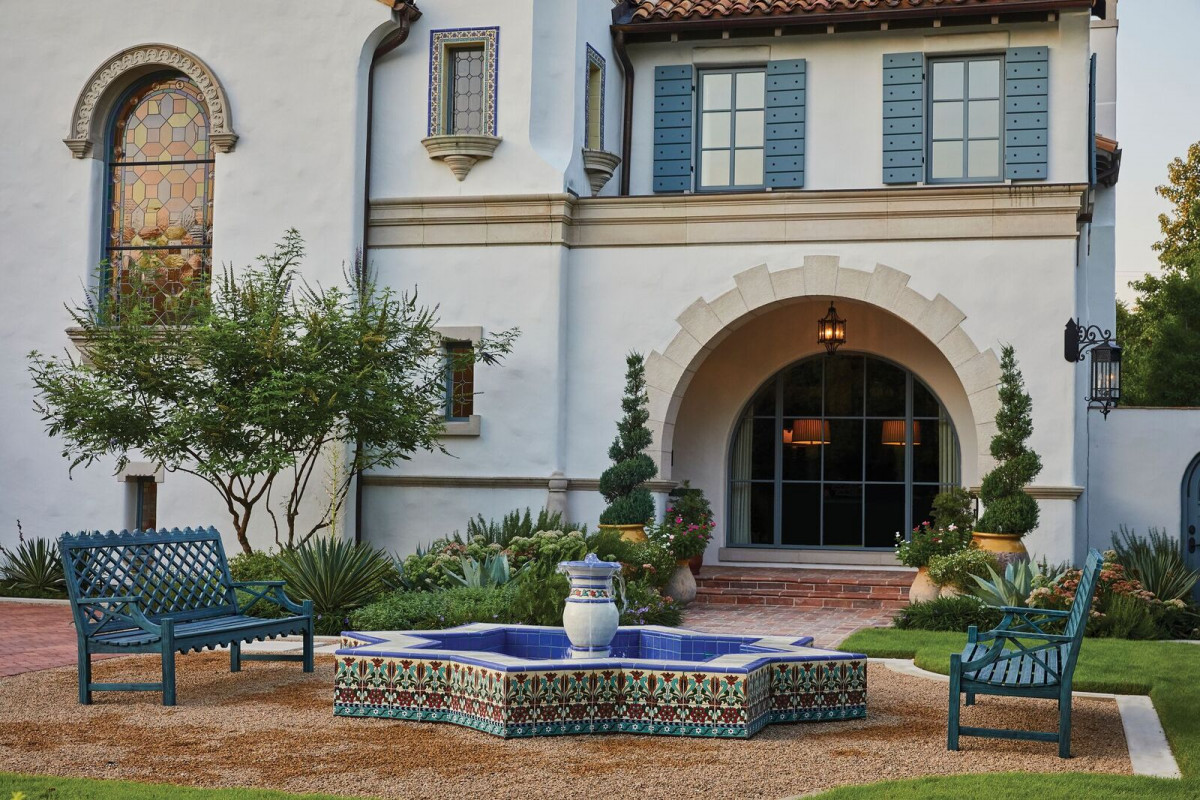 Sculptural potted hedges and a custom, star-shaped fountain make a marriage made in Mediterranean heaven. Decorative tile:
Casa Castillo; Solid blue & green tile: Knox Tile; Center fountain pot: hand-made, glazed, and fired by local Dallas ceramic artist, Paige Furr
3. Color
Color can evoke emotion, present a pronounced statement, or blend harmoniously into its surroundings. Choosing the ideal color depends highly upon whether you wish to add a striking splash or a subdued structure that merely accents your landscape.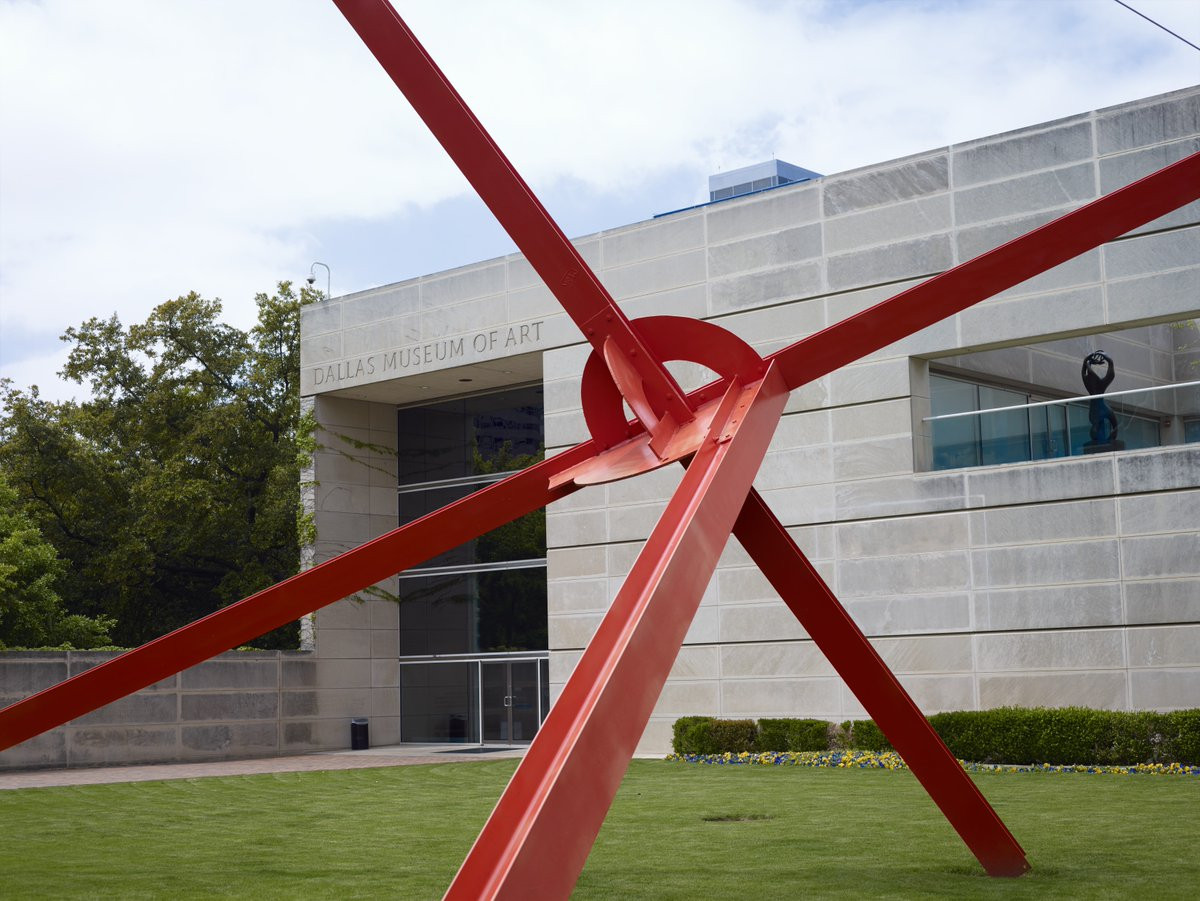 Mark di Suvero's sculpture,
Ave
is one of the most evocative outdoor sculptures at the
DMA
. Created in 1973, this 12,000 lb modern, painted steel structure adorns the Ross Ave plaza on the first level for all to admire.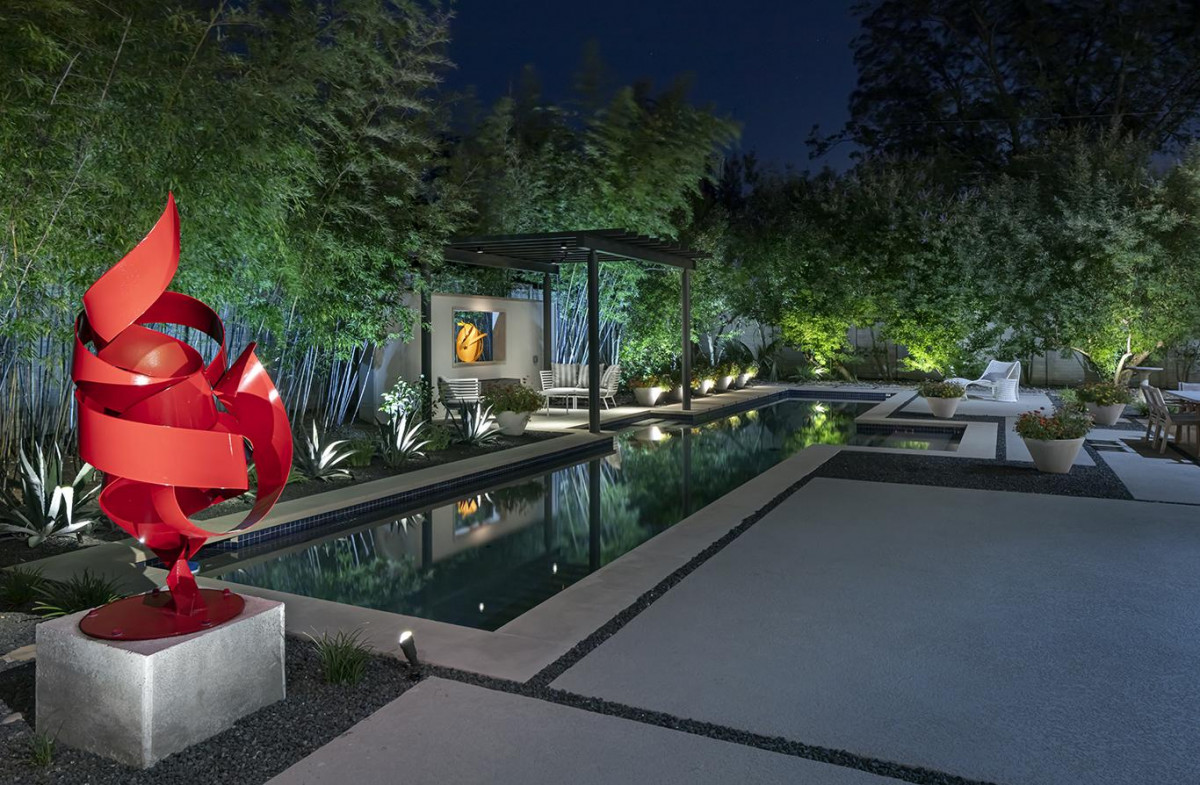 Red steel serves as a focal point on a slightly smaller, but equally impactful scale from this serene
poolside vantage point
.
Artist: Nic Noblique; Photo by Charles Davis Smith
4. Materials
From durable metals like bold brass, bronze, aluminum, or sleek, powder-coated steel to formal limestone or concrete, or even nature itself, outdoor sculpture materials can vary as much as their creators.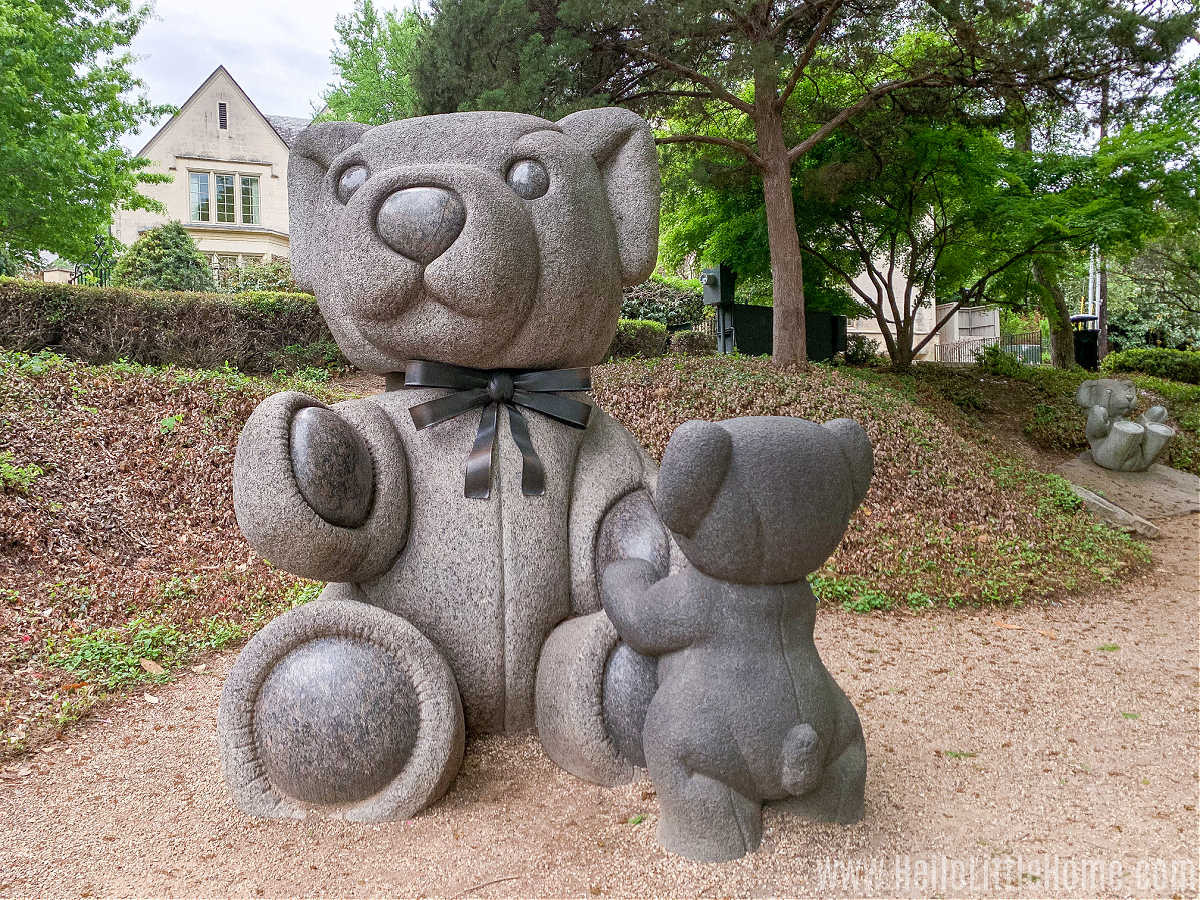 While not exactly the art of notoriety, families from afar still love to visit Highland Park's best-kept secret, Teddy Bear Park in Lakeside. This collection of huggable, larger-than-life stone sculptures were donated by the Harlan Crow family as a Christmas gift to the town of Highland Park in 1995. Photo by hellolittlehome.com.
5. Size
Don't forget to factor in the size of your outdoor area when selecting your sculpture.  The key is to highlight your gardens, not overwhelm them.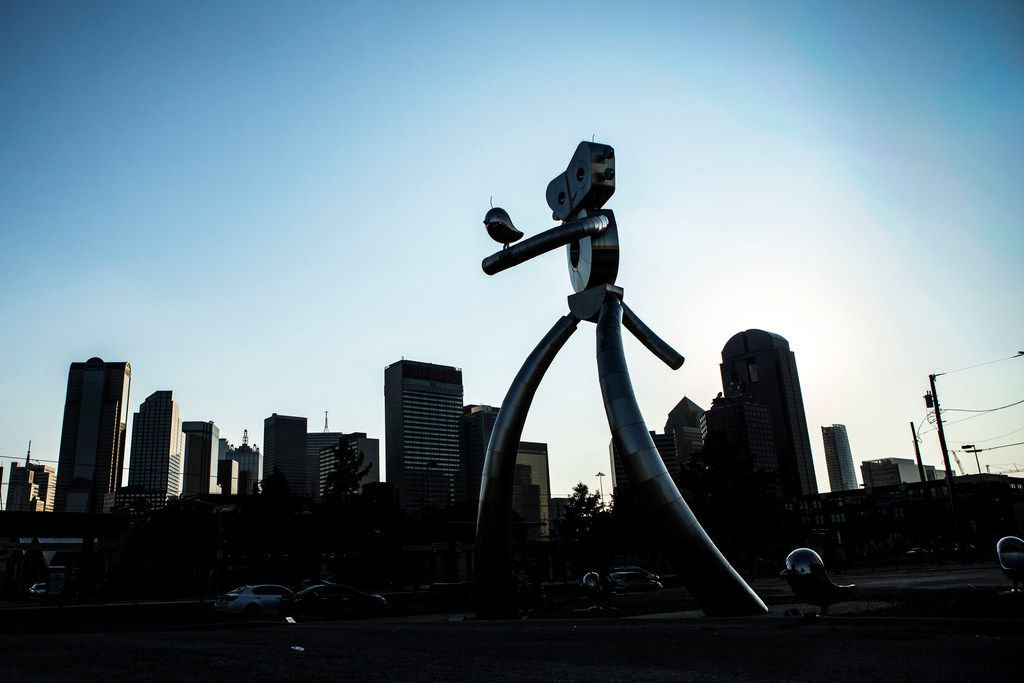 Brad Oldham and Brandon Oldenburg's towering 40-foot
Traveling Man
sculpture series greets Deep Ellum visitors from afar with its spirited smiling robots, proudly showing off the soulful side of Dallas. Read the
story
 behind this DART-commissioned downtown neighborhood project.
(Photo by Carly Geraci for Dallas Morning News).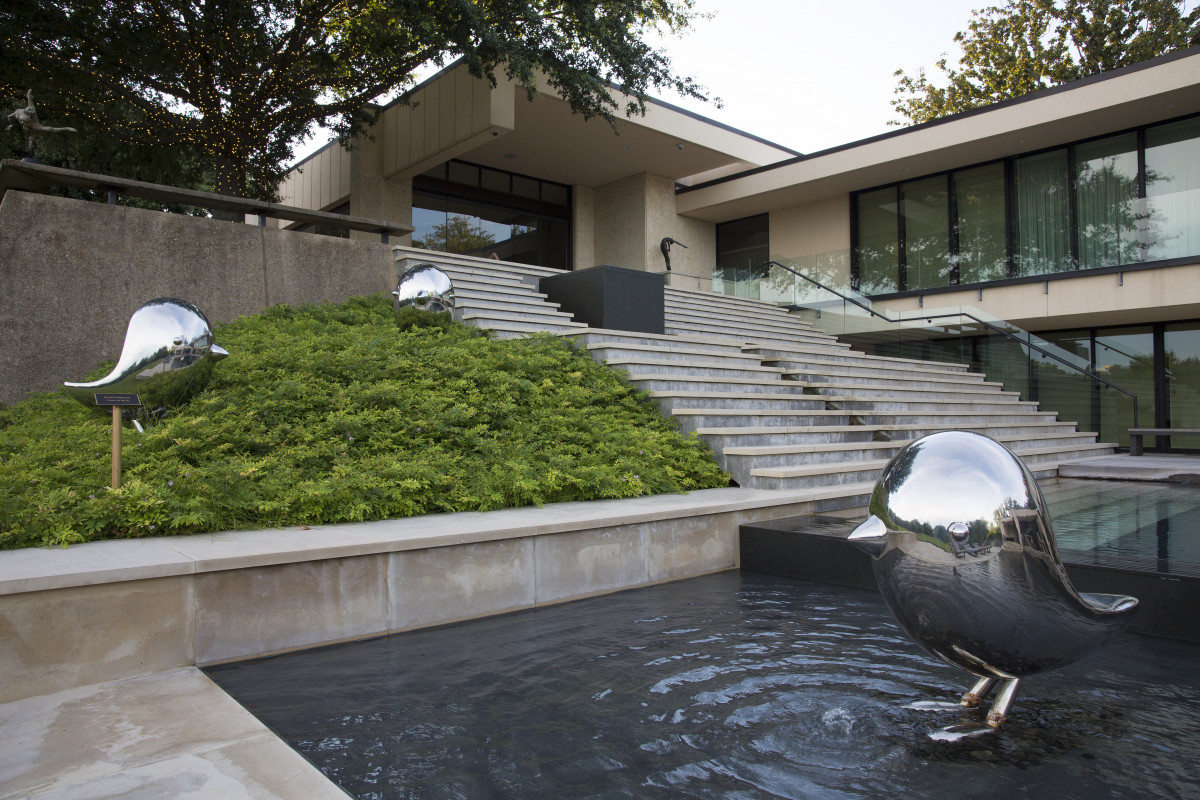 Experience Brad Oldham's iconic art at home with estate-sized BIRD sculptures. These birds are thoughtfully positioned within the wading pool and garden adjacent to the sublime mid-century modern swimming pool.
6. Placement
When choosing a focal point for your outdoors, consider your preferred placement and the various viewing angles. Are you looking to create curb appeal or backyard serenity? Pro tip: Positioning your pristine art piece amongst a clean, simple landscape allows the eye room to rest upon your fabulous focal feature.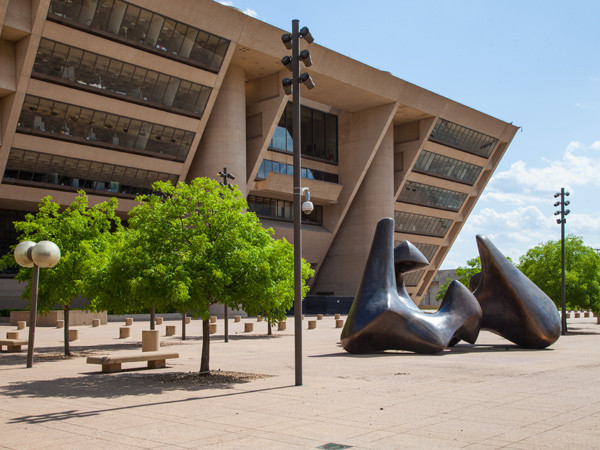 In 1976, I.M. Pei, architect of Dallas City Hall commissioned Henry Moore to create a sculpture for the city of Dallas to be placed in the plaza in front of the building. Moore designed the massive, organic form to complement Dallas City Hall's geometric structure and the wide horizontal plane of the plaza.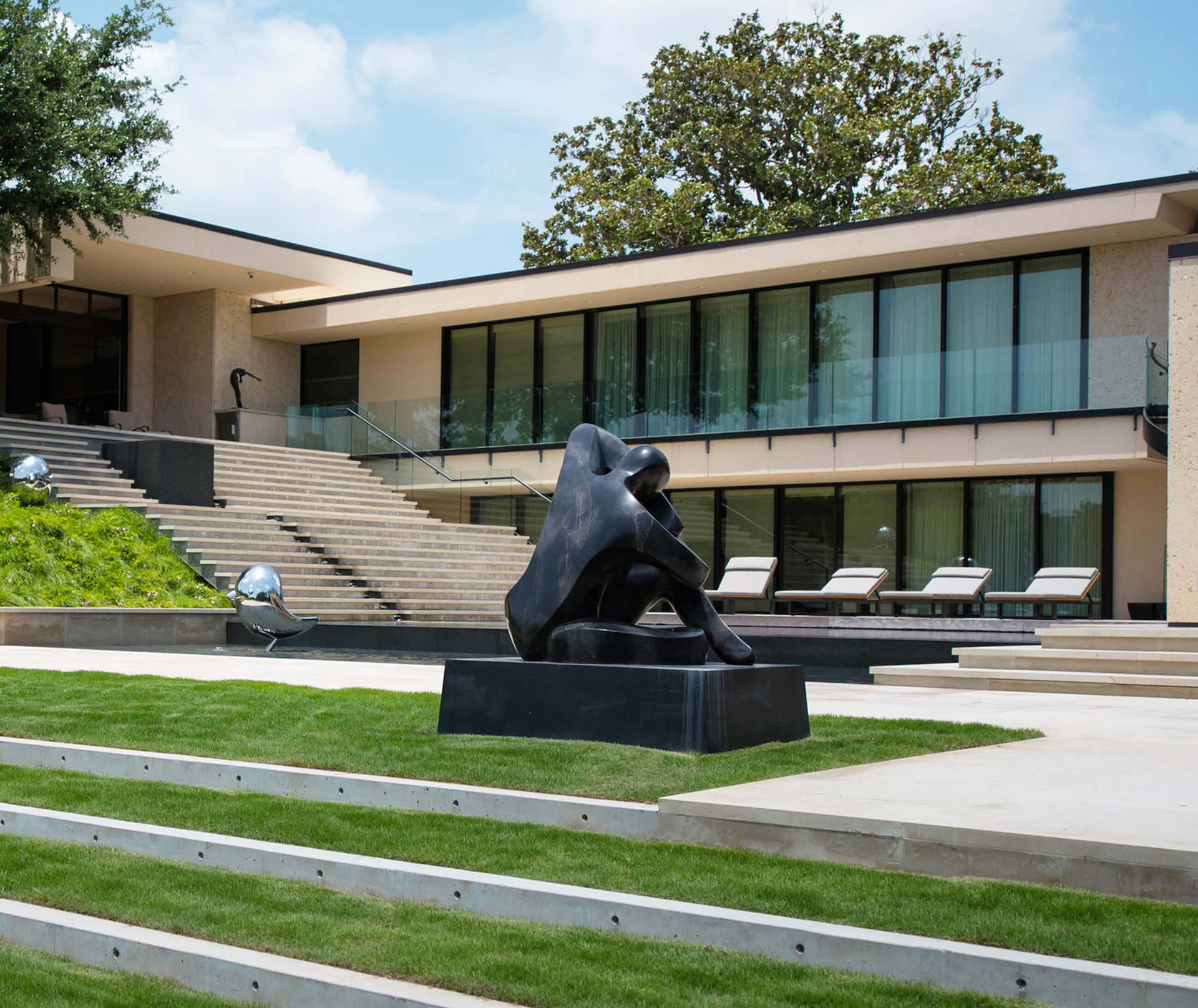 The organic shapes of this abstract human form contrast nicely with the sharp angles of the surrounding pool, risers, and steps at this Westover Hills estate.
7. Surrounding Elements
Selecting the ideal background and pathway toward your sculpture, incorporating added elements, and illuminating it properly for optimum nighttime viewing is equally important. Enhance the senses with sights, sounds, scents, and texture.
Plants
Plants can serve as a backdrop, compliment the color of your garden sculpture, and add seasonal interest. Your professional landscape designer will take all of this into consideration when creating the ideal surroundings for your art.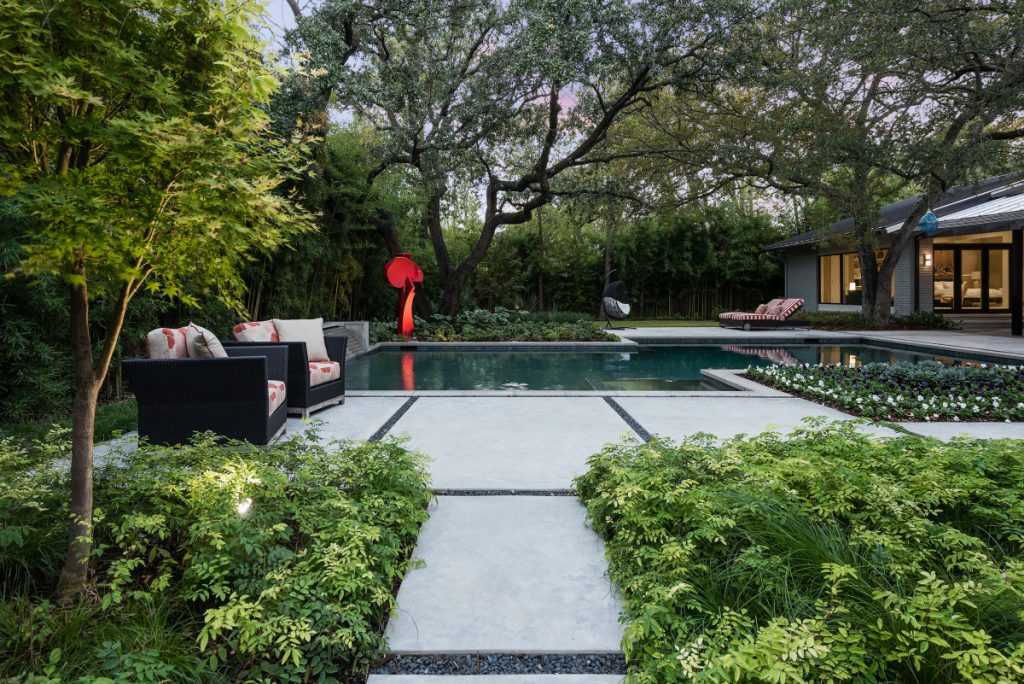 Sculpture: Nic Noblique; Photo: Stephen Reed | View more of our Pebblebrook project.
Pathways
Creating a path toward or even around your outdoor sculpture can assist in making it a focal point of your garden. From concrete, terrazzo, limestone, or gravel, selecting the right materials for your pathway to compliment your art is an integral part of the design process.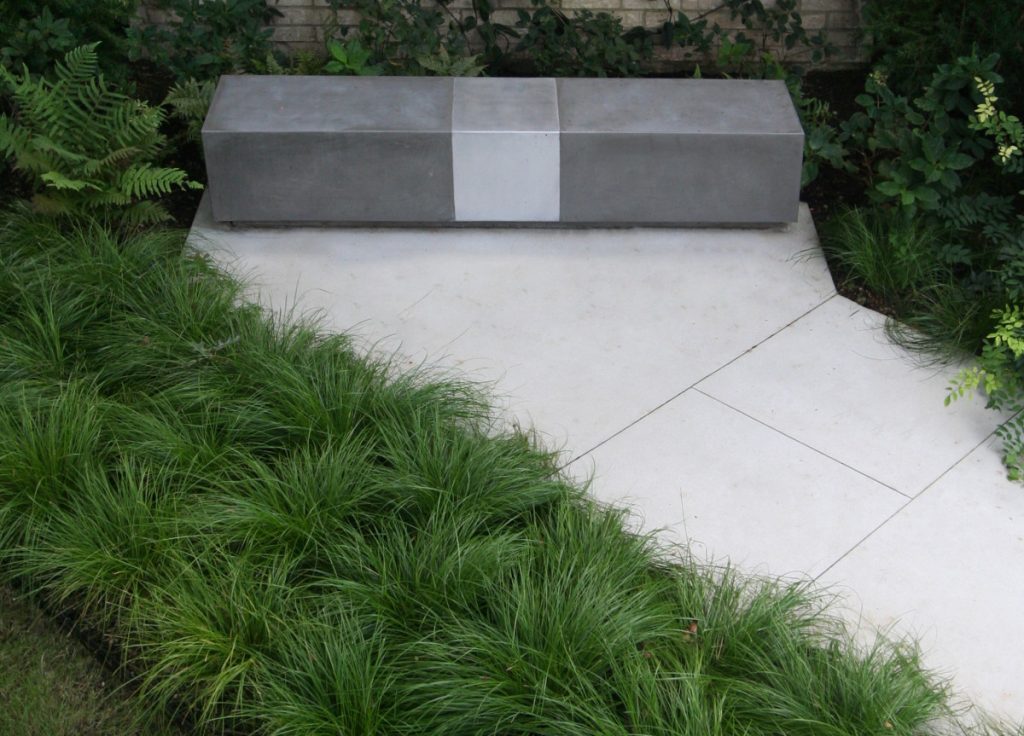 Sculptural Bench: Studio Marekko | View more of our Westgate project
Water Features as Outdoor Sculpture
A soothing water feature can add the element of serene sound, lift spirits, and even be a sculptural element in itself.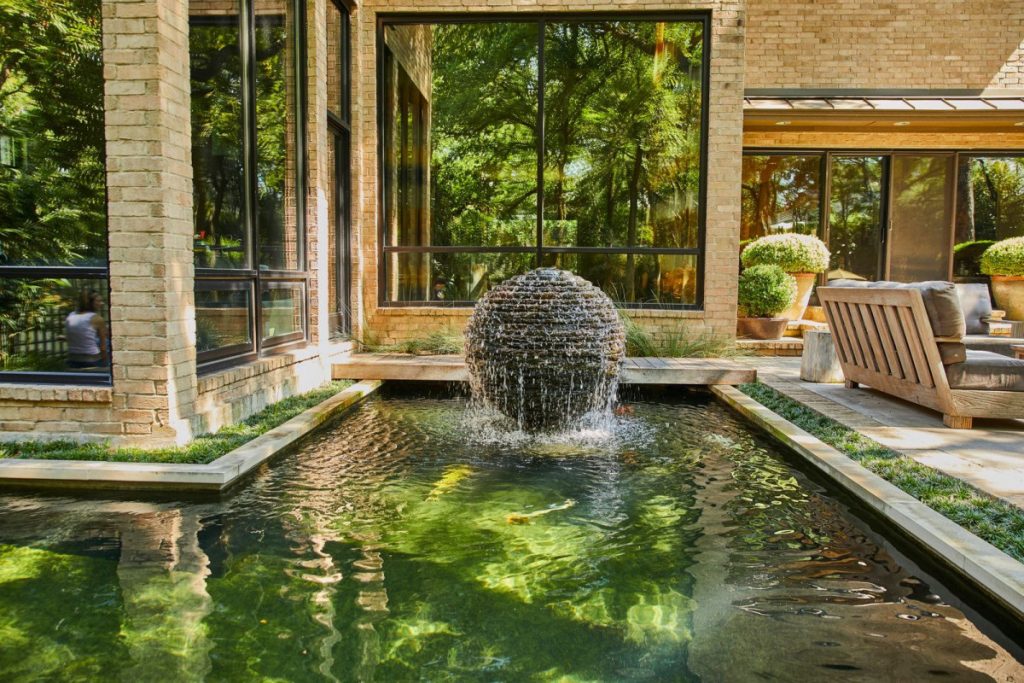 This architectural water feature sculpture is a feast for the senses.
Lighting
While ambient cityscapes or starry nights can certainly enhance your art's beauty, in order to fully enjoy your garden sculpture under the evening sky, selecting the proper lighting is key. Not only can it showcase your garden sculpture, but the right outdoor lighting can bring your entire landscape into vibrant view.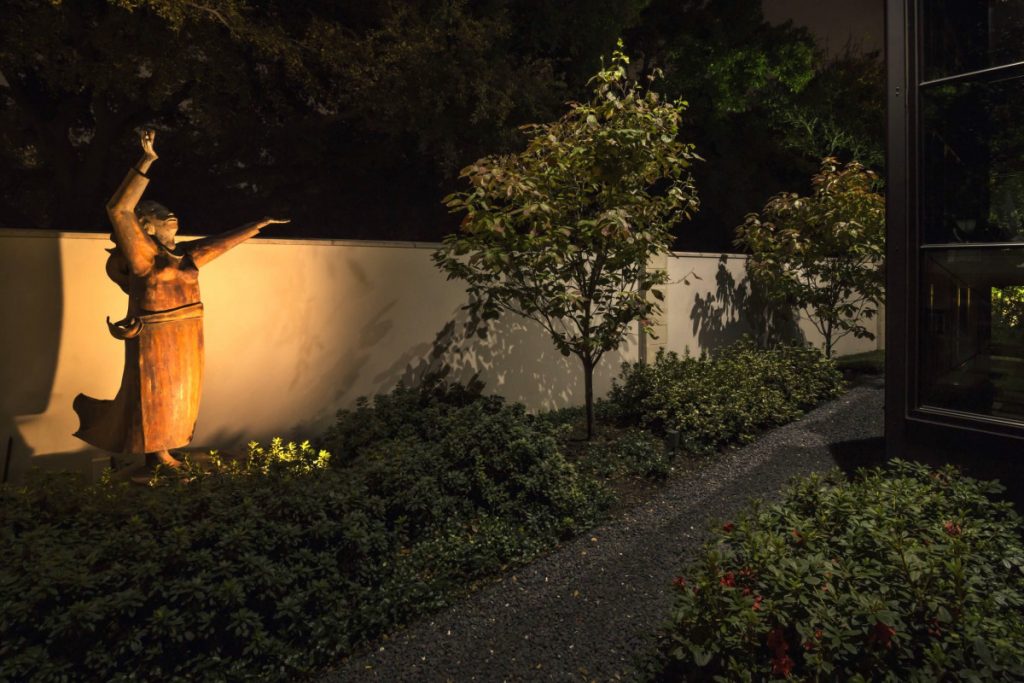 Sculpture: Willian Prokopiop; Photo courtesy of Lintz Services
8. Outdoor Sculpture Installation Logistics
Finally, once you've procured your art piece and determined its future home within your landscape, it's crucial to plan ahead to assess any construction needs. Depending upon how larger your garden sculpture is, you may need to consider these important factors into its installation:
Access for construction vehicles
Concrete footings
Crane for placement
Professional installation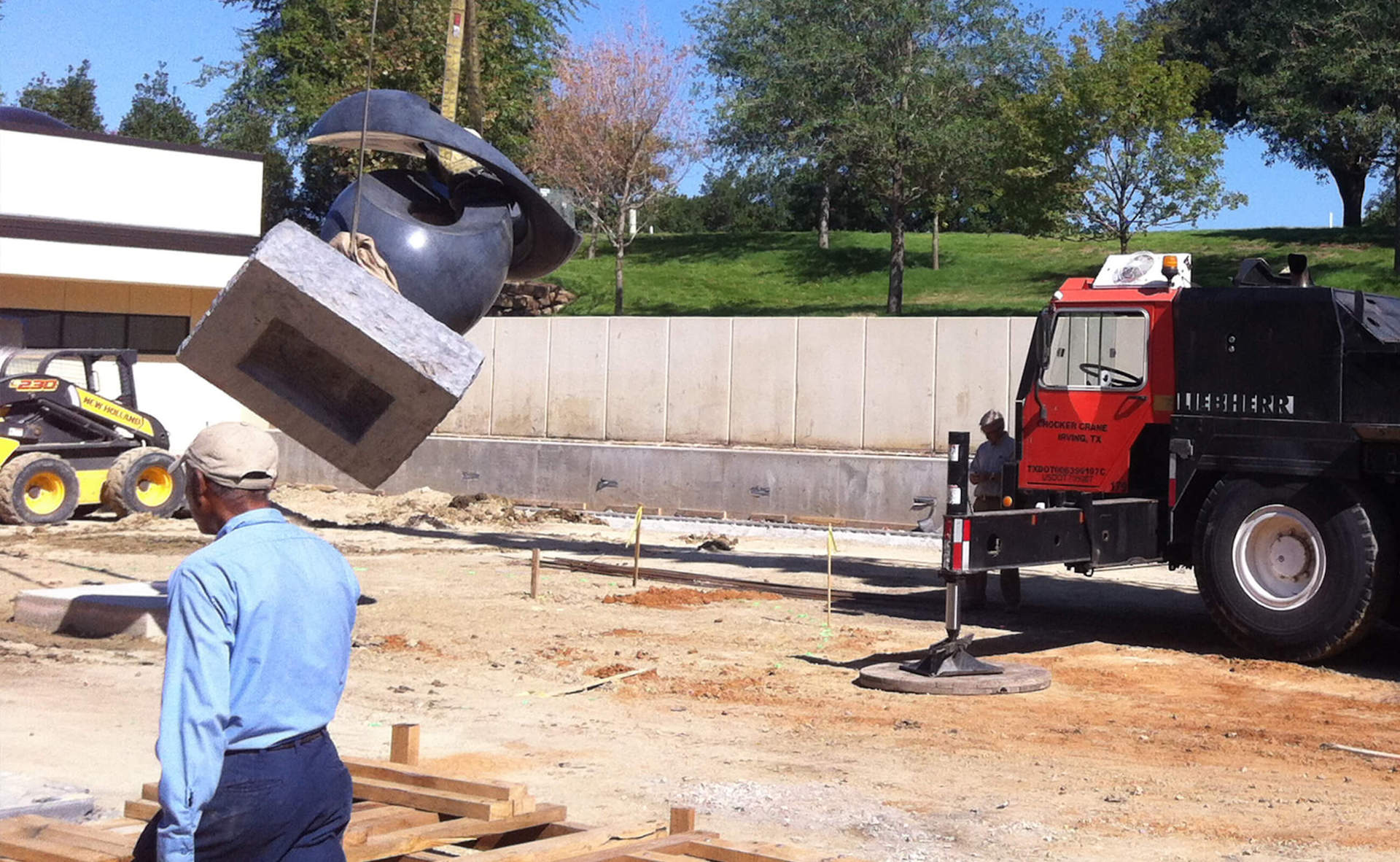 With a passion for the local DFW art community and a penchant for upscale style, Bonick Landscaping can not only help you source your outdoor sculpture, but their full-service teams can plan its perfect location, design the surrounding landscape, and complete the
installation
. Allow Bonick to elevate your garden escape with an architectural aesthetic that's uniquely you.
— by Tammy Dalke Vanderkolk
---