< Back to News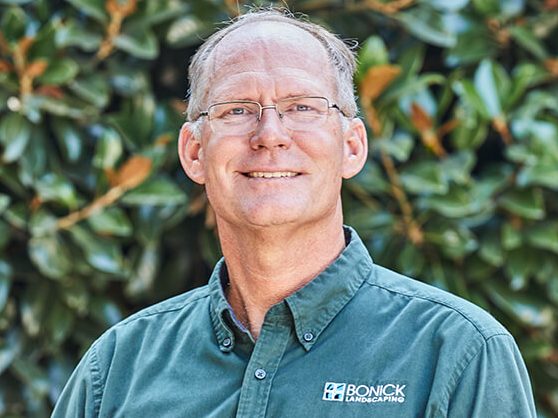 Meet Dallas Pool Builder & Project Manager, Bob Behling
January begins a busy time of project preparation for spring and summer, so we visited with Project Manager and Pool Builder, Bob Behling to learn more about his significant role in our processes.
Interview by Tammy Vanderkolk
---
Hi Bob. Could you please tell us a bit about your role at Bonick Landscaping?
I am a project manager and pool builder. I'm very detail-oriented, so I enjoy managing multiple landscape construction projects at various phases, simultaneously. I also put this attention to detail into every Bonick pool I build. Basically my role involves taking a paper plan executed by one of our designers or another architect and bringing it into reality at our client's home. 
What does a typical day look like in your world?
I meet our crew foremen at the shop at 6 AM to review the day's schedule and help them load their trucks. Then I check-in with our subcontractors. Most of my time is spent at job sites, where I work on projects and address any questions from our collaborative partners (subcontractors, builders, architects, etc.) or clients. I wind down my day working with our purchaser to get materials ordered or delivered,  checking in on the crew's progress, reviewing schedules to plan upcoming work, and dispatching any new tasks to prepare for the next workday.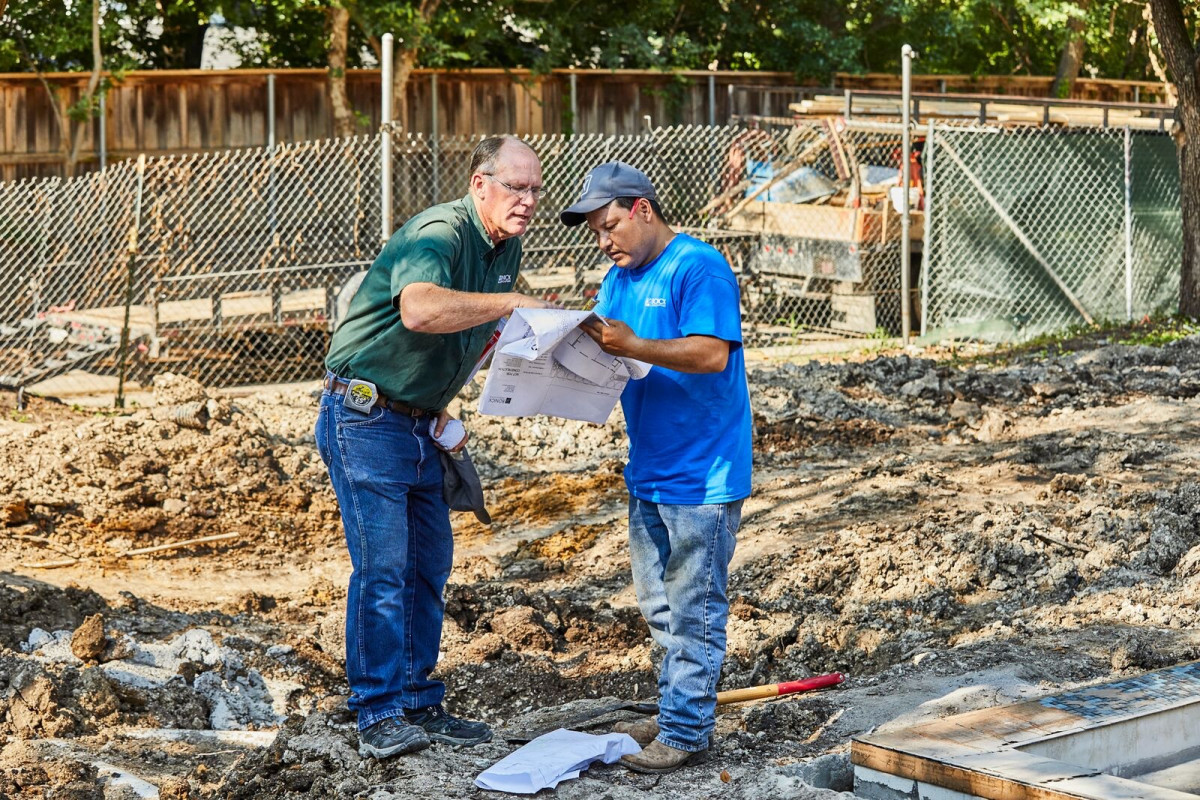 Tell us a little more about pools. What do you enjoy about them? 
Many times our pools are the centerpiece of the landscape design. Often, other design elements are based on the lines created by the pool. So, to me, the pool is not only a fun place for family activity, but it is also the focal point of the total landscape design.
That's a great perspective! What has been the most exciting pool you've built and why?
Our Westover Hills project in Fort Worth included a very complex, multi-level, multi-feature pool. We built fully-engineered concrete floors and walls complete with piers and grade beams and built the pool inside of this. The finish was 2'x2' granite squares imported from China. There is a large granite block water feature installed in the middle of 20-foot wide steps that lead to an existing upper patio. Water cascades down a water channel and into the pool. On one side of the main pool, water flows over an edge wall and into a large shallow reflecting pool, while the other side of the main pool disappears under an Ipe wood deck. This same project has a circular all-tile spa that is partially out of the ground. When not in spa mode, the water flows over the sides and down the tile into a 4" channel surrounding the spa. Another water feature we installed on the project was a 16-jet-floor fountain feature where the water comes up from the floor at various heights. The water falls back down and disappears into a cobblestone floor. Each jet has its own light and the control system for this can allow for various "shows" to be created.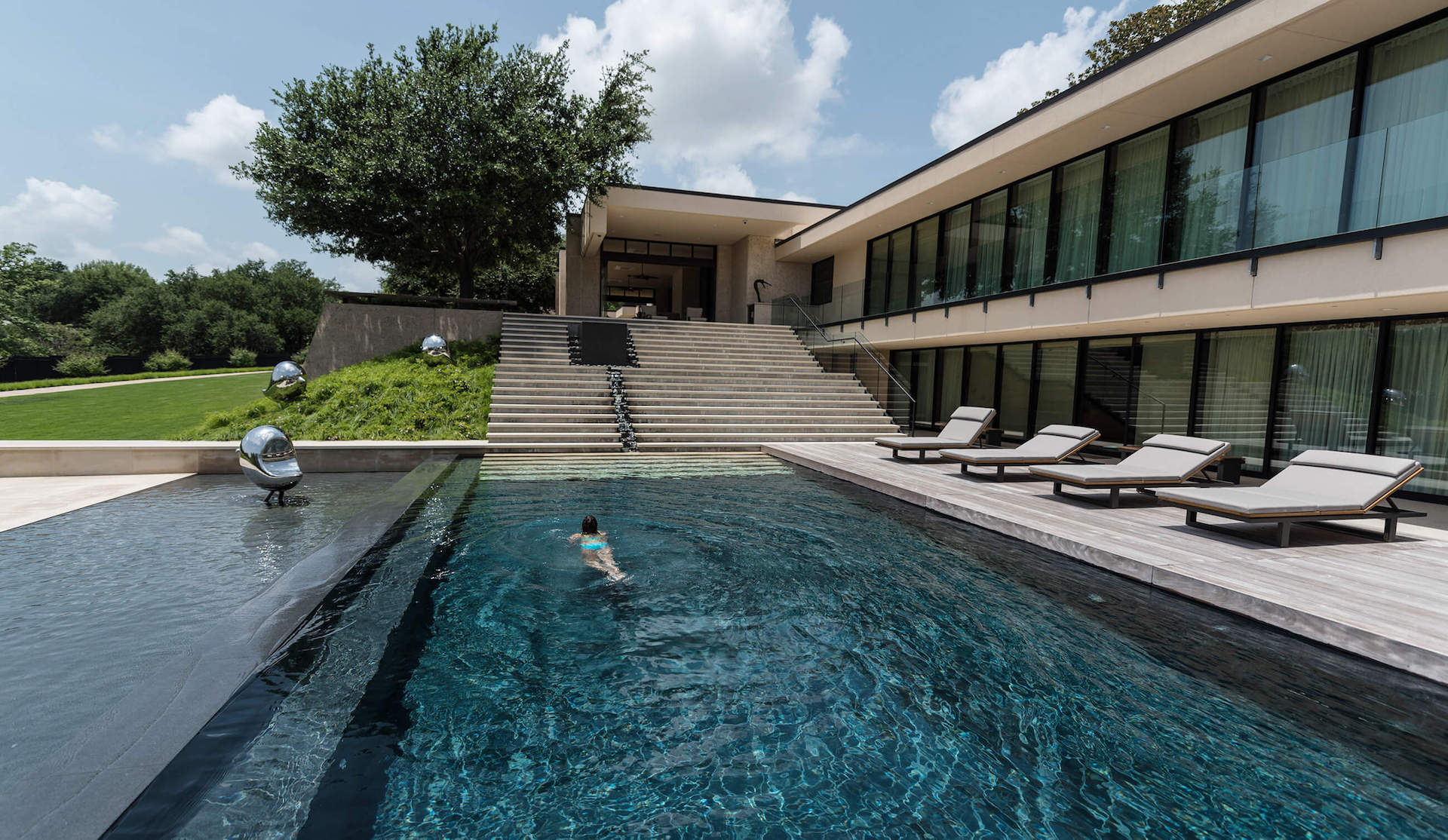 Collaborative Westover Hills project with Hocker Design Group
That is definitely one of my personal Bonick favorites as well. So, is there any exciting new pool technology you'd like to talk about?

The ability to connect to our pools through our smartphones or home control systems has really advanced.  Say you are out to dinner and want the spa ready when you get home, with the click of a button from your phone, your spa can heat up in time for your arrival. This technology also allows our pool technician to remotely access the controller which may help him solve a problem quickly without making a site visit.
What was your background before Bonick? How did your passion for this work evolve?
I have always been in the landscaping industry beginning with gardening accounts in high school and construction during junior college. In the early '80s, I got the landscape construction bug and went back to school for my bachelor's degree in Ornamental Horticulture at Cal Poly in San Luis Obispo, California. After graduation, I managed and supervised the production side of the company I previously worked for in San Diego for 17 years. When the opportunity to work at Bonick came along 7 years ago, I was impressed with the scope and level of high detail of their projects— they reminded me of the ones I worked on in San Diego.
Bonick's projects certainly exceed the scope of a typical landscape company! Can you walk us through the process involved in starting a new project and describe how the Bonick teams seamlessly work together?
Planning
When a new project gets assigned to me, I familiarize myself with the plans and contract and meet with the designer to review any pertinent details. Based on this information, I create a schedule for Bonick crews and subcontractors, noting materials to order and due dates. We hold a pre-construction meeting at the homeowner's property where we formally meet with our client and any subcontractors and review the project together.
Construction
From the planning phase through the duration of each project, I regularly communicate with the client, designer, crew, and subcontractors, providing weekly updates on our schedules and progress, noting specific milestones that have been accomplished, and what to expect the following week.  One of the most crucial pieces of our process is the consistent conversation between the designer, client, and myself. Together, we not only ensure that we're installing what is drawn on the plan but also catching any nuances that may not be picked up through the plan. As the project gets close to completion, the three of us will do a walkthrough to highlight any final details that need to be addressed.
Maintenance
Since Bonick is a full-service landscape company we also provide landscape maintenance and pool service to our clients. Toward the end of each project, our designer introduces the client to a services manager to discuss ongoing maintenance opportunities.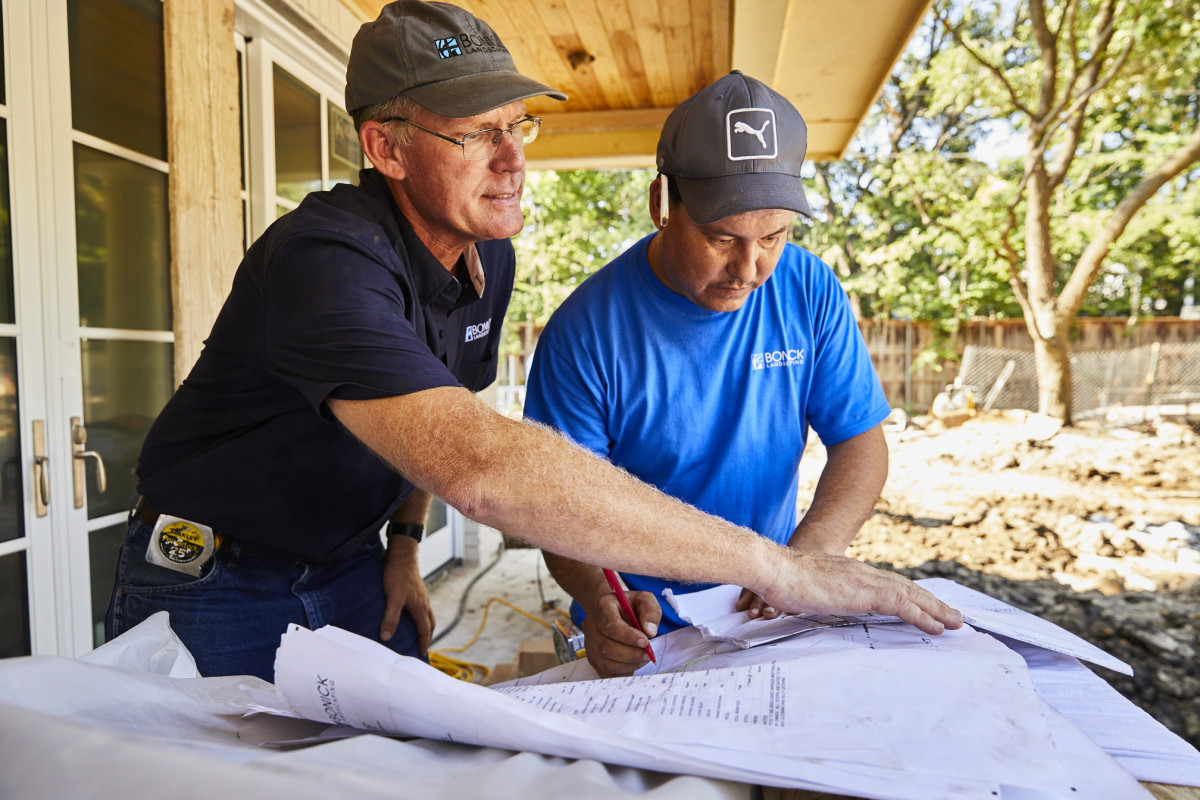 I'm sure your clients appreciate your thorough communication and the ability to allow Bonick to maintain what they build. What advice do you have for potential clients thinking about starting a new project for spring/summer?
Contact us today to set up an appointment with one of our designers. Even though we have multiple in-house crews and various subcontractors we work with, the simplest planting project can take up to 4 weeks to plan before the crew can begin work. A project with hardscape elements and/or a pool may take up to 8 weeks prior to breaking ground. This includes the design and estimating process, obtaining permits, and coordinating with any subcontractors needed. Basically, if you want to be swimming in your new pool by the 4th of July, you need to call now to begin the design process.
That sounds like a smart plan. What important factors help you to best meet your client's needs?
Because of the amount of scheduling and planning required for each project, making any necessary decisions as early as possible will help us be able to coordinate everything to construct the project in a timely matter. For example, some specialty tile may take 8 weeks to receive if imported from Italy. So in order to avoid delays, we need those types of selections made early so we can have materials on the job site when they are needed.
What would you say is the most rewarding part of your work?
Seeing the customer enjoying their finished product with their family and friends. While I may only see toys in the pool or notice that the grill was used after an install, seeing these ordinary clues gives me satisfaction in knowing that I was part of the team that created this personal environment where our customers can enjoy their family in a beautiful and safe setting.
Being able to see the fruits of your labor sounds really meaningful!  Thanks so much for walking us behind the scenes, Bob. We can't wait to see what you build next!
---
Bonick Landscaping owes its success to the commitment, creativity, and expertise of our employees. Our staff is our largest asset and our biggest differentiator, and we love taking the time to showcase them.