< Back to News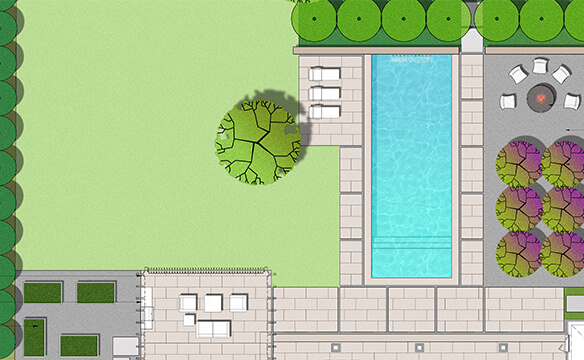 Where Architecture Meets Landscape Design: A Collaboration
Landscape Design Collaboration
In addition to clients who come directly to us, Bonick Landscaping collaborates with talented architects, builders, interior designers, and landscape architects. A landscape design and build collaboration we currently have the pleasure and privilege to be working on is a Preston Hollow property with the architectural firm, Stocker Hoesterey Montenegro Architects (SHM).
According to SHM, "We love working with Bonick Landscaping for their appreciation of the spatial relationships and the seamless indoor/outdoor experience that is achieved through our collaboration. Our client loves the flexibility Bonick has provided through a landscape design master plan, which sets a direction that can be implemented in phases and in response to the changing needs of the family across time."
Traditional Style, Modern Sensibilities
According to David Stocker of SHM, the design of the residence is "traditional, but judiciously simplified to give the home a more modern sensibility that answers to the needs and wants of a young family. Public and core spaces are placed near the main points of entry. Bedrooms are upstairs. Importantly, the gathering spaces and the master suite orient toward an expansive, private backyard and a deep, covered porch. Unity is achieved through horizontal and vertical alignments, linking experiences from room to room and from interior to exterior."
After meeting with SHM and going over the home design plans, our landscape designer, Michael Pappas, met with the client, a couple with young children, several times to get a list of their needs and desires for their outdoor space.
In the front, where there are two large trees, a pecan and a red oak, the couple wanted a courtyard feel for privacy and a greater sense of intimacy at the front entrance. The walled courtyard features ornamental trees, a small plot of grass, gravel, and limestone pavers leading to the main walkway. The front walkway is limestone in a traditional running bond pattern. The pavers with grass in between give the front a fresh, modern take while keeping with the architecture of the house. The homeowners wanted additional parking for guests in the front, which included a gravel extension off the driveway beyond the sport court.
Seamless Integration of Indoors and Out
According to Michael, "A key element in designing the back space was understanding the architecture and flow of the home. When you are standing at the front entrance, you can see down the hallway, through the house into the backyard. It was important to have that view be a very consciously planned one." That view includes an allée of trees, a fire pit, and a large perennial garden. From a different angle, this is also the view from the master bedroom.
Other features the homeowners wanted in their outdoor space:
A screen from the neighbor's tennis court in the backyard
A large outdoor living, cooking, dining area; partially covered
An herb and vegetable garden
A pool
A fire pit
A putting green
A place for a trampoline
The living area includes a covered veranda and a dedicated dining area with a grilling station that will be underneath a pergola. Off to the left of the dining area is an area with raised beds for an herb and vegetable garden. The play area for the trampoline and putting green are intentionally placed at the back of the lot so that activities in one area don't disrupt activities in another area.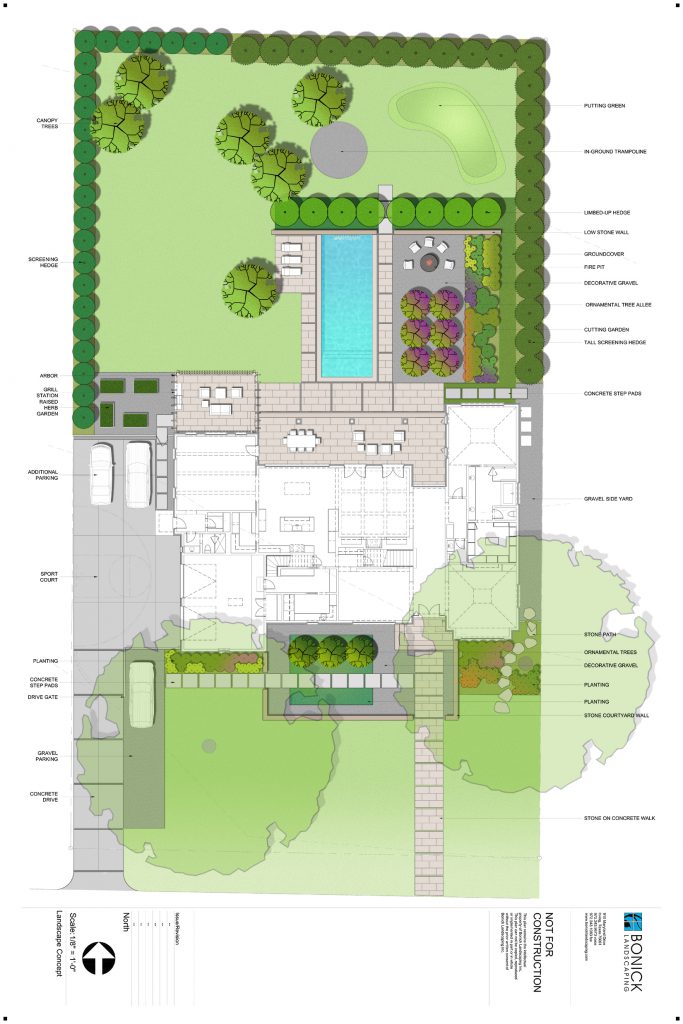 With the design in place and the client's list of needs and desires met, the next step will be choosing the plants and hardscape materials for the project.
Landscape Installation and Maintenance Collaboration
Recently, our blog featured another collaboration, this time with Hocker Design Group on a project of their design that won us the 2016 National Association of Landscape Professionals GRAND Award of Excellence for construction and installation as well as TNLA Gold Awards for Residential Installation and Residential Maintenance for a property in Fort Worth's Westover Hills.
Regardless of the project, everything we do is a collaboration whether it is between the client and our team or working with an architectural firm, one of our peers in the landscaping business, a home builder or an interior designer. When collaborating with other businesses, it is always exciting to see how our shared appreciation for clean design and passion for excellence in workmanship come together into a unified indoor/outdoor environment for each family.
For over 30 years, Bonick Landscaping, has served Dallas area clients with the highest standards looking for out-of-the-ordinary luxury landscape design and pools by offering the best in service, workmanship, and plantings. Services include hardscape and landscape design, pool designs, pool construction and installation, estate management, lawn care services and garden maintenance, pool maintenance, and more. For discerning clients in Dallas who want to express their own distinctive style through their landscaping, Bonick Landscaping can help you realize your dream. Call us at 972-243-9673 or visit our website at www.bonicklandscaping.com.