< Back to News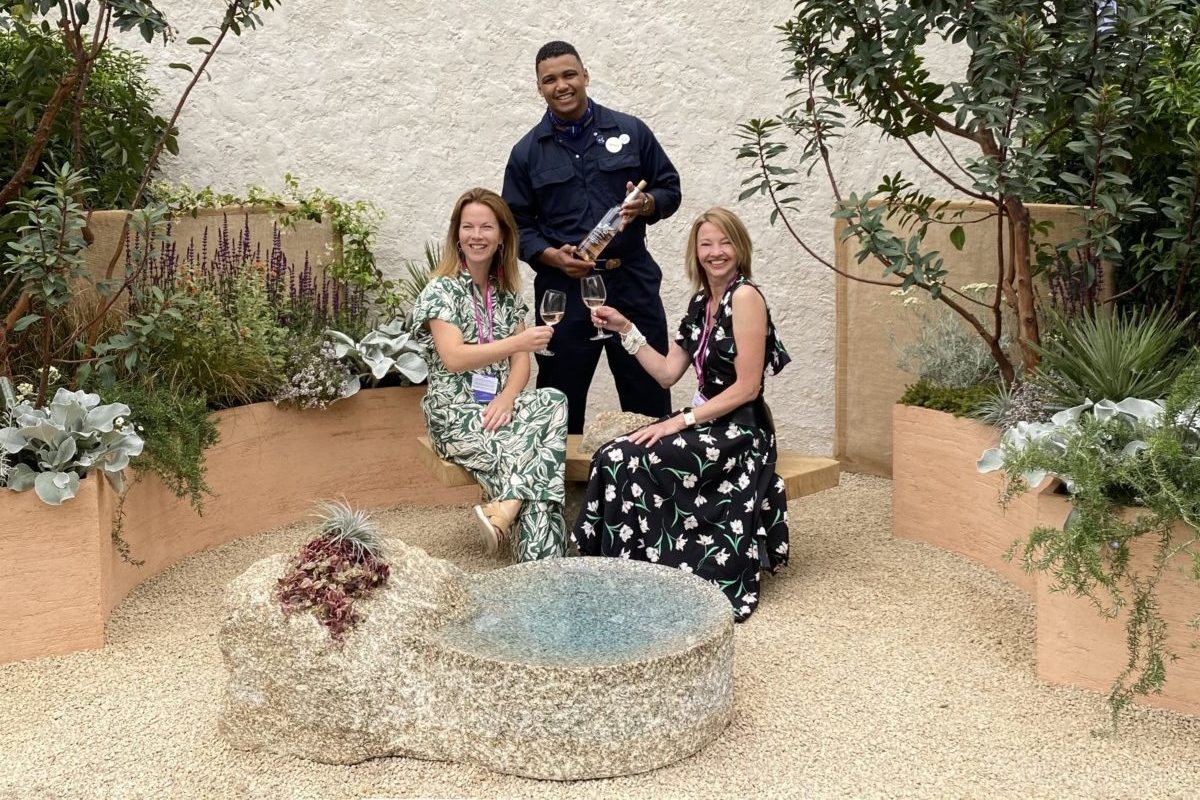 Tanya K Wilson & the Container Garden of a Lifetime
While it's always bittersweet to relinquish one of our Bonick family team members to their next adventure, it's equally rewarding to watch them blossom where they're planted. As family transition and fondness for Mallorca lured them back to Spain in late 2019, landscape designer, Tanya K Wilson, and her family did not anticipate all that would transpire. Tanya endured an unexpected, extended sabbatical due to Covid, but it gave her the freedom to rest and restore her spirit, and the timing ultimately led her to her ideal creative match. With her refined, minimalist aesthetic and penchant for mixing harmonious textures, it's no surprise that Tanya partnered with the talented Swedish Johanna Norlin of Mallorca Garden Design. Through this marriage of magnificent style, the two wound up exhibiting at the 2022 Chelsea Flower Show in London, England. Here, Tanya shares the details of her transition from Bonick to Mallorca Garden Design and regales us with the backstory of their award-winning container garden.
Years ago, Tanya and her husband Marek lived in Madrid, where their daughter Siena was born. Tanya had her own design company but found it difficult to manage everything herself in a creative field. Eventually, Marek wanted to try working on his own in the states, and Tanya wanted to be near her parents, whose health was declining. While Marek built a successful one-of-a-kind furniture and sculpture business, Tanya worked for a design-only company. However, she always admired Bonick's contemporary style, and eventually procured a position on their talented design team. Transitioning to a full-service design-build company was incredibly fulfilling.
"At Bonick, because it's design-build, you're involved in the whole process from client consultation through overseeing the design with the construction teams to surrendering the finished product to a maintenance team. Curating clients' landscapes over time and being able to see your work from start to finish for a happy client—ideas to installation— was extremely rewarding. I worked with such professionals and wonderful clients, and I learned something new every day—that that diverse teamwork is one reason why they're extremely successful!"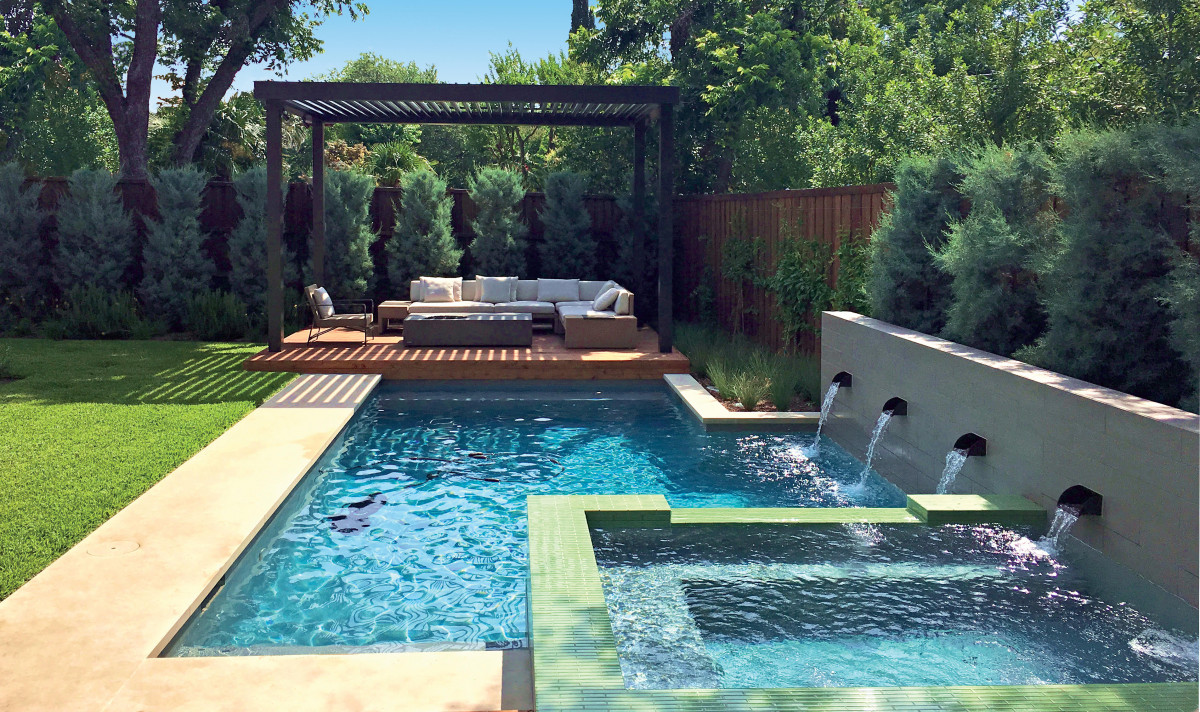 While at Bonick, Tanya designed some pivotal, award-winning projects, and even worked alongside renowned Dallas architects and interior designers such as Bentley Tibbs and Alice Cottrell on our collaborative Carolyncrest installation. Her husband, Marek even designed a few pieces for her projects, like this custom, concrete and metal bench shown below.
After the passing of her mom in 2019, Tanya and her family relocated to Mallorca to be closer to Marek's mom, whose health was declining. After a long period of strict pandemic lockdown, Tanya knew she wanted to get back into designing. She missed being surrounded by a creative team for camaraderie, as she had at Bonick, so in the fall of 2021, she began looking into local companies. She connected with a Swedish designer named Johanna, and the two bonded over their love of creating sophisticated spaces using simplified, natural materials. Tanya admired how Johanna managed to move to Spain, learned Spanish, and started a company in another country.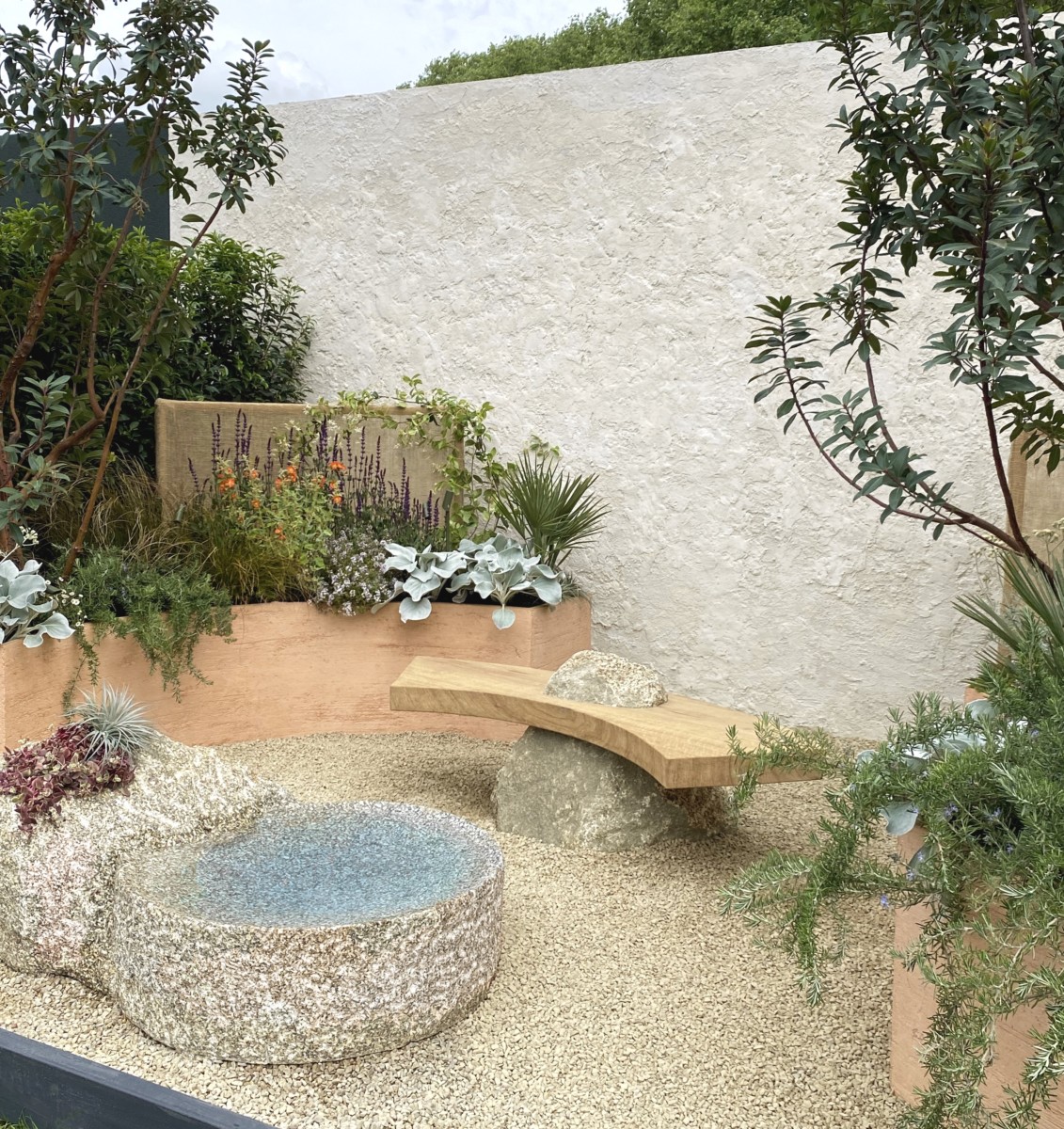 Mallorca has an extensive range of vacation homes with large gardens, but also numerous terraces and penthouses requiring many container gardens.  Johanna and Tanya had always dreamed of exhibiting at the prestigious Chelsea Flower Show in London, the highest regarded garden design and flower show in the world, with an international presence. The two developed a container garden concept inspired by the Mallorcan landscape and began the rigorous application process which included detailed plans, a mood board, pricing, and a 3D rendering for a judging panel. They were notified in January of their success in landing a coveted container garden.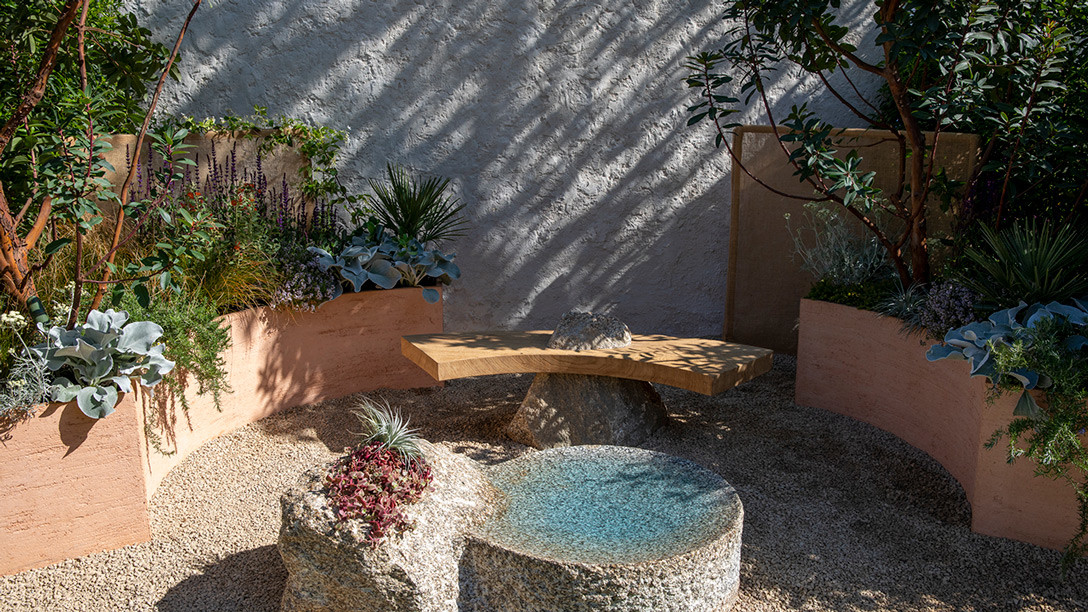 Entitled A Mediterranean Reflection, their container garden utilized the colors and stone textures of the Mediterranean coast through artisan elements, all sourced in the UK to be sustainably minded. The key features represented the various layers of the coastal Mallorcan landscape. The sea was represented by the carved granite water feature and the limestone cliffs of the sea were depicted by a hand-textured finish on the back wall. Finally, the color of the Mallorcan soil was represented by the custom textured planters.
Each designer was given a pre-built site (container gardens were roughly 9 x 12 feet) with a plain back wall and 2 side hedges, plus a choice of 4 different ground coverings. They were grateful that buff gravel was one of the options since it was well-suited for their Meditteranean garden.
Since they were designing their project remotely, they called upon the highly recommended local team at Landform Consultants for the installation in advance of the event. They spent 2 weeks in London for the final execution. Marek did the rendering of the artisan back wall and assembled the custom reclaimed oak and granite bench of his own design. Johanna and Tanya planted the containers, which was an unusual task since they had to mimic the fullness and maturity of plants by utilizing a higher planting density for their show pieces than what they'd typically plant in an actual garden. They wanted to show a creative plant combination for their containers that were suitable for the Mediterranean climate. They went with native plants from Mallorca along with ornamentals of South Africa and Australia, also seen in Mallorca. The end result was drought-tolerant plants of succulents, perennials, and ornamental grasses, and 2 small sculptural trees of Arbutus andrachnoides. The full plant list can be seen on their website, Mallorca Garden Design. 
Because their uniquely contemporary, minimalistic style looked more like an art installation, they were touted by the British press as one of the best container gardens to visit at the Chelsea Flower Show.  Local Mallorcan papers and the leading Spanish newspaper, El Pais, published their story as well, inspiring many Spanish visitors to their installation at Chelsea.
They also received two very special visitors hailing from Dallas, Texas. Glenn Bonick not only sponsored their garden, but he and his wife Mimi made the trek out to the Chelsea Flower show for the week.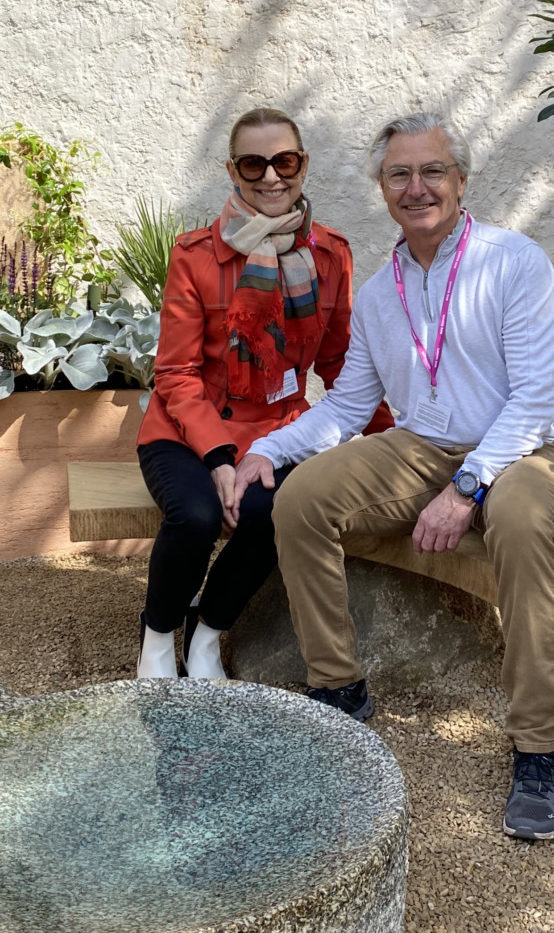 "Having my former boss sponsor us was an enormous honor and extremely touching, and it really reinforced the company's core values of family first."
As far as show highlights go, Tanya was not only able to fulfill a lifelong dream of being a participant at the Chelsea Flower Show, but their container garden earned them a silver medal in their category! On top of that, she exclaimed, "Queen Elizabeth did a tour in her buggy and
she
and her guide stopped
in front of
our garden!"
While it was a lot of hard work juggling their regular clients along with 6 months of lead time prep work, the experience was worth one they'll never forget. Since then, Marek sold his bench to a London design client, where it now has a happy new home. Tanya and Johanna also gained marked exposure for their firm and made some interesting connections at the event,
including a possible commission for a botanical garden in the northern part of the Spanish peninsula
.
 We're so proud of Tanya and all her accomplishments, and it was an honor to sponsor her and Johanna and visit their stunning garden. We wish them spectacular future success in all they do!