< Back to News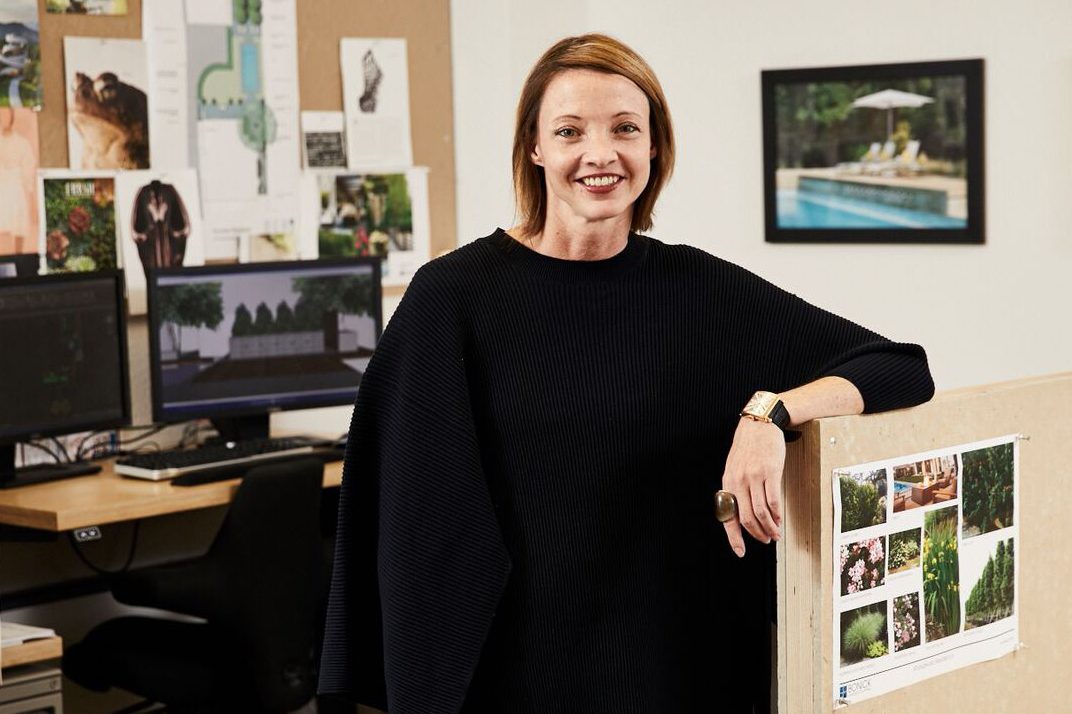 Meet Landscape Designer, Tanya Wilson
We hope you've been enjoying learning about our team members, and we're pleased to continue our employee spotlight series  with an interview with Landscape Designer, Tanya Wilson.
Bonick Landscaping owes its success to the commitment, creativity, and expertise of our employees. Our staff is our largest asset and our biggest differentiator, and we love taking the time to showcase them.
---
Tammy: Tell us a little bit about your background before Bonick Landscaping: How did your passion for landscape design evolve?
Tanya: I studied fashion design and worked in product development and sales for many years in New York and Paris. When I met my husband in Italy, I moved with him to Madrid a year later and started a contemporary floral design studio which focused on events and floral art. Although I loved the amazing creativity it afforded, fresh flowers have a short life, and I wanted to create beautiful spaces that would leave a lasting impression on people. Because of my relationship with plants and flowers, it was a natural progression.
Tammy: That's quite a creative portfolio! What would you say fuels your design inspiration?
Tanya: Many different things, but there is a common thread of good design. I may be drawn to the simplicity of a form in a sculpture, the contrast of steel against the delicate head of a flower, the joinery of a piece of furniture, or the color combination in a fabric.
Tammy: What are 3 important pieces of information you need from a client in order to execute a design?
Tanya: Good communication on what they would like to achieve so that I may interpret a vision for their site and aesthetic, a realistic budget to guide a thoughtful design with integrity, and trust.
Tammy: Sounds like essential details to ensure that  you and your client are on the same page. What does your initial creative process look like once you sit down to begin a new project?
Tanya: I like to talk to my clients in depth to understand what they are looking to accomplish. Once I have walked the site and felt the potential of the space with the architecture and its surroundings, I begin with loose spatial designs. From there, line work is further developed in conjunction with thinking about the various vertical planes.
Tammy:  I'm sure they appreciate that personal touch! How would you describe your design style? Do you have any inspiration images that best reflect it?
Tanya: Refined simplicity with a focus on details. I love these images from the elegant John Pawson Bridge at Kew Gardens in the U.K.
Tammy: Gorgeous! Ok, last question: What do you like best about working at Bonick?
Tanya: Being a full-service boutique firm, we have an amazing group of knowledgeable and talented individuals with whom to learn and engage. We believe in noble materials, craftsmanship, creating impressionable outdoor environments for our clients, and maintaining those client relationships for the long term.
---
You may also like:

Meet Landscape Designer, Todd Piasczyk
Exceeding Client Expectations: An Interview with Glenn Bonick, founder of Dallas-Based Bonick Landscaping
---
Interview by Tammy Vanderkolk
For over 30 years, Bonick Landscaping has served Dallas area clients with the highest standards looking for out-of-the-ordinary luxury landscape design and pools. We pride ourselves in offering the best in service, workmanship, and plantings. Services include landscape design, construction, garden management, pools and collaborative projects with landscape architects and other industry professionals.
For discerning clients in Dallas who want to express their own distinctive style through their landscaping, Bonick Landscaping can help you realize your dream. Call us at 972-243-9673 or email us.