< Back to News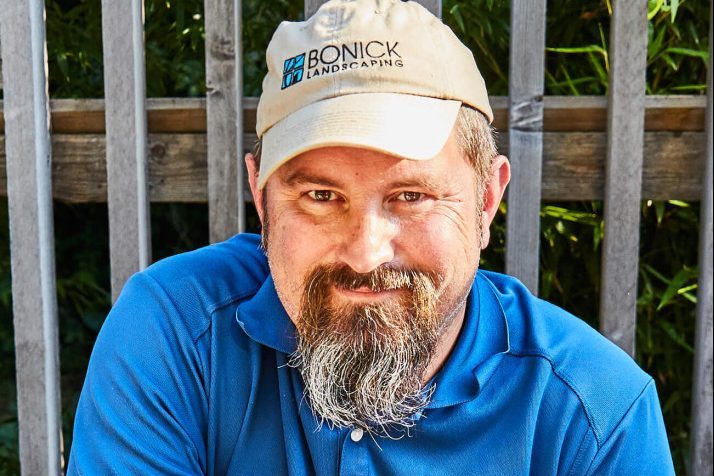 Meet Pool Manager, Bo Nicholson
With our warmer Dallas weather and the increasing amount of time we've all been spending at home lately, we're ready to start swimming! What a perfect time to shine the spotlight on our dedicated pool manager, Bo Nicholson.
Bonick Landscaping owes its success to the commitment, creativity, and expertise of our employees. Our staff is our largest asset and our biggest differentiator, and we love taking the time to showcase them.

Interview by Tammy Vanderkolk
---
Hello, Bo. Thanks for taking the time to answer a few questions for our readers. Can you please tell us a little bit about your role at Bonick Landscaping?
My role at Bonick is Pool Manager. I oversee our Pool Care Technicians, handle all of the pool repairs, and help with new plaster startups.
What does a typical day look like in your world?
A typical day is very random—one day I may be cleaning pools and other days I could be doing repairs. Each day varies. That's what makes this job challenging and fun!
What was your background before Bonick Landscaping?
Before I was in the pool industry I worked for a fixture manufacturer, HVAC, a tire company, and fast food equipment maintenance.
You sound incredibly handy! So, what inspired your passion for pools?
My need to provide for my family inspired my passion to get into the pool industry. I began cleaning pools 27 years ago without any knowledge of the industry. Now I'd like to think I know a little more! (laughs)
It's great to hear that you were able to learn on the job! What is the most rewarding part about your role?
The best thing about my job is how accomplished I feel when I solve a problem that another pool company cannot. It's also rewarding when the customers are appreciative of my hard work so they can once again enjoy their pool.
I bet that feels great!
So, since many people have been staying home during this pandemic, they're ready to utilize their pools. Can you tell us more about the various options available to heat their pools so they can start swimming now?
Sure—A heat pump is a dual-purpose piece of equipment. It can cool the water in the summertime and heat the water in the cooler months. If you are looking for equipment to do both, then a heat pump is your best option. If all you want to do is heat the water then installing a heater is the way to go; it will heat the water up to 104 degrees, which is especially good for spas.
Another thing on people's minds is water health. Could you speak a bit about that topic and share the importance of pool cleaning with us? 
Proper water chemistry is ideal for a beautiful and clean pool. Having some type of chemical feeder is a must for Texas pools, especially in the summer. Getting an automatic liquid feeder is ideal for the homeowner and cleaning professional since it's very low maintenance. Installing an automatic feeder with an
ozone and UV light system
will make the swimming experience even better.
Fantastic! Thank you.
Ok, time to get a little personal—Would you mind sharing more about your family?
I've been married to my beautiful wife going on 28 years in June. We have three kids: Our oldest lives in Dalhart, Texas and he is a lineman. Our daughter is in nursing school and is getting married next year. Our youngest son works for Toyota of Rockwall doing maintenance work on vehicles.
When you're not at work, what do you like to do in your spare time?
I like spending time with my family and friends. I bowl on a league and enjoy going off-roading when and if I can.
What do you enjoy most about working at Bonick?
The best part of working at Bonick is the friends I've made over the last 12 years. I enjoy working with them at the office and out in the field.
It's great to hear how close-knit everyone is within the Bonick family! Thanks so much for talking with us, Bo!