< Back to News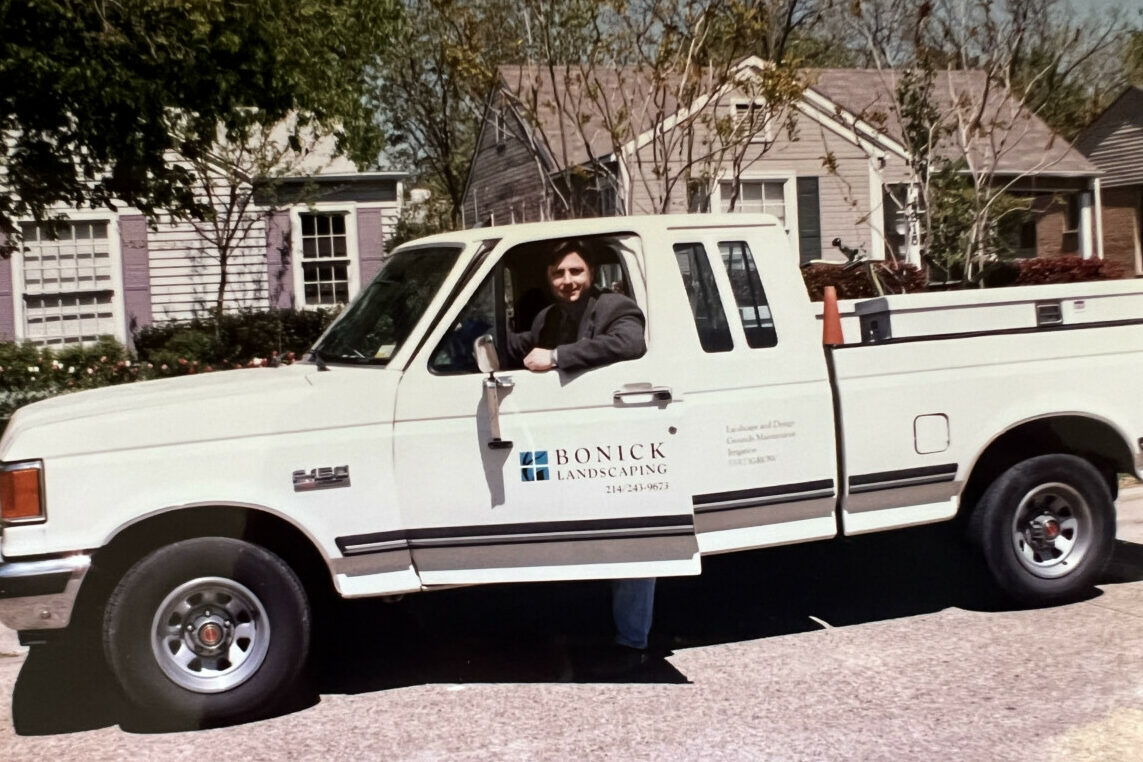 The Evolution of Four Decades in Dallas Landscapes
Five Facts You Probably Didn't Know About Dallas Landscape Company, Bonick Landscaping 
When Glenn Bonick created his first landscape plan in high school, he had no idea it would evolve from such humble beginnings into a Dallas luxury brand. He attributes their growth and success to their continual pursuit of excellence in their impeccable craftsmanship, communicative client service, and remaining on the cusp of cutting-edge knowledge. Glenn and his team are beyond grateful to their distinguished clients for the opportunity to improve the beauty of their landscapes and the functionality of their lifestyles over the years. I recently had the opportunity to sift through the archives of this esteemed Dallas landscape company, and I was enchanted by what I unearthed. Enjoy a trip down memory lane and discover fun facts about the last forty years of Bonick Landscaping in this curated collection of memories.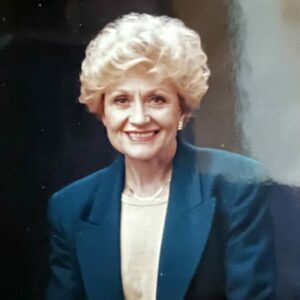 1. Glenn's mom, Lyn was the voice of Bonick
In the late 80s, Marilyn Bonick, affectionately known as "Lyn" originally came aboard to help Glenn as office manager until he found someone permanent. In an early interview, she laughed "…and I'm still here, eight years later!" For nearly a decade, she was that cheerful voice heard on the other line of customer service calls, and she also dispatched crews via cellular radio. Lyn was beloved by Bonick clients and office staff alike.
2. Bonick was one of the first Dallas landscape companies to go organic
Based on the philosophy that every landscape has individual needs, Bonick added its personalized lawn care division, formerly known as Fertigrow, in 1987. Offering three environmentally conscious care programs for lawns, trees, and shrubs, including low-impact, organic, and integrated plant management, the team at Bonick were trailblazers in the green landscaping industry. (Lambert's Landscaping, previously led by Howard Garrett, was the only other company to offer organic services at that time.)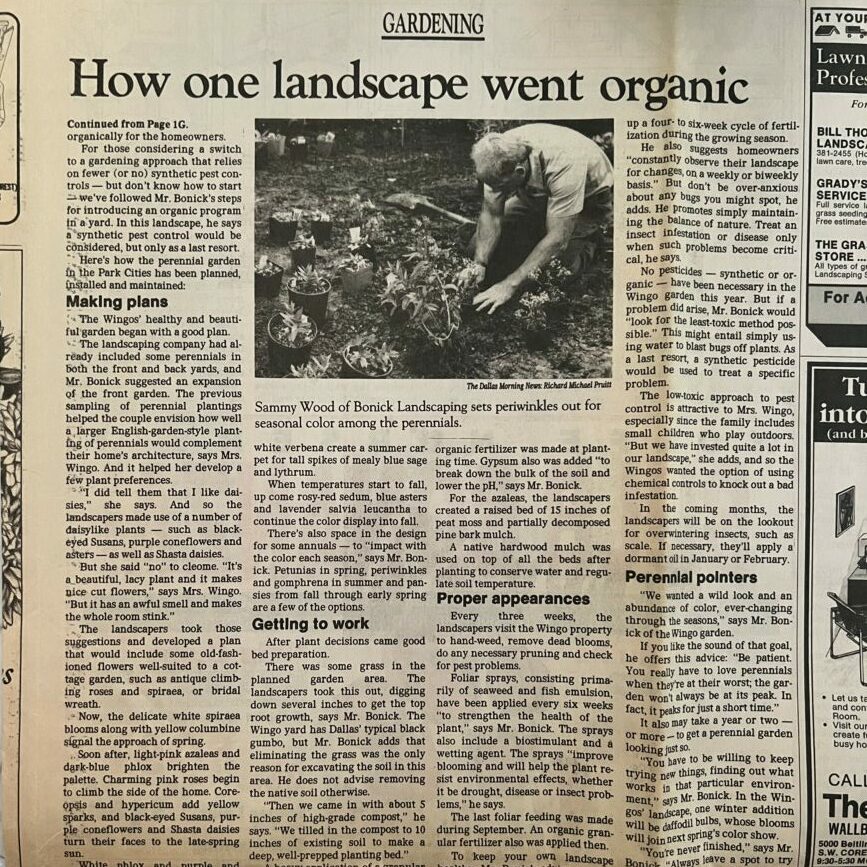 In fact, in October 1991, Bonick's planning, installation, and maintenance of one Park Cities organic garden were documented in detail in the Dallas Morning News.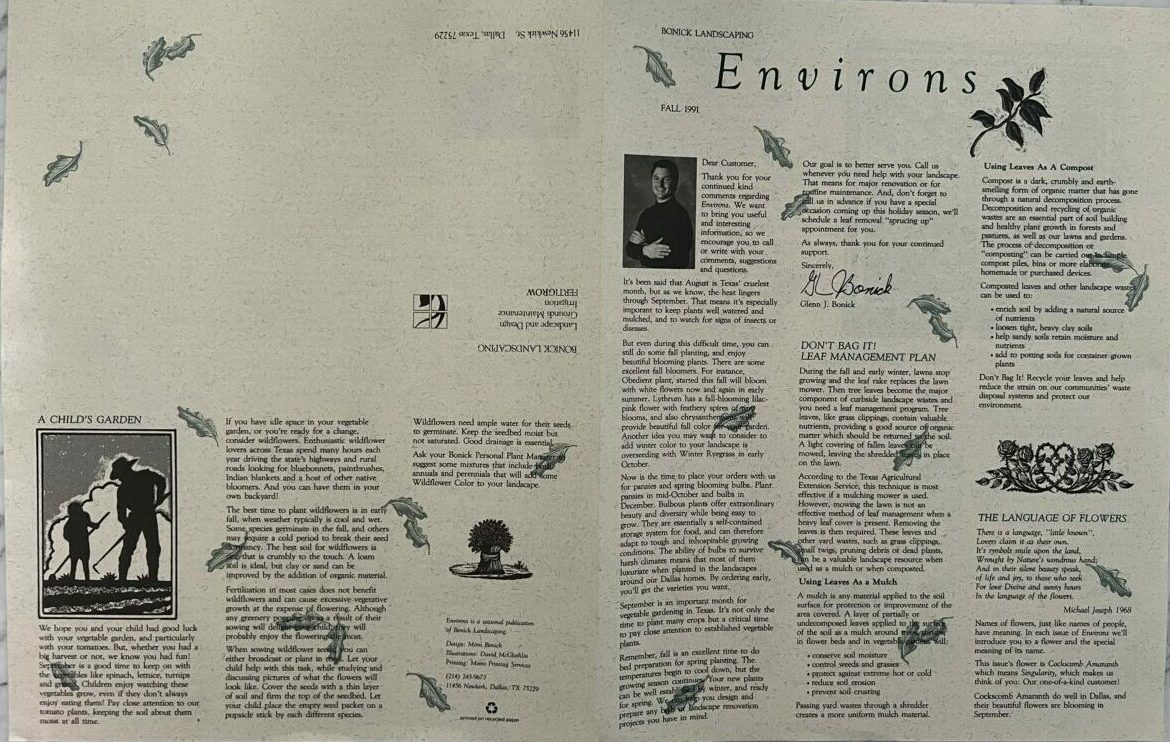 3. Glenn's wife, Mimi was Bonick's original graphic designer
Back in the days of stone-washed jeans and oversized sweaters, our Bonick newsletter began as a 4-page mailable magazine. Keeping it in the family, Glenn's wife Mimi Bonick, (who also designed the Bonick logo) laid out each newsletter by hand. Featuring commissioned woodcuts from several local artists, each newsletter was typeset quarterly and filled to the brim with original seasonal content.
4. David Rolston & Glenn Bonick Owned a Popular Dallas Antique Store
Glenn Bonick and Dallas Landscape Architect, David Rolston joined forces from 1995-2000 to bring a unique garden antique shop to the Park Cities. Rolston & Bonick was located in the Knox Henderson area, which, at the time, boasted the greatest concentration of antique shops in Dallas. Their fine finds were featured in an extensive spread in Southern Accents magazine.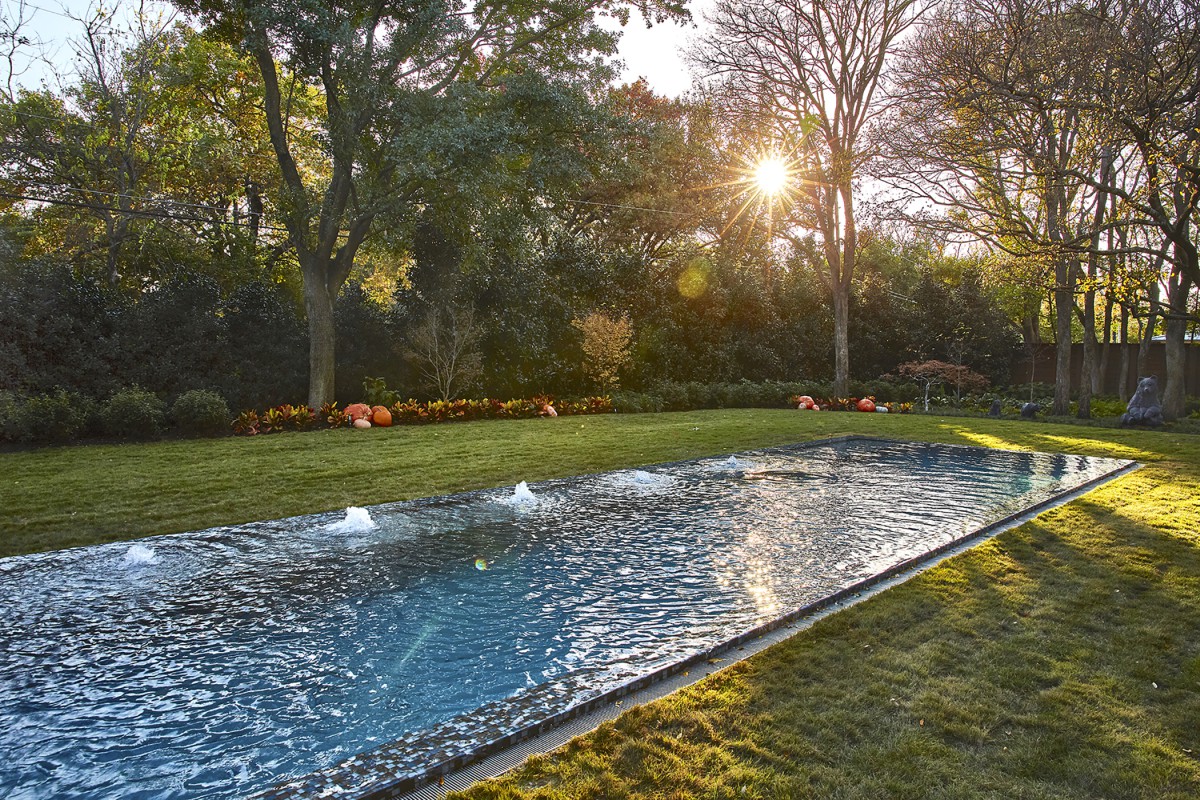 5. Bonick has been building luxury swimming pools for nearly 20 years
Bonick emerged as a leader in another avenue of Dallas landscape design by bringing pool construction in-house in 2003. Within five short years, they realized their clients needed knowledgeable service for the pools, and their current claim of maintaining everything they build was born with the launch of their pool services division in 2008.
Glenn Bonick and his team have been honored to be considered one of Dallas' best landscape companies over the past four decades. Their desire to be at the forefront of their industry and preserve the continued legacy of their clients' investments places them at the pinnacle of their craft. Bonick is looking forward to another 40 years of creating custom outdoor spaces for Dallas residents. Contact Bonick to bring your landscape to life.