< Back to News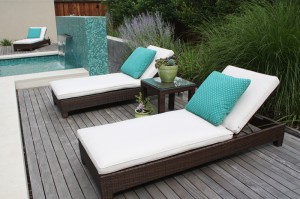 Wood Pool Decks – Bring on the Brazilians!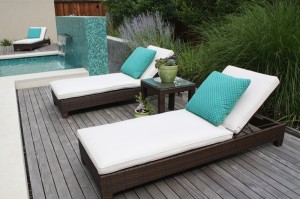 When you embark on designing a pool, you're envisioning that glistening water and how soothing and relaxing it will be. But you're only half way there: what goes around the pool?  One option is decking, which adds the warmth of wood to your aesthetic plan. But as anyone who has ever maintained a wood fence knows, wood requires some upkeep.
Some designers today suggest that man-made or composite decking made from recycled plastic is an eco-friendly choice that removes maintenance issues. It sounds great, but in practice, the aesthetics just aren't quite there. It's faux and well, it looks faux.
Another issue with man-made materials is cleanup. They require periodic cleaning twice a year to look their best and to kill mold. For green clients, it pretty much defeats the purpose if they have to use chemicals, especially where people walk barefoot frequently.  And composite decks tend to stain and scratch quickly.
Wood decking is actually a great option, but it's all in the type of wood you choose. We like the durability of cedar deck boards. These dense boards offer very small knots and stain beautifully, allowing you to introduce color to your yard. Cedar typically lasts 10 to 15 years.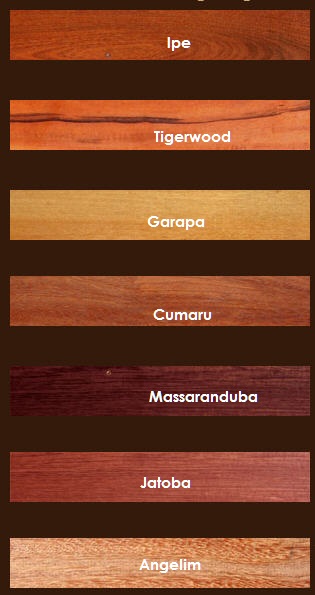 For an extremely long lasting, low maintenance option, consider the range of Brazilian hardwoods which require no maintenance except a little oil. Ipe is a dense Brazilian walnut that is harder than nails.  It lasts and lasts (up to 100 years!) but is more labor intensive to install as it requires pre-drilled screw holes. Its rich color ranges from an olive color to black with natural variegations.
Garapa, or Brazilian oak, is a lighter colored wood that provides an airy feeling and combines well with Ipe. Naturally pest resistant and impervious to rot, Brazilian Oak offers a beautiful, honey tone that requires only a UV sealer. Its lifespan tends to run twenty five years. Cumaru (Brazilian Red), Jatoba (Brazilian Cherry), Tigerwood, Angelim and Massaranduba (Brazilian Redwood) provide the same strength in a range of different tones and grains.
Used for years in nautical applications, teak woods are still the ne plus ultra of woods. This hardwood stands up to practically everything including fungus, rot, insects, and acids though its cost can be prohibitive. Teak's natural oils also eliminate the need for sealants, making it maintenance free. Burmese Teak is perhaps the best known and most expensive. A lower cost alternative is Cherry Teak, another extremely hard wood, even among the Brazilians, and known for its luxurious graining.
From a cost and beauty perspective, we think Brazilian hardwoods weather gorgeously and provide a rich, real wood look that recycled plastic still can't touch.