< Back to News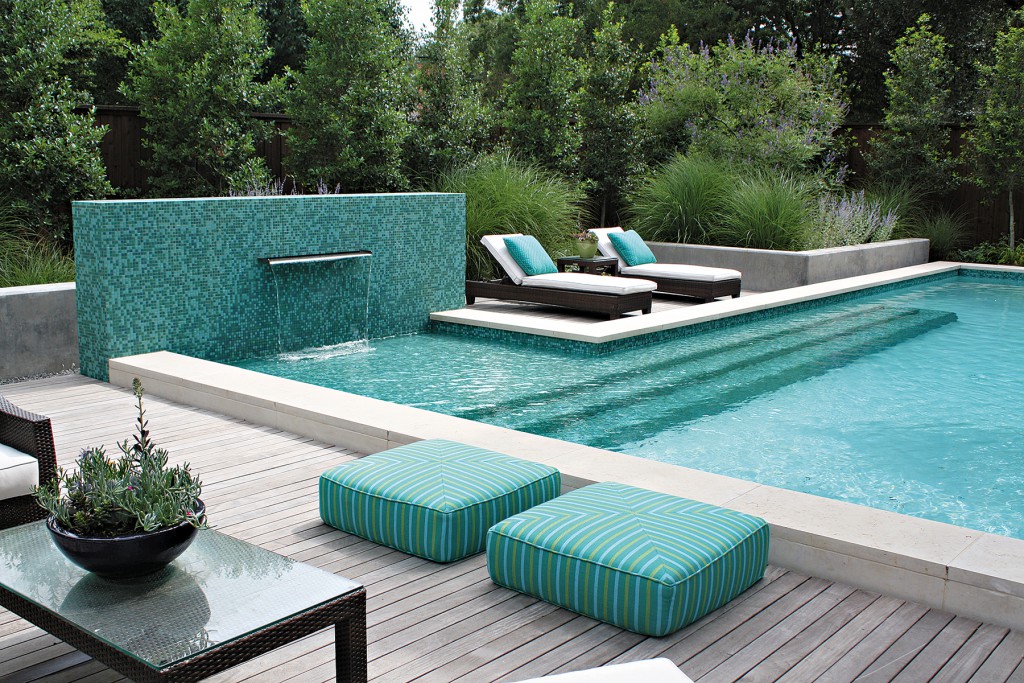 Top Ten Trends in Pool Designs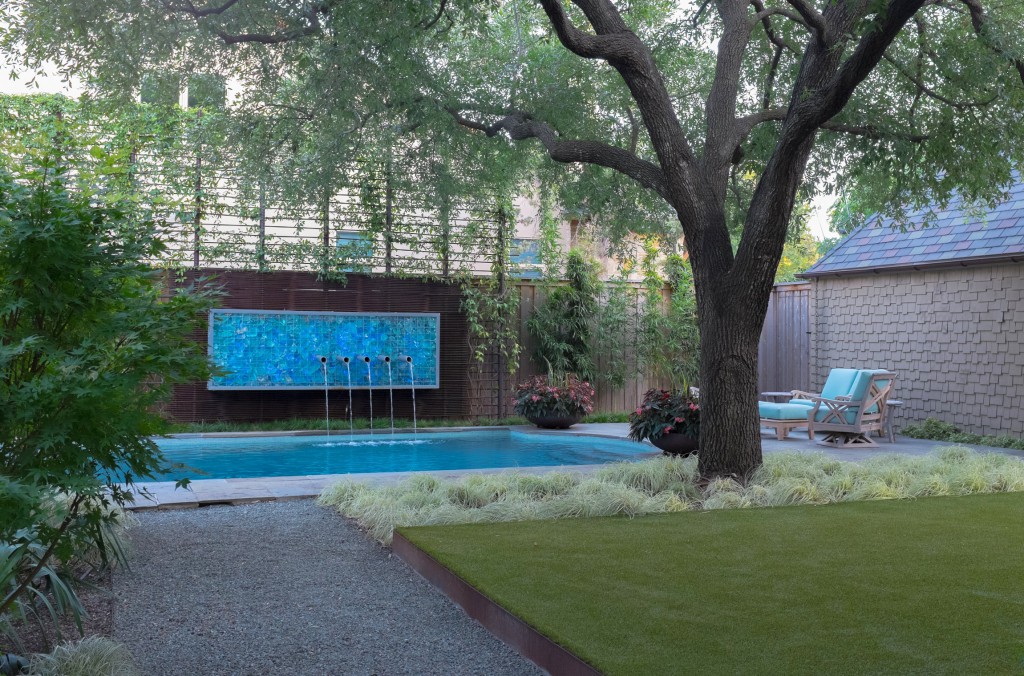 Swimming pool season is fast-approaching in the Dallas area. Although pool designs and swimming pool installation are an important part of our business year-round, requests surge in the spring as Dallasites contemplate our sunny summers and high temperatures.
Installing a swimming pool was among our top 10 New Year's resolutions for homeowners this year because Texans get more use out of their pools than residents of most other states. (Texas ranks third in the country after California and Florida for having the most inground pools.) The National Association of Realtors' National Center for Real Estate Research reports that an inground pool can add about 11% to a home's resale price in the Sun Belt. But the real reason to consider a swimming pool installation is that a pool is more than just a place to cool off. It enhances the beauty and enjoyment of your backyard and provides a leisurely gathering place for family and friends almost year-round in Dallas.
If you're considering adding an inground pool, here are some of the most popular trends in pool designs for 2016.
1.) Geometric pool designs continue to increase in popularity (rectangular, L-shaped, square, round, oval, etc.) as the sleek, clean lines tend to have a more contemporary feel. Popular pool features such as tanning ledges, water features, sloping entries, etc. are easily added to geometric inground pools while still maintaining a clean look.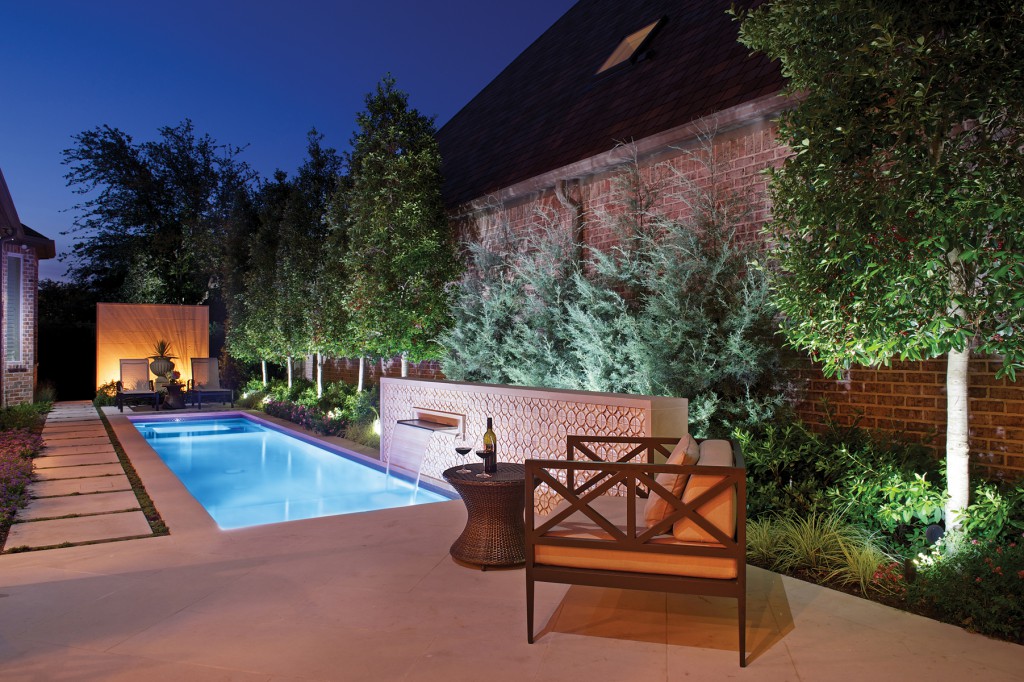 2.) The demand for smaller inground pools, especially in urban neighborhoods, continues to grow. Plunge pools, and spools (pool/spa hybrids) are very popular, sometimes taking up almost all of a small backyard, transforming it with a mini-resort feel.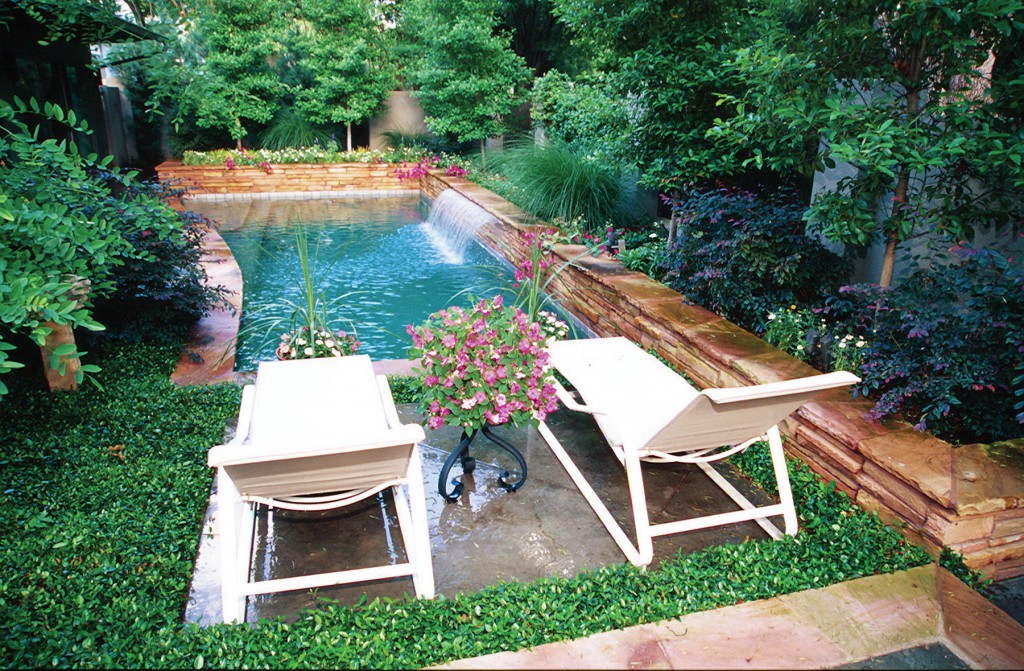 3.) Natural deck materials such as travertine, bluestone, limestone, sandstone and other natural stone materials are popular requests for an upscale look in pool designs. Exotic hardwoods, such as Ipe, teak, and cumaru are also growing in popularity.
4.) Glass tile is one of the most popular trends in pool designs today. Glass tile captures the light from the sun and mirrors the movement of the water, providing a glittering effect. Using glass tile as an accent – particularly when used as waterline tile – is one of the most effective and dramatic ways to update the look of an older inground pool. Because of its shimmering properties, glass tile is also an extremely popular choice for water feature accents.
5.) Tanning ledges, also known as Baja steps or lounging ledges continue to increase in popularity. These ledges, typically with about a 6" water depth, provide space for chaises and umbrellas so you can relax in the water without getting fully submerged. They also offer a shallow play area for children, making them very family friendly.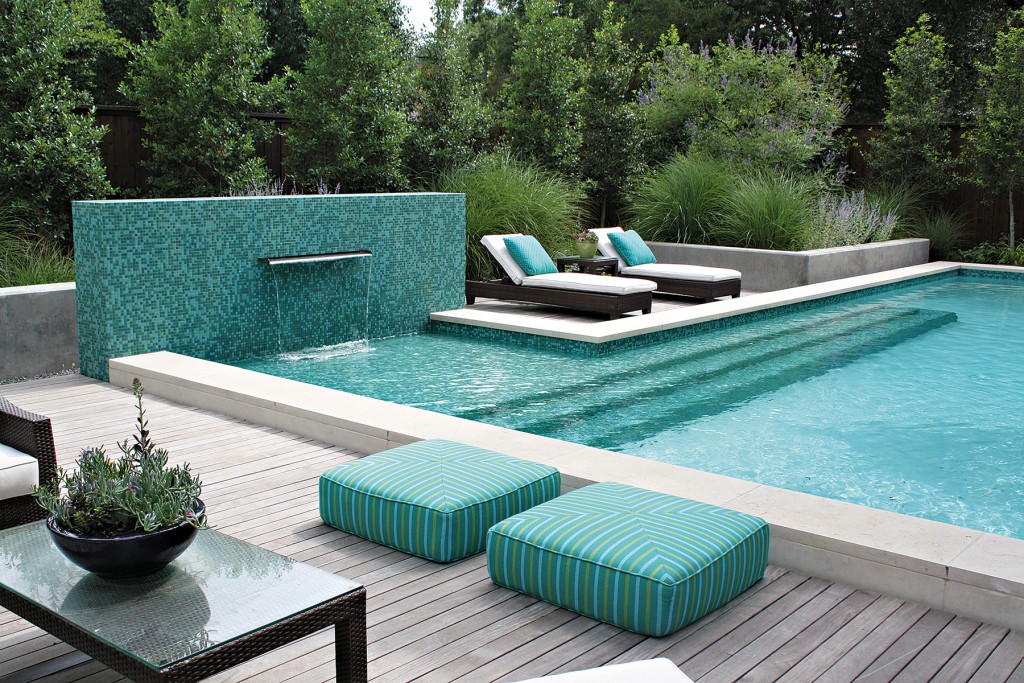 6.) Fire and water features – one or the other or both – are so popular they have almost become standard for upscale pool designs. Fountains, waterfalls, rain walls, jets, and bubblers (which sometimes include LED lighting), can transform your poolscape into a resort-like oasis.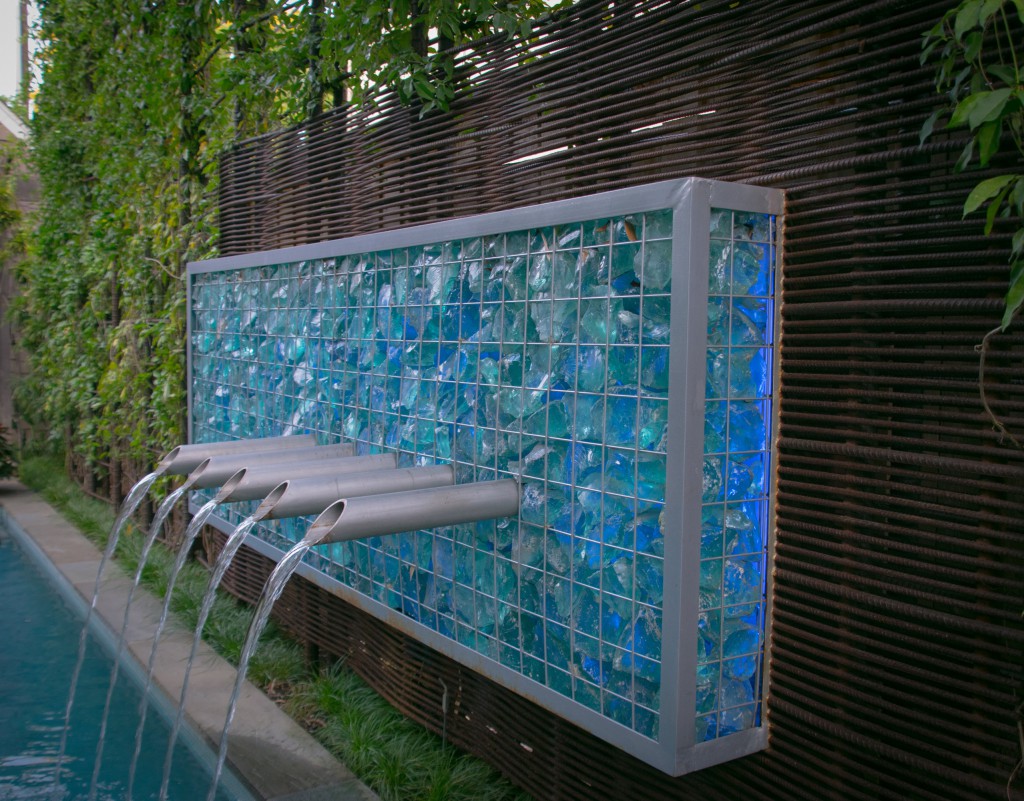 7.) Knife-edge pools are the next evolution in popular infinity-edge pools. With a knife-edge pool, the water level is raised to the same level as the pool deck, then it drops it into a surrounding slot to create a mirror-like effect on the surface and a seamless transition from deck to water.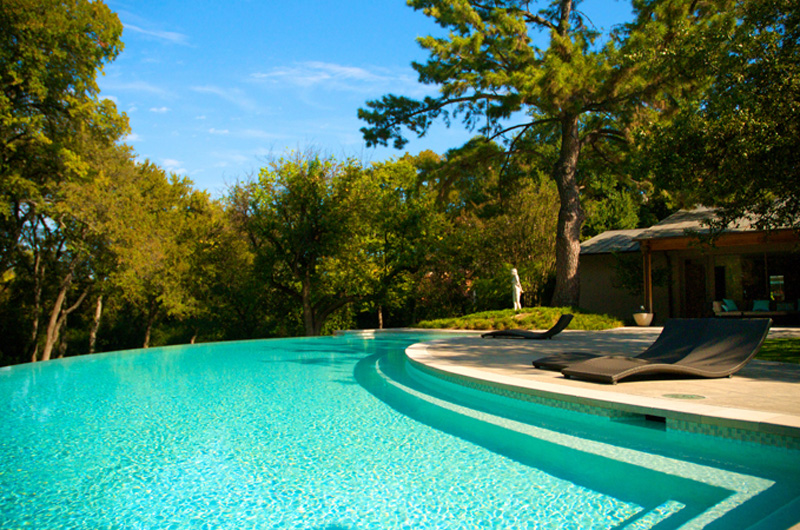 7.) Digital features are another big trend in swimming pool installation. High-tech features allow you to control your pool and spa's lighting features, temperature, cleaning, and filtration via your smartphone or other digital device. With some systems you can even control your pool's security systems, outdoor speakers, and/or connect it to your existing home automation system.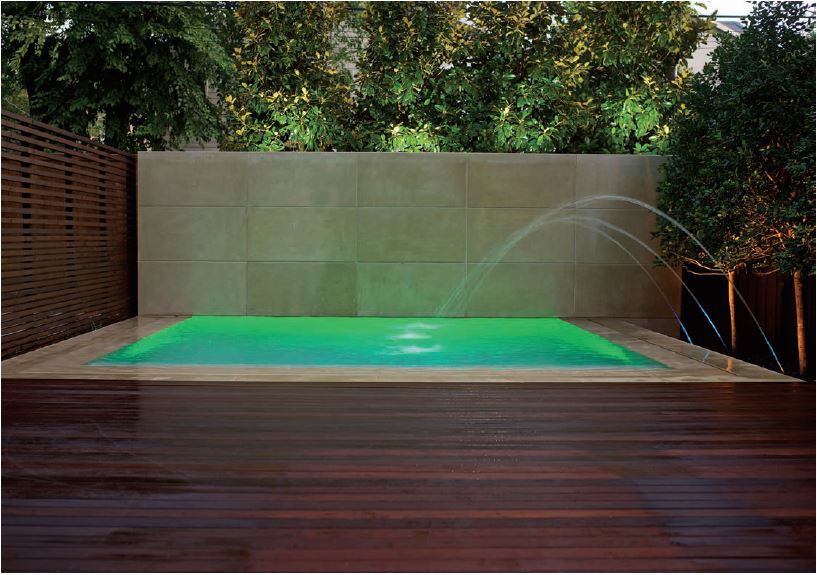 9.) Ozone and UV systems are also gaining in popularity. Ozone is a gas that is dissolved in water to kill microorganisms, destroy organics, and break down chloramines by oxidation. Ozone has no effect on the pH levels of swimming which translates to less chemical usage. UV light inactivates microorganisms and breaks down chloramines with light energy. While neither of these systems completely eliminates the need for chlorine, they can reduce chlorine usage by 50% or more. These systems also reduce the need for swimming pool maintenance by breaking down filter-clogging contaminants such as grease and oils.
10.) Automatic pool covers are also becoming increasingly popular. A large part of the cost of the cover can be recouped by saving on heat, chemicals, cleaning, and extending the life of your pool equipment. Studies show consumers save up to 70% on pool operating costs when using covers, which is a great return on investment
For over 30 years, Bonick Landscaping has served Dallas area clients with the highest standards looking for out-of-the-ordinary luxury landscape design and pools by offering the best in service, workmanship, and plantings. Services include hardscape and landscape design, pool designs, pool construction and installation, estate management, lawn care services and garden maintenance, pool maintenance, and more. For discerning clients in Dallas who want to express their own distinctive style through their landscaping, Bonick Landscaping can help you realize your dream. Call us at 972-243-9673 or visit our website at www.bonicklandscaping.com.