< Back to News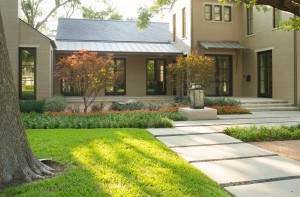 Top 5 Reasons to Update Your Landscaping
There are many reasons you may want to update your landscaping. To begin with, your landscape is always evolving as plants mature and seasons change. A landscape that looked perfect for years may appear off-balance if a tree doesn't survive a wind storm or shrubs succumb to spider mites or become misshapen due to improper pruning. A very broad rule-of-thumb suggests you take a hard look at your landscape plan at least every five to ten years. Here are five landscaping challenges that may indicate your landscape may be due for an update now:
1.) Your front yard is not functioning well. The main purpose of your front yard is to provide an entrance to your home. A good design strategy takes into consideration:
how vehicles approach your home,
how pedestrians approach your home, and
how welcoming your home, especially the entryway, is overall.
With cars, is it easy to see where to turn into the drive and where to park? Is the driveway wide enough to open the car door and step out without stepping on plants or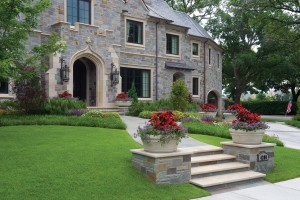 grass? Are walkways and steps safe and easy to navigate? When people arrive after dark, are there lights to clearly indicate the turn from the road to the driveway, the walkways, and steps to the front door? Is your front entrance welcoming and does it truly convey a sense of arrival? Is the space leading up to the front door wide enough to accommodate several people and is it covered so that guests are sheltered in inclement weather? The front door is the centerpiece and most important part of your home's front façade. Everything else should be considered in relation to it and both support and accent it.
2.) Your front yard lacks curb appeal. Thanks to HGTV and its wildly successful show, Curb Appeal, you know what I am talking about. Your front yard is the most viewed aspect of your home; it is the space that welcomes your neighbors, friends, and family. Be honest, how welcoming is it? Does it match the architecture of your home? Does it meet the same design and appeal standards as the inside of your home? Is it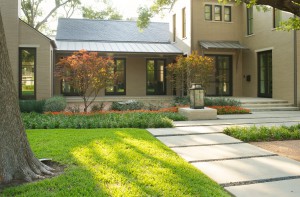 truly remarkable or is it a bit ho-hum? If you're not sure, take a stroll up and down the street and get a good look at your yard from all angles and your neighbor's perspective. Professional landscape design can greatly increase the value of your home and property, set your yard apart and become a great source of pride.
3.) Views need to be blocked or enhanced. Many homeowners overlook how you view your yard and landscaping from the inside of your home can dramatically increase your enjoyment or dissatisfaction with it. Does looking out your windows give you feelings of peace and serenity? Something as small as having to look at your neighbor's trash cans every day can mar your enjoyment of your landscape. Often times, people in urban environments are looking for greater privacy. Most communities have strict codes or ordinances, particularly for front yards, that may restrict or prohibit certain options. It is important to be familiar with these city codes before choosing a solution. Conversely, sometimes views have been blocked over time by shrubs and trees, or a homeowner decides to add a backyard focal point such as a garden, pergola or water feature, and needs to have their views redesigned and opened up.
4.) You'd like to reduce watering or other maintenance. A front or backyard update can be driven by a desire to transition into a lower maintenance landscape. Lawns take up the most work and resources (think water bills) of any aspect of landscaping. This can be addressed in a number of ways. Indigenous and drought-tolerant plants can be added. There are innumerable native plant options that are as beautiful as they are practical, such as ornamental grasses like pink muhly grass, that adds both drama and color to the landscape.
Adding or updating to a technology-driven irrigation system, such as ETwater (the one Bonick Landscaping uses) is another solution to reducing water usage and maintenance. ETwater is an EPA-WaterSense®-Certified irrigation solution that automatically determines the ideal watering schedule to keep your property looking its best without wasting water. ETwater combines web-based irrigation management, real-time weather data, and wirelessly-connected smart controllers to manage your irrigation remotely based on the unique needs of each landscape. The system monitors and adjusts on a daily basis.
5.) Your backyard is being underutilized or your needs have changed. Maybe that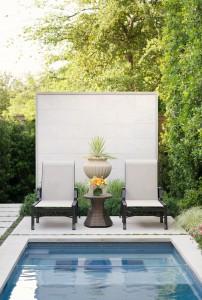 backyard play area that was the bomb with all the neighborhood kids has now been abandoned as your own kids have grown. Or you want to take your outdoor entertaining to a new level with the addition of a deck or a swimming pool. According to a May, 2015 online survey conducted by Harris Poll for Trulia, among the amenities Americans want most in their dream home are: a backyard deck (59%), a balcony with a view (45%), a vegetable garden (40%) and a swimming pool (38%). Whatever your dream is, spending more time outside with family and friends is a good reason to remodel your landscaping while increasing the value and appeal of your home.
Where to go for help. Bonick Landscaping is a full-service landscape design firm offering turnkey landscape design, build, and maintenance services. We pride ourselves on our creative, elegant, and practical solutions to landscaping challenges. If it's time to update your landscaping, give us a call at 972-243-9673 or contact us at info@bonick.com.
For over 30 years, Bonick Landscaping has served Dallas area clients with the highest standards looking for out-of-the-ordinary luxury landscape design and pools by offering the best in service, workmanship, and plantings. Services include hardscape and landscape design, pool designs, pool construction and installation, estate management, lawn care services and garden maintenance, pool maintenance, and more. For discerning clients in Dallas who want to express their own distinctive style through their landscaping, Bonick Landscaping can help you realize your dream. Call us at 972-243-9673 or visit our website at www.bonicklandscaping.com.