< Back to News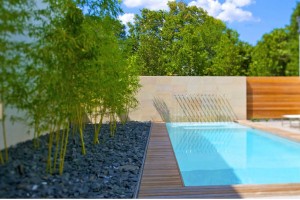 Pool Designs – What's Your Style?
In spite of our incredibly up and down temperatures right now, spring is in the air here in Dallas and if you're thinking about adding a pool to beat the heat this summer, now is the time to get going on the design and build so that you can get full enjoyment out of it as the thermometer begins to inch up and settle in the hot zone.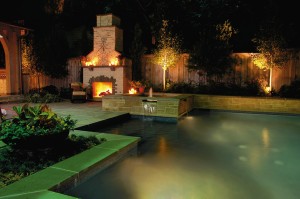 Anyone familiar with our work knows that everything we do is custom, hence my somewhat tongue-in-cheek remark in a previous blog post that "pools are like snowflakes, no two are ever alike." The reason no two pools we create are ever alike is because there are so many variables to consider when designing a pool – lifestyle (how the pool will be used), the architecture of the home, the environment and space, and taste preferences in style, materials, aesthetics.
So what are the options out there and some of the general considerations to think about before you meet with a pool designer? Here is a quick run-down on basic pool types (other considerations, such as salt water versus fresh water pools and options in pool finishes have been covered in previous posts).
Sports Pool or Play Pool
These are terms that are sometimes used for pools that are typically no deeper than five feet. These pools are built for cooling off and relaxing in, swimming laps, playing volleyball and other water sports.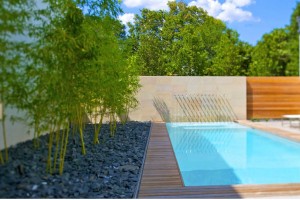 Lap Pool
Lap pools are typically long, narrow pools to facilitate exercise and swimming for health and fitness.  While the ideal size for swimming laps is 6 feet in width by 60 to 75 feet in length, you can still fit a pool that accommodates exercise in as little as 30 feet.
Diving Pool
Diving pools typically have a deeper end for diving and a shallow end for wading. The deeper end is generally about 8-1/2 feet deep with a diving board or platform. Diving pools should be built to NSPI (National Pool and Spa Institute) and ANSI (American National Standards Institute) standards.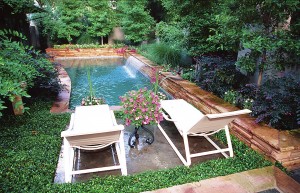 Plunge Pool or Spool
These terms are both used for small swimming pools that are larger than spas but smaller than the average swimming pool (typically no larger than 15 to 20 feet and often smaller). The word "spool" is a combination of a spa and a pool. They are a great option for more urban environments where the yards are small.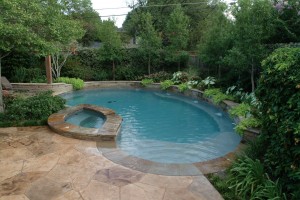 Freeform Pool
A freeform pool is a naturalistic- or lagoon-style pool. It usually has rock features and lush, natural landscaping surrounding the pool to create an oasis environment.
Geometric Pool
Geometric pools usually have very straight lines or a consistent radius and can be used to create a more formal and traditional look or a very clean, contemporary style.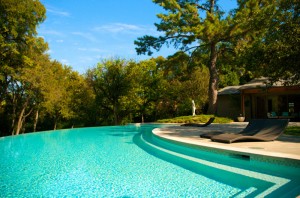 Negative Edge Pool, Infinity Edge Pool or Infinity Pool
A negative edge pool is an in-ground pool lacking one or more edges and is designed to look like the pool extends all the way out to the horizon. Negative edge pools are especially effective when the edgeless part of the pool is located over high ground that drops away. They are also beautiful when near a water source such as an ocean or lake. The edgeless look is achieved by building one side of the pool below the water line and placing a water collection reservoir below the pool and out of sight. When the pool is at the top of high ground anything below the top is not easy to see visually. The water collection reservoir works like the rest of the pool filtration system and the water collected is filtered back into the pool. The mechanics and engineering of an infinity pool is complex and cannot be compromised – be sure to do your homework before hiring a designer and builder for this type of pool.
Perimeter Overflow Pool
The appearance of a perimeter overflow pool is often described as "mirror-like" because the water is allowed to pour in a thin sheet over all the edges. Since the water is not bound by hard edges, disturbances to the surface don't persist and the result is a smooth, reflective surface that lends an atmosphere of serenity to its surroundings. With a perimeter overflow pool, the water is level with the pool decking. Around the pool perimeter is a channel that the water drains into and, as with an infinity-edge system, the water that flows over the sides is caught and recirculated. Construction for a perimeter overflow pool is even more exacting that it is for an infinity pool; the edge of the pool must be extremely level to create even flow over the entire perimeter and the building tolerance is typically one-sixteenth of an inch or less.