< Back to News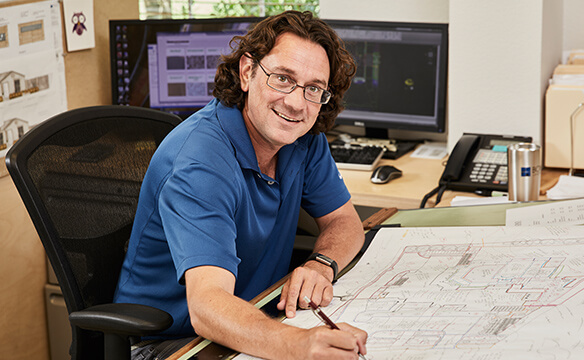 Meet Landscape Designer Todd Piasczyk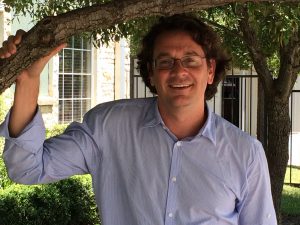 This is the third post in a series spotlighting our employees. Bonick Landscaping owes its success to the commitment, creativity, and expertise of our employees and I believe that they are both our largest asset and our biggest differentiator. We are proud to have a corporate culture founded on family values, openness, trust, and mutual respect that engenders teamwork and a high level of motivation. Today's interview is with landscape designer, Todd Piasczyk.
Lee: What led you to become a landscape designer? Was it something that you knew you always wanted to be or did you stumble into it?
Todd: Like many kids, I wasn't really sure what I wanted to be when I grew up. When I got to Texas A&M University I started looking at the various degree programs and courses and landscape design struck me as a good fit for both my talents and my interests. I've always been creative and interested in design aesthetics and at the same time very "outdoorsy." The idea of being able to create beautiful outdoor spaces to enjoy intrigued me.
Lee: Talk to me about your typical day; what does it look like?
Todd: My day always begins with clients and responding to their immediate needs. I go through my email and respond to any questions or needs they have. After that, I meet with our production/construction team to get updates on every project, to discuss any challenges and make sure things are running smoothly, and to answer questions. Once that's done, I make site visits. Then the latter part of my day is spent working on landscape designs: reviewing client needs and desires and coming up with creative solutions to meet those needs and desires.
Lee: What is your philosophy about your work; what separates the wheat from the chaff?
Todd: One of the most important aspects of being a landscape designer is to not become stagnant or complacent in your work. There are too many designers that get stuck in the rut of doing the same things over and over again. A very important aspect of being a good landscape designer is constant self-education; keeping on top of new materials, new plant cultivars, and new learning in general. It is important to read, meet with vendors, travel, and study the design concepts of others to keep the creative juices flowing to create new and better design solutions all the time. Each client has a different style, different lifestyle, and a different "wish list." To paraphrase Louis Pasteur, "Inspiration favors only the prepared mind."
Lee: You're a talented guy, why Bonick Landscaping? What makes Bonick Landscaping a better place to work?
Todd: What makes Bonick Landscaping different goes back to what I was talking about before. At Bonick Landscaping there is a willingness to consider and try different ideas; employees are actually encouraged to think outside the box. Everything here is completely custom designed. A lot of firms, particularly the larger ones, get set in their ways and are not willing to evolve or change. Here there are plenty of people to bounce ideas off of and a real willingness to "go for it."
Lee: Last question, what do you do for fun?
Todd: I like to spend time with friends and family, to be outdoors, and I love to cook. I have been playing Disc Golf for many years and travel to play with friends and meet new people. It's a great way to see different parks in different cities and to actively enjoy the outdoors. I've played in triple-digit heat in Texas and when it was 25 degrees out in Aspen. It's all good.
You may also like:
Meet Jeff Jennings, Services Manager at Bonick Landscaping
Exceeding Client Expectations: An Interview with Glenn Bonick, founder of Dallas-Based Bonick Landscaping
For over 30 years, Bonick Landscaping has served Dallas area clients with the highest standards looking for out-of-the-ordinary luxury landscape design and pools by offering the best in service, workmanship, and plantings. Services include hardscape and landscape design, pool designs, pool construction and installation, lawn care services and garden maintenance, pool maintenance, and more. For discerning clients in Dallas who want to express their own distinctive style through their landscaping, Bonick Landscaping can help you realize your dream. Call us at 972-243-9673 or visit our website at www.bonicklandscaping.com.