< Back to News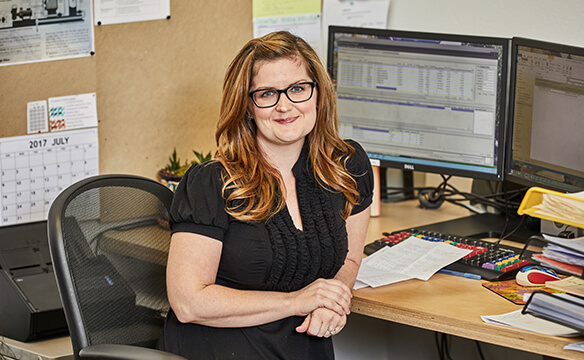 Behind the Backbone of Bonick: Brandy Salinas
Here at Bonick Landscaping, everyone plays an equally important role and works together as a team to serve our incredible clients. While you may not see many of our behind-the-scenes admin staff, they are the integral backbone of support to our wonderful Bonick family. At the heart of our operation, you'll find our wonderfully quirky, dependable, and personable Services Coordinator, Brandy Salinas. If you call our office, you'll more than likely hear the pleasing tone of Brandy's bubbly voice offering to solve whatever request comes her way. We had a chance to sit down with her and discuss the intricacies of her essential role and her life outside her swivel office chair…
Interview by Tammy Vanderkolk
---
Hi Brandy! Thanks for taking the time to talk. Can you tell us more about your role and what it's like being the face behind the phone at Bonick?
Sure! I am in client services; I answer most calls during the day at Bonick. I schedule service technician repairs and services, facilitate needs of existing service clients and prospective clients, and pre-qualify job leads for our designers and installers. I also work as the assistant to our service manager, Ralph Edge.
That sounds like the job of several people! Talk to us a bit about how the different teams at Bonick all work together…
The Bonick team as a whole has an appreciation for one another and our division of roles. The more you dissect the teams, the greater the unity you will see (Sales/Design, Services, Administration, Production).
For example, Bonick as a whole is pretty harmonic, but, for instance, within the service department, you will see close relationships since we work alongside one another for the same advocacy of our service clients. There are many moving parts and pieces to each role in the service division that have the exact outcome—it's just that one person may be the grease, the other the wheel, and another the axle. Overall, the wheel moves, but it takes a team effort.
I have way more silly photos than normal ones. At my house, we affectionately refer to these as my funeral slide show photos (I made my hubby promise that it will be the craziest ones.)
Great analogy! So, what types of challenges have you encountered while interacting with the clients?
Working in the service department, we receive challenges often. While it's a panicked situation for them, it's an everyday situation for us. I try to talk people through it and let them know it's going to be ok. Recently, we had a client who had a part blown off a filter head in their pool, and water was gushing everywhere. It's often a simple temporary fix, like explaining to them how to turn it off until we can get someone out to repair it. I walk them through the process, keep them calm, and assure them we will get it resolved quickly.
I'm sure they're very appreciative of your calm demeanor! 
(Laughs) I try. It helps that over the years, I have developed relationships with many clients. I  check in with them and they check in with me. It's great when they remember little details and it makes me feel like they care. We maintain that relationship as we keep up with their maintenance. They really appreciate that I take the time to get to know them, too. We have one client whose birthday is on New Year's Day and still to this day, twelve years later, I remember to wish her happy birthday each year. Knowing little nuggets about one another helps to break down walls and makes it personal. It also makes it more manageable for both of us when challenges arise.
Relationships are so important and I'm sure they make your job more enjoyable! Do you have any memorable stories you'd like to share? 
Well, there's this one client who I really love and she sometimes makes interesting requests, which make my day. One time she was having challenges with ducks in her pool. She didn't mind having them around the property, but understandably, she really didn't want them in the pool all the time. She had read somewhere that if you fill your pool with beach balls it helps deter the ducks from swimming there and she wanted to try it. So we blew up 50 beach balls and put them in her pool. I loved it!
Did it work?
Well, yes and no. It did deter the adult ducks but the little ducklings weren't phased at all. They just swam around between the beach balls.
How adorable! I bet your clients appreciate that you go the extra mile for them! Ok, we'd love to hear about your family next.
Sure—I met my husband sacking groceries when we were 16. He's my best friend, and we've been happily married for 23 years. We have a 21-year-old son. Then there's Oscar, my angel face dog—since I can't cuddle with my son anymore, Oscar is my furry child! Also, my mom is one of my besties—I talk to her every day and we are like peas and carrots. She's absolutely fabulous!
(Laughs) That's so sweet! And, I completely understand the importance of furry children! Could you tell us more about your son?
He is a campus minister; he coaches kids to lead their own Christian ministries within their schools and teaches them how to teach others.
Oh wow! I didn't realize that was allowed in public schools these days?
It is if it's the students doing the teaching.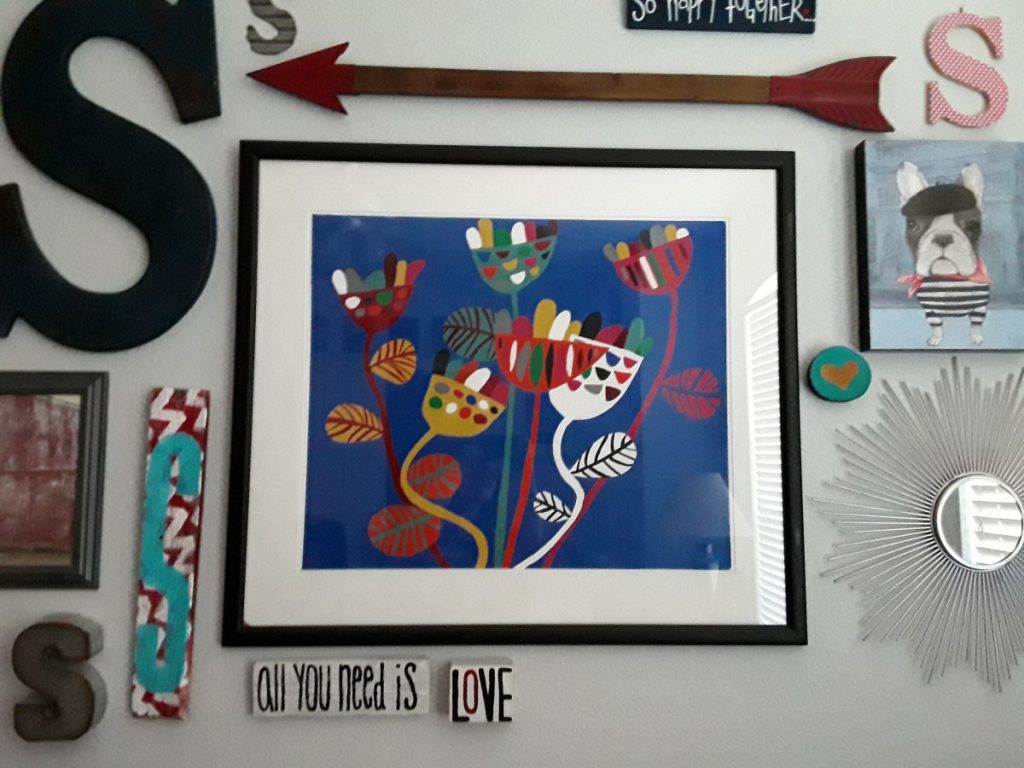 You must be very proud. So, Glenn tells me you have quite a bit of creative endeavors? What sort of projects are you working on these days?
Well, I love to paint. I also enjoy creating art from found items. Then, during COVID, I started an indoor garden. It's gotten me feeling very bohemian (laughs)! I have my paintings and my potted plants near these large windows at home and walking in there just makes me feel so good!
I bet! I'm impressed that you find the time for so many hobbies!
Well, it gives me time to relax and provides a creative outlet that makes me feel accomplished.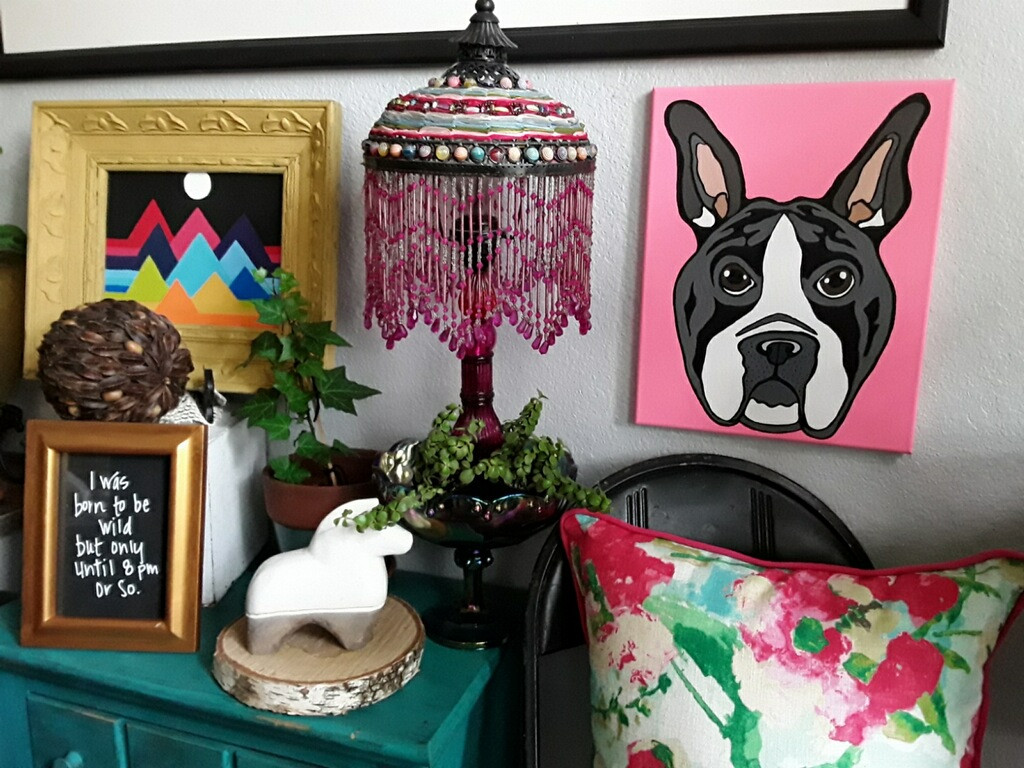 Where do you get your inspiration?
Inspiration for me comes from just about anything: I could see a floral print on a dress, a cute picture on the cover of a notebook, or a store window display, and I take a picture of it and off I go. I'll also replicate something that another artist creates just to challenge myself to see if I can do it. I was at a gallery once and saw the most amazing wings inside a gallery frame. I went home and made my own and they turned out great! I am not one to completely start with a blank canvas with nothing to look at to paint. I find those who do that to be insanely talented—I want to be that one day.  I am a beginner and just having fun. 
You're inspiring me now! Do you have any favorite artwork you'd like to tell us about?
This 4' x 3' gray heart is very sentimental to me. I made it for my Sunday School girls I taught at the time using all kinds of caps and lids they had collected for a project. It hung in my classroom for the year and now it's hanging in my bathroom. It was a neat souvenir to remember that group of girls by.
It's incredible! What a treasure! Ok, before we go, Glenn told me to ask about your garden gnomes…
(Laughs) I've been collecting garden gnomes for a while now. Glenn finds them creepy. Once, for his birthday, I packed up my gnomes in a tub and scattered them all throughout his office. When he discovered them, he found me and said, "It's so scary in there!" They've become part of so many stories. There have been office pranks, and people have asked to travel with them and document their journey with photos of the gnomes in different places. Then I've had them kidnapped, and they've randomly appeared months later. It's great!
I know how hard you guys work at the office, so it's great to hear that you still manage to find time for fun! Thanks so much for taking time out of your day to chat, Brandy!
My pleasure!
Stay tuned for the next installment of our Behind the Backbone of Bonick series with Construction Production Assistant, Amanda Acosta.
_________________________________________
You might also enjoy:
Meet Landscape Designer Todd Piasczyk
Exceeding Client Expectations: An Interview with Glenn Bonick, founder of Dallas-Based Bonick Landscaping
For over 35 years, Bonick Landscaping has served Dallas area clients with the highest standards looking for out-of-the-ordinary luxury landscape design and pools by offering the best in service, workmanship, and plantings. Services include hardscape and landscape design, pool designs, pool construction and installation, lawn care services and garden maintenance, pool maintenance, and more. For discerning clients in Dallas who want to express their own distinctive style through their landscaping, Bonick Landscaping can help you realize your dream. For more information, call us at 972-243-9673 or email us. Visit our website at www.bonicklandscaping.com.