< Back to News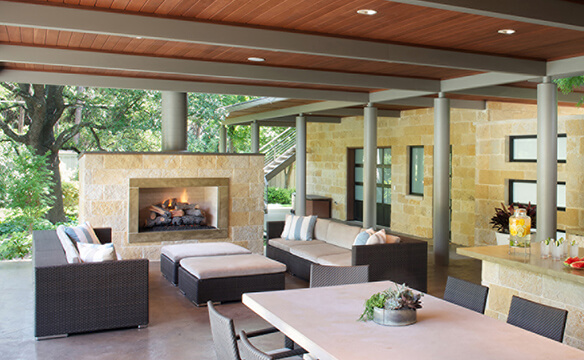 Adding Outdoor Rooms to Your Landscaping
Outdoor rooms have never been more popular. Today's homeowners are increasingly willing to sacrifice indoor space as long as they can do some of their living outdoors. In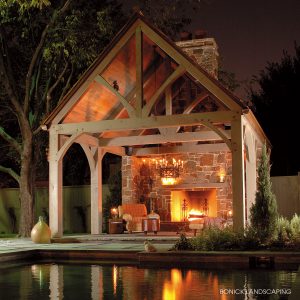 fact, houses are shrinking in size by nearly 10%, according to the National Association of Home Builders.
Outdoor Rooms are a Smart Investment
Adding outdoor rooms to your home landscaping is not only a great way to expand your usable living space and create an outdoor oasis, it makes sense from a home investment standpoint as well. One real estate study done by Trulia suggests that professional landscaping and hardscaping can deliver a return on investment as high as 150%, an ROI that puts it ahead of popular home improvement projects like kitchen or bathroom updates. As people continue to turn more and more to outdoor living and entertaining, the ROI in outdoor landscaping projects will only continue to increase.
Pergolas
Pergolas are a popular choice among clients who want a defined outdoor dining or lounging area because beyond function, they add a beautiful architectural element to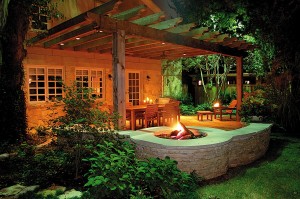 outdoor spaces. Pergolas are a common choice here in Dallas and look best when they are custom designed to complement the architecture of your residence. One appeal of a pergola over a patio roof is that it lets the sun in but can also provide shade through various mechanisms including features like angled rafters, lattice, laser cut steel panels, semi-transparent screens, and even plants. The open structure of Pergolas make them well-suited for climbing plants such as wisteria, honeysuckle or clematis that can create a gorgeous natural ceiling.
Covered Structures
Covered structures are popular with clients who often want a more fully-equipped or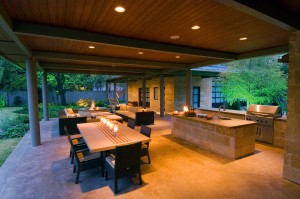 furnished outdoor space that is more protected from the elements. Whether they are located near the house or as a destination in the garden, covered structures can be enjoyed year-round and typically feature a fire pit or an outdoor fireplace as a focal point and source of warmth for the cooler months. Clients who want full outdoor kitchens often choose covered structures. However, outdoor kitchens or grilling stations, lighting, fans, and furnishings work well in either kind of structure.
Shade Trees
Another natural option for defining outdoor spaces are shade trees. Whether evergreen or deciduous, a grouping of trees can create a sculptural element, especially when located along a line of sight. Trees not only add value to your property, but also have the benefit of providing a habitat for wildlife and an opportunity for capturing those ephemeral moments of sun filtering through the canopy.
Allow one of our creative designers to help you determine the best outdoor living solutions for your space. In addition to our complete landscape design services, we encourage you to take advantage of our design services for furniture, outdoor rugs, planters and other décor. For more information, call us at 972-243-9673 or email us.
For over 30 years, Bonick Landscaping has served Dallas area clients with the highest standards looking for out-of-the-ordinary luxury landscape design and pools by offering the best in service, workmanship, and plantings. Services include hardscape and landscape design, pool designs, pool construction and installation, lawn care services and garden maintenance, pool maintenance, and more. For discerning clients in Dallas who want to express their own distinctive style through their landscaping, Bonick Landscaping can help you realize your dream. Visit our website at www.bonicklandscaping.com.