< Back to News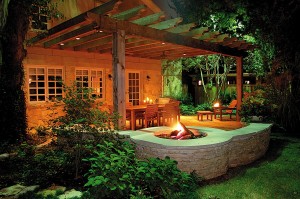 5 Landscape Design Ideas for Better Outdoor Living
Landscape design is about a lot more than lawns, gardens, trees and shrubs. In fact, most of the work we do here at Bonick Landscaping is just as much about what we call "hardscaping" (patios, decks, pools, fire pits, etc.) as it is about greenery. We are fortunate that Dallas offers moderate temperatures three-quarters of the year that make it perfect for outdoor entertaining and living. With fall upon us, Dallas residents can start getting out of the air conditioning and into the great outdoors. Here are five ideas that can upgrade your outdoor living experience (and the value of your home) in time for this winter's outdoor entertaining season (provided you act quickly).
Add or Upgrade Your Patio or Deck
A patio, deck or terrace are all high on the wish list for homeowners. Not surprising when you consider that according to a recent survey by Realtor.com, 51% of home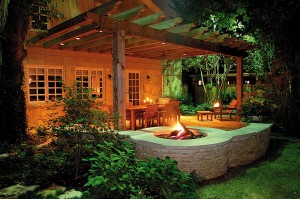 buyers said that outdoor living space is the most attractive quality in a home, even over curb appeal and an open floor plan! A deck or patio easily extends your home's living space and with a dining table and chairs and some comfortable outdoor seating, easily becomes ground zero for outdoor entertaining. Features such as a built-in barbecues and seating, fire pits and fireplaces are all popular additions. One of the hottest trends for patios and decks these days are outdoor TVs for watching sports and movies. Imagine how much more fun football parties will be in the fresh fall air, surrounded by nature.
Add a Fire Pit or Outdoor Fireplace
Seventy-eight percent of homeowners today would like a fire pit or an outdoor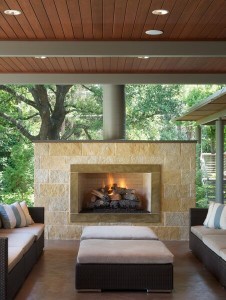 fireplace, making it the most popular design element in outdoor spaces today according to the 2015 Residential Landscape Architecture Trends Survey and it's easy to understand why. A fire pit or outdoor fireplace can serve as a focal point for your outdoor space, while creating a cozy ambiance, providing warmth, ambient light and can even be used for cooking. Fire pits and outdoor fireplaces have consistently ranked as popular outdoor feature for several years running. A well-designed permanent fire pit or outdoor fireplace can add value to your home as these are the types of features that higher-end homebuyers seek out.
Invest in Landscape Lighting
Landscape lighting is the second most popular (72%) outdoor design element with homeowners according to the residential landscape architecture survey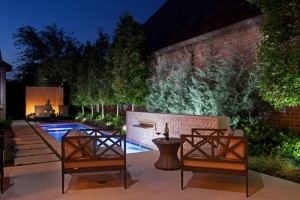 mentioned above. There are lots of reasons to add landscape lighting. If you entertain a lot, you may need good lighting for a patio, deck or for outdoor pathways. Outdoor lighting can also add visual interest to your nighttime landscaping. Architectural elements of your home can be lit to great effect or you may want to highlight some features in your backyard like a water fountain or pond. The important thing to remember is lighting should be a subtle addition to your landscape and not become a focus in and of itself.
Outdoor Kitchens
Outdoor kitchens are often on people's wish list for home improvements but are sometimes viewed as "extravagant." What many don't realize is that outdoor kitchens have a high rate of return-on-investment when compared with other outdoor home improvement projects. But the #1 reason to add an outdoor kitchen is that you'll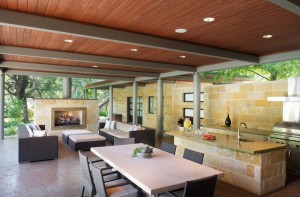 have more fun entertaining! Just as guests tend to gather in the kitchen when you entertain inside, an outdoor kitchen is destined to become the social gathering area when entertaining friends and family outdoors. It is important to complement your home's architecture and landscape design, and to consider the relationship between your indoor and outdoor kitchens when planning the design. Most outdoor kitchens include integrated appliances such as a refrigerator, icemaker and grill, as well as counter space and storage, and are at least partially covered.
Inground Pools and Spas for Year-Round Enjoyment
Forty percent of the respondents in the 2015 Residential Landscape Architecture Trends Survey pinpointed hot tubs, spas, and swimming pools as the most popular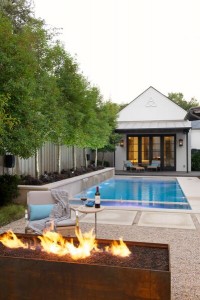 outdoor recreational amenities. The moderate weather in Dallas makes investing in an inground swimming pool or spa a great investment for outdoor relaxation. In urban areas, small inground pools and oversized spas have become a popular choice and are a lot more attractive than above ground hot tubs. They cost less to build and maintain than a large pool and can be designed to be kept cool for swimming or warmed up to use on colder nights. Another great aspect of smaller inground pools is they create a sense of intimacy and can feel more like an extension of your home versus a large pool. They can also be made to more easily look like a natural water feature.
For over 30 years, Bonick Landscaping, has served Dallas area clients with the highest standards looking for out-of-the-ordinary luxury landscape design and pools by offering the best in service, workmanship, and plantings. Services include hardscape and landscape design, pool designs, pool construction and installation, estate management, lawn care services and garden maintenance, pool maintenance, and more. For discerning clients in Dallas who want to express their own distinctive style through their landscaping, Bonick Landscaping can help you realize your dream. Call us at 972-243-9673 or visit our website at www.bonicklandscaping.com.