< Back to News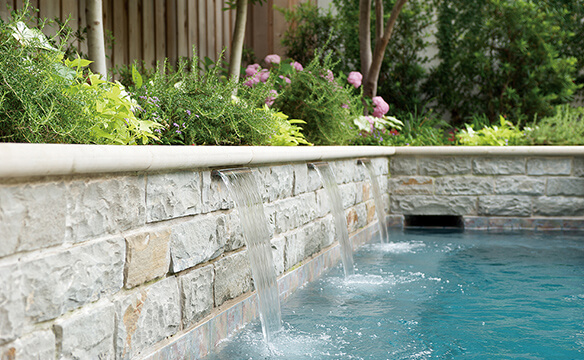 3 Basics of Pool Landscaping
As a landscaping company whose services include designing and building pools, we have a lot of experience with pool landscaping in the Dallas area. While our clients understand the importance of pool landscaping to the overall appearance and enjoyment of their pool and yard, for homeowners building their first swimming pool, pool landscaping can often be an afterthought. Here are three basic considerations to keep in mind during the planning stages for your pool.
Around the pool:  You have at least two surfaces surrounding the pool: the pool coping, which serves as a frame around the pool, and the area beyond the coping which can include a deck, a patio, pavers and grass, planters, and many other options. If you're using a landscaping company with landscape designers, they will provide you with recommendations based on your budget, preferences, and what is in keeping with the design of your pool and home. The choices are endless. Some popular choices for pool coping include limestone; natural stone; and stamped or textured and stained concrete. Ipe wood makes an excellent choice for decking as it can last 50 years or more and is increasingly becoming the preferred choice for wood decking for pool areas. Textured concrete pavers and grass, textured and stained concrete made to look like natural stone, and natural stones like Oklahoma stone and Pennsylvania blue stone are all popular choices for patio decking.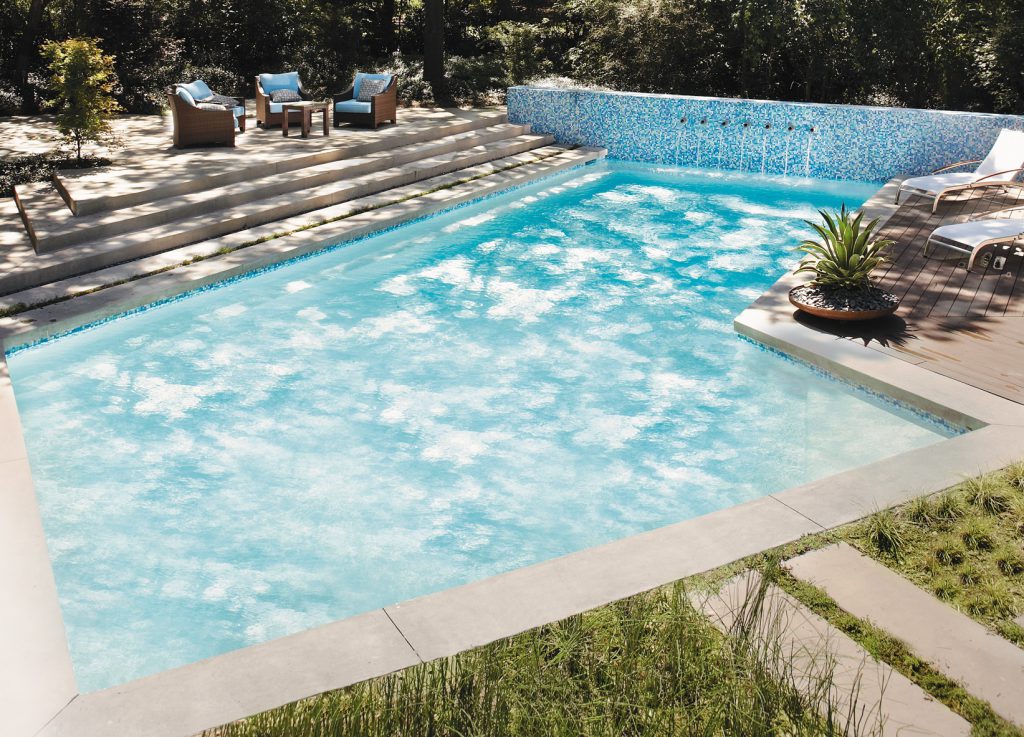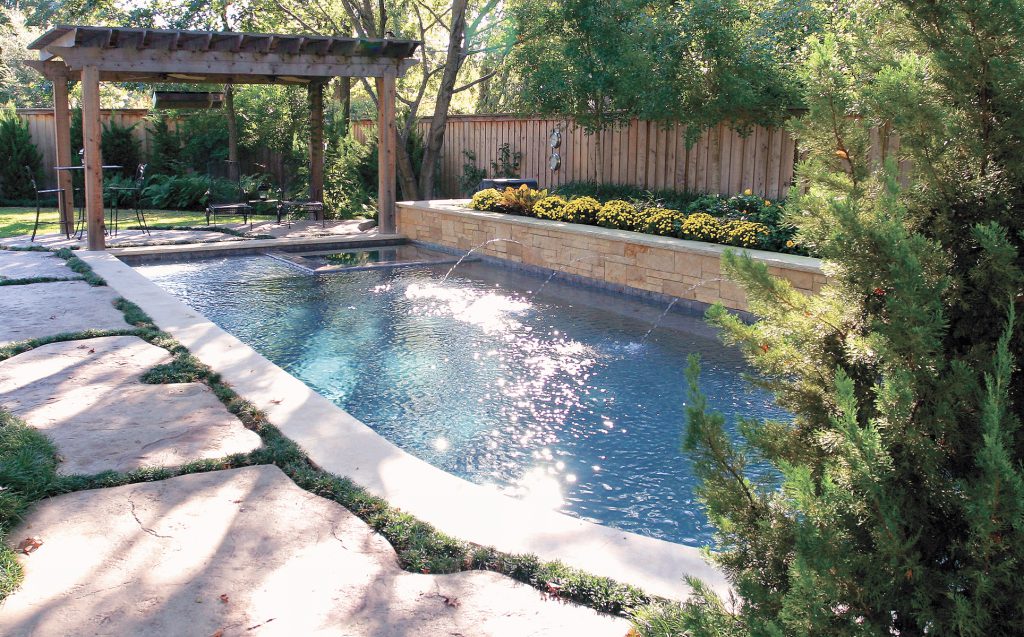 Plantings:  Many of our pool designs include raised planters with plantings carefully selected to provide color, beauty, and interest while not creating debris that will end up in your pool. Plantings can hide fencing and walls, create more privacy, and importantly, help reduce noise from coming into and out of your pool area. You can see from the photo of some of our landscape designs accompanying this post that flowers, trees, shrubs, and grass can all help to create the environment of a luxurious oasis for your pool and backyard.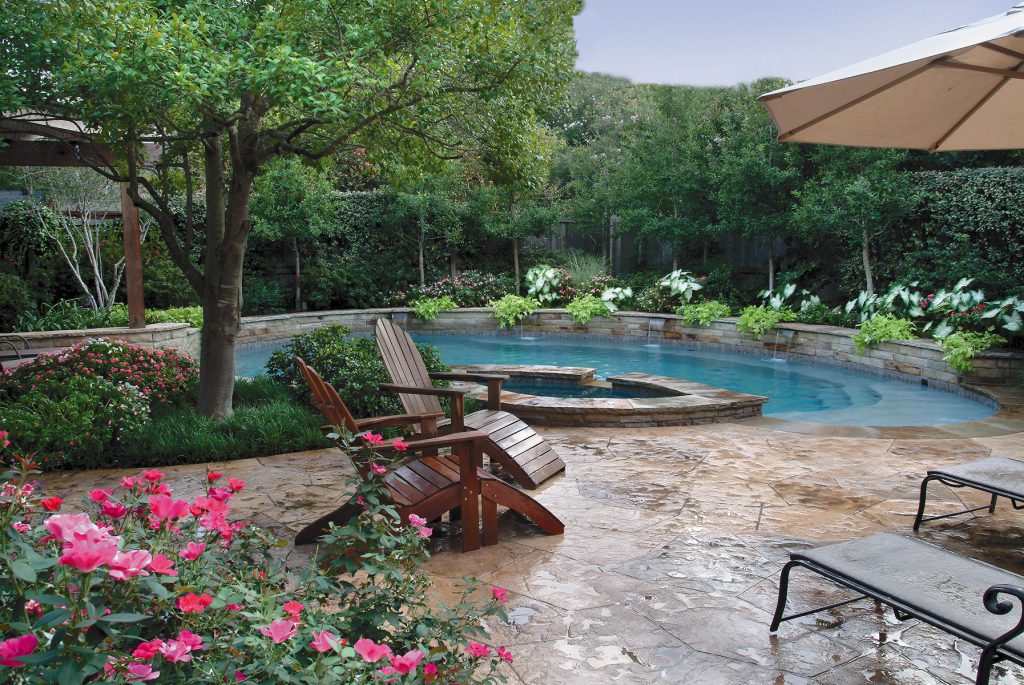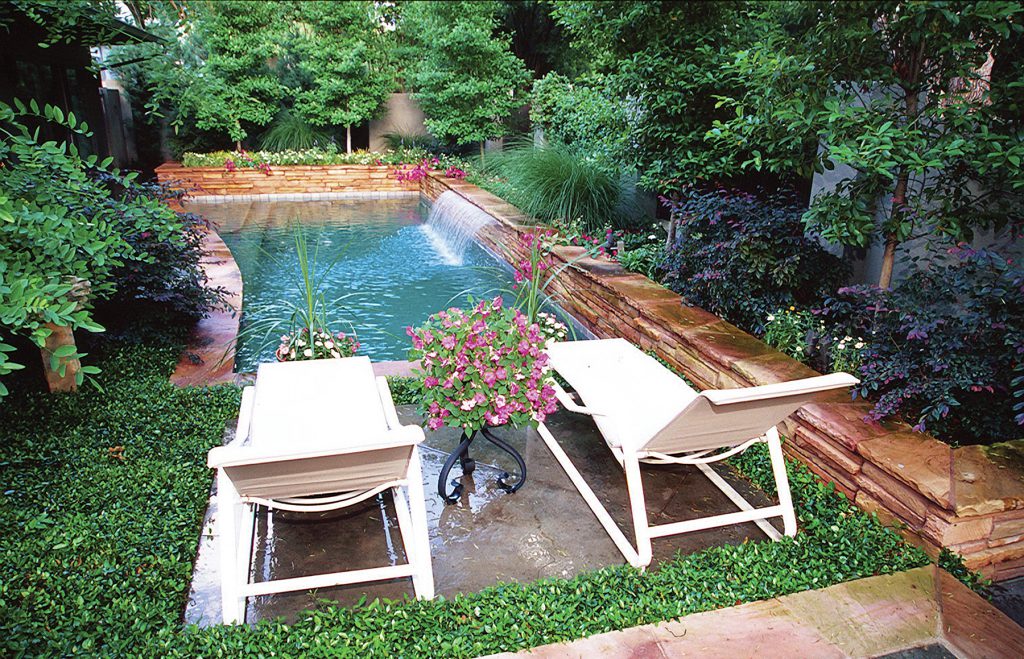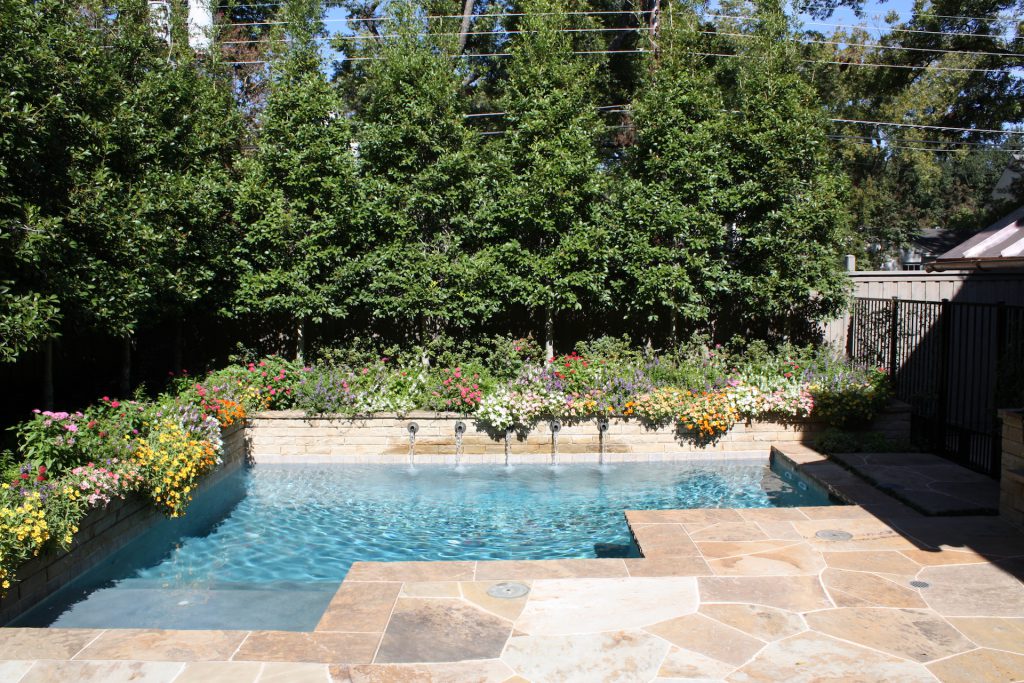 Shade:  Especially in Dallas, you need a way to get a break from the sun. Structures such as covered or partially covered patios, arbors, pergolas and pavilions can all provide a comfortable place to get out of the sun while enjoying your family swimming. A landscaping company with landscape designers and experienced crews can help determine the best solution for your house, backyard, and pool environment. Trees can also create shady areas near your pool but keep in mind the placement and type of trees that you choose to avoid trees that will shed and deposit debris in your pool.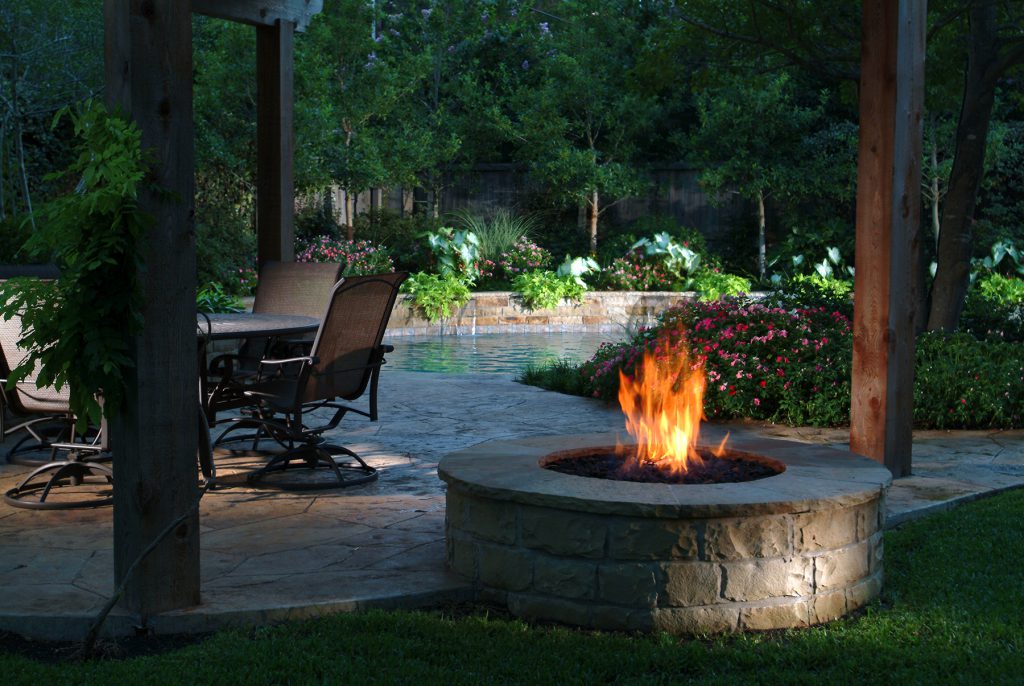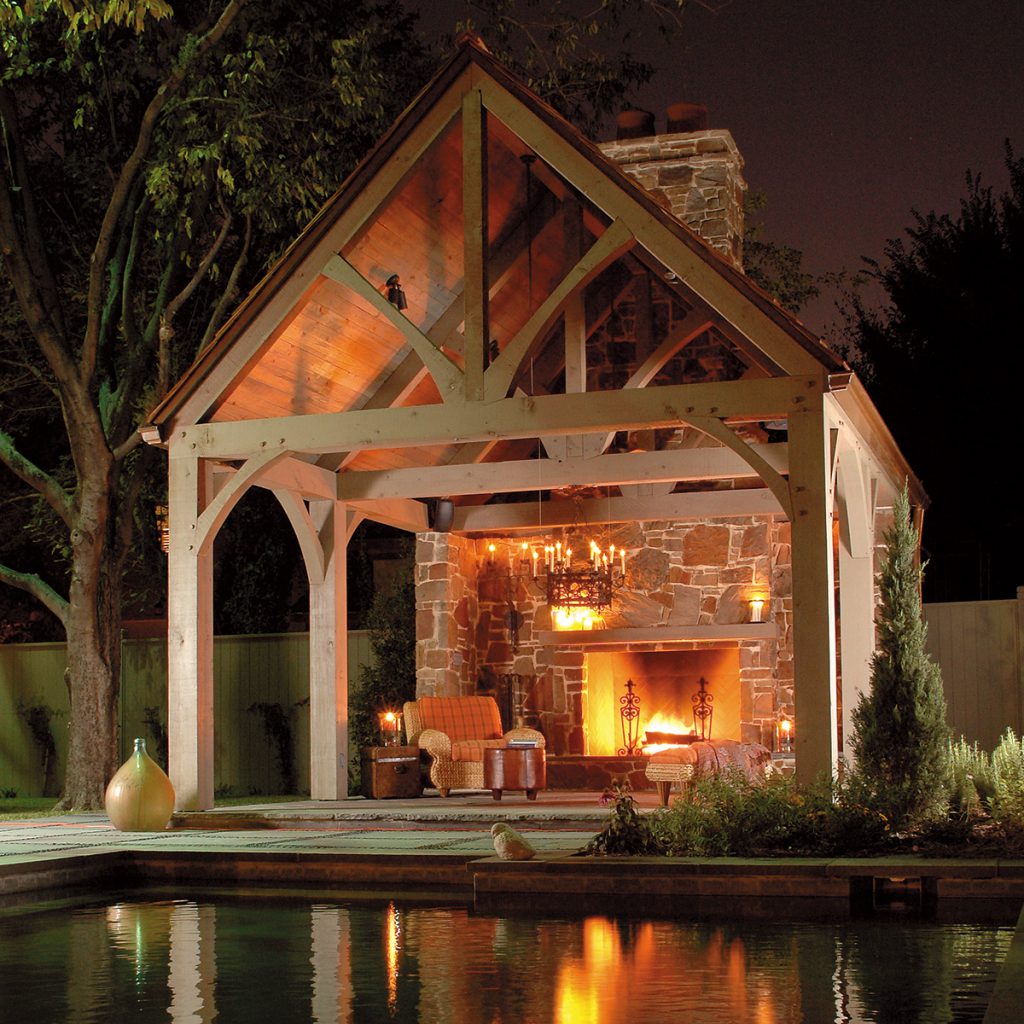 If you'd like to talk to one of our landscape designers to find out how we can help you to plan the ultimate surroundings for your Dallas-area pool, please don't hesitate to contact us via email or phone at 972-243-9673, and enjoy your summer!
For over 30 years, Bonick Landscaping has served Dallas area clients with the highest standards looking for out-of-the-ordinary luxury landscape design and pools by offering the best in service, workmanship, and plantings. Services include hardscape and landscape design, pool designs, pool construction and installation, lawn care services and garden maintenance (overall estate management), pool maintenance, and more. For discerning clients in Dallas who want to express their own distinctive style through their landscaping, Bonick Landscaping can help you realize your dream. Call us at 972-243-9673 or visit our website at www.bonicklandscaping.com