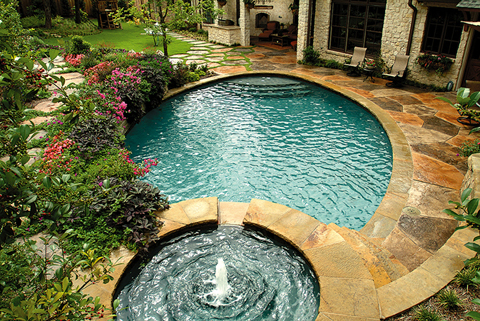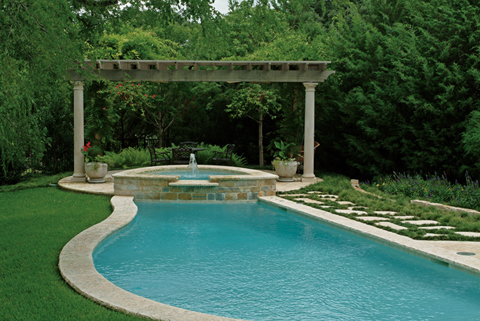 Dallas Pool Services
Pool Cleaning, Pool Maintenance & Pool Repair
Is the pool cleaning and maintenance you are currently receiving unsatisfactory? Bonick Landscaping has been designing, building, cleaning and repairing pools in the Dallas area for over 30 years. We offer a full array of pool services related to pool cleaning and pool repair and maintenance. We provide both weekly pool cleaning services and emergency pool cleaning and pool repair services. Importantly, all of our technicians are knowledgeable, thorough and professional.
Like all good firms, we supply our own EPA-approved chemicals to keep your water clear and free of algae. We skim leaves, remove debris from the bottom, brush walls, steps, ledges and spas. All pool equipment is maintained and monitored including: skimmer baskets, pump strainer baskets, filters and sweeping operations. We check for leaks, monitor pressure and suction and look for other problems on a regular basis.
Emergency Pool Cleaning
Under normal conditions, a swimming pool that is well maintained shouldn't need emergency cleaning services. However, if you have chemical imbalances or faulty equipment, then any pool can quickly turn green, especially in Texas heat. When that happens, you'll need a pool expert to respond quickly. We have extensive experience restoring pools. No matter how large or small the job, we'll be happy to provide a quick estimate free of charge, and get started on the pool recovery process right away. To find out more, call us at 972-243-9673 or email us.
Swimming Pool Repair
As a firm that has specialized in pool design and construction in the Dallas area for over 30 years, we have a thorough and deep knowledge of every aspect of pool care and are dedicated to protecting your investment. We offer complete pool repair services on all types of in-ground swimming pools and pool equipment. Dallas pool owners usually underestimate the risk they are taking when hiring less qualified companies for repair. Similar to hiring someone to work on your car, hiring a qualified, well trained pool company saves you money and aggravation. Our pool repair technicians are familiar with all the major brands of pool equipment, including: Air Supply, AquaCal, Aqua Link, Aquapure , Goldline, Hayward, Intermatic, Jandy, Laars Heaters, Nature2, PACFAB, Pentair, Polaris, Prologic/Aqua Rite, Paramont In-Floor Cleaning Sytems, Purex, Raypak, Rheem, Sta-Rite, SwimQuip, System 3 and Zodiac.
Find out more about our other services.