< Back to News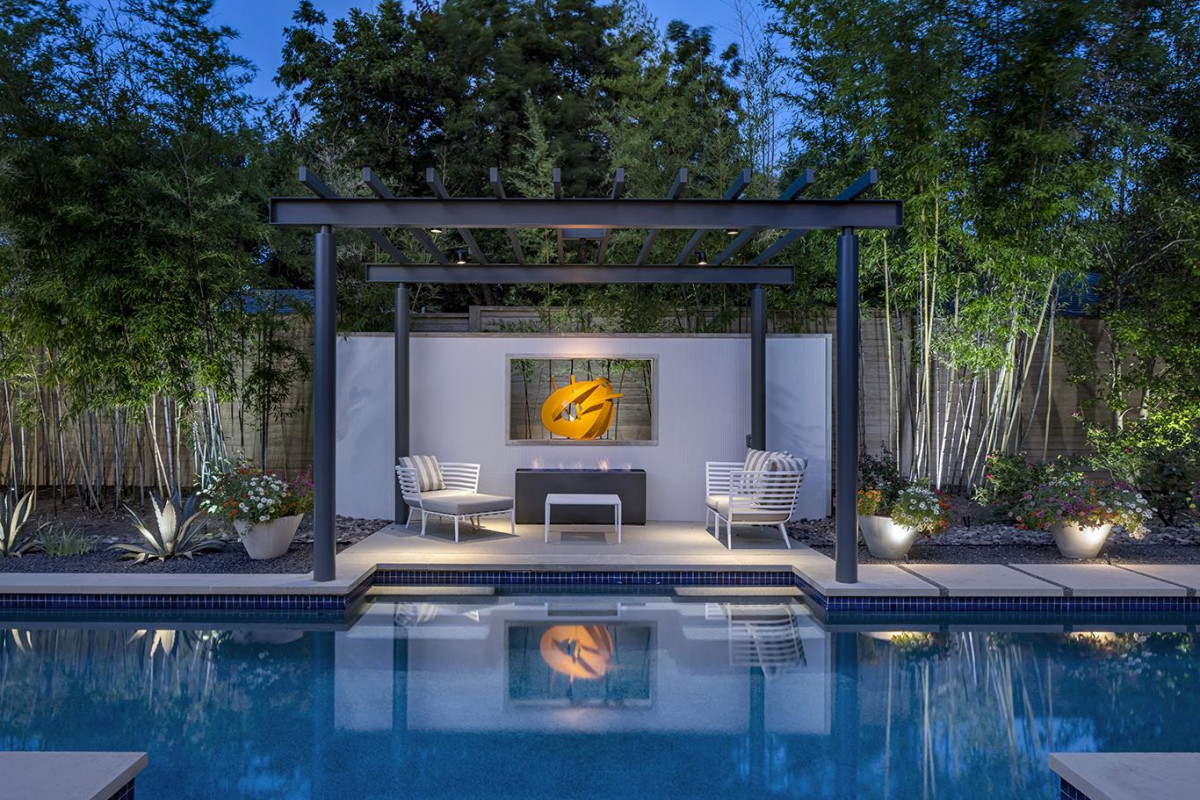 7 Secrets to Luminous Landscape Lighting
As daylight dwindles into dusk, and spring saunters into summer, magnify the magical twilight hours with luminous landscape lighting. Extend the enjoyment of your evenings outdoors or savor your garden's magnificent glimmer from indoors by bringing your surroundings alive with light. Creating an effective, captivating nighttime ambiance compels a harmonious concoction of art and science. Discover the secrets to manipulating color and light to illuminate your landscape with these pro tips:
1. Simplicity is Sexy
The overarching goal of successful landscape lighting is to achieve soft, subtle, simplicity. From relaxing and romantic to decadent and dramatic, outdoor lighting should evoke an innate emotion that surrounds you with feeling. Rather than a bold beam emitting a detectable blast, the light should blend naturally into the architecture and landscape. Effective landscape lighting emits an intimate elegance. You shouldn't see it; you should feel it.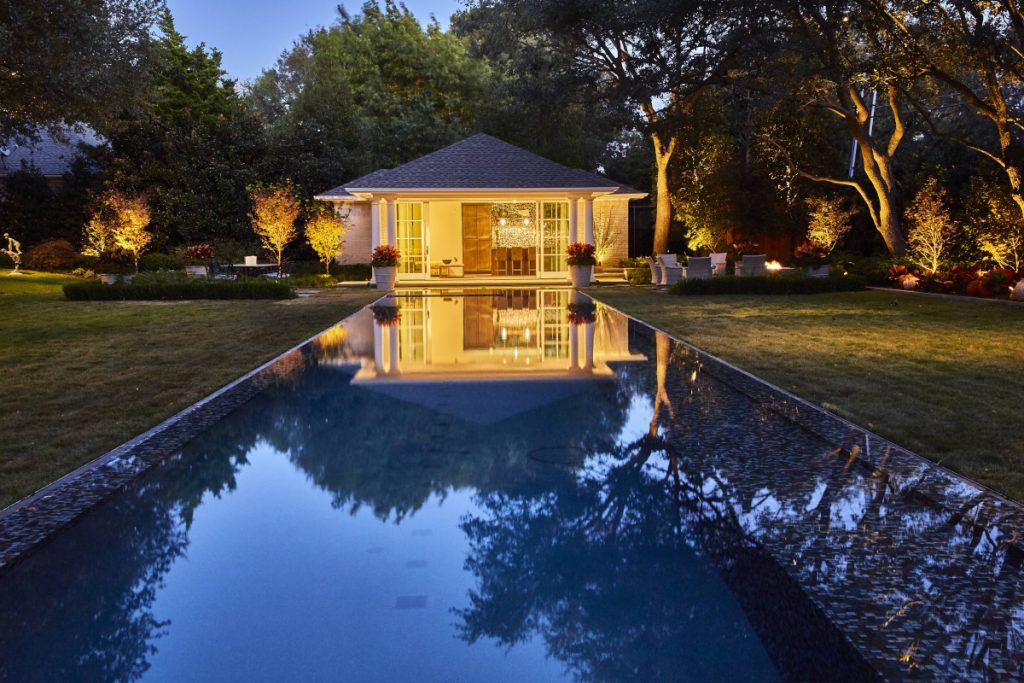 Nicely balanced lighting of poolhouse and accent uplighting
2) Make Functionality Fascinating
Probably the most fundamental element of landscape lighting is functionality. Sachet safely down a steep staircase. Illuminate a pool pathway for your guests. Create a sense of security for your front door commute. Keep in mind that while functionality is the core foundation of outdoor lighting, you can still flirt the line between a practical purpose and a flawless aesthetic.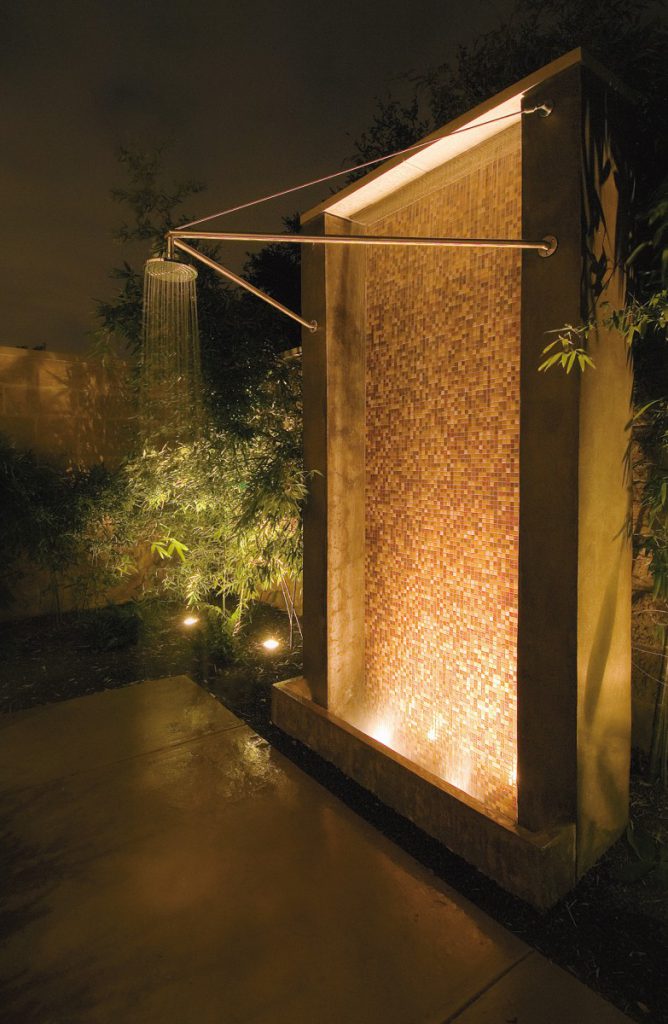 Beautifully lit focal feature using uplights
3) Highlight Your Best Features
Bring your favorite landscape features into view with focal lighting. Accent your architecture, draw attention to a dreamy outdoor shower, or bring your gardens to life with pleasing illumination. Consider what unique eye candy you'd like to showcase to evoke your ideal ambiance.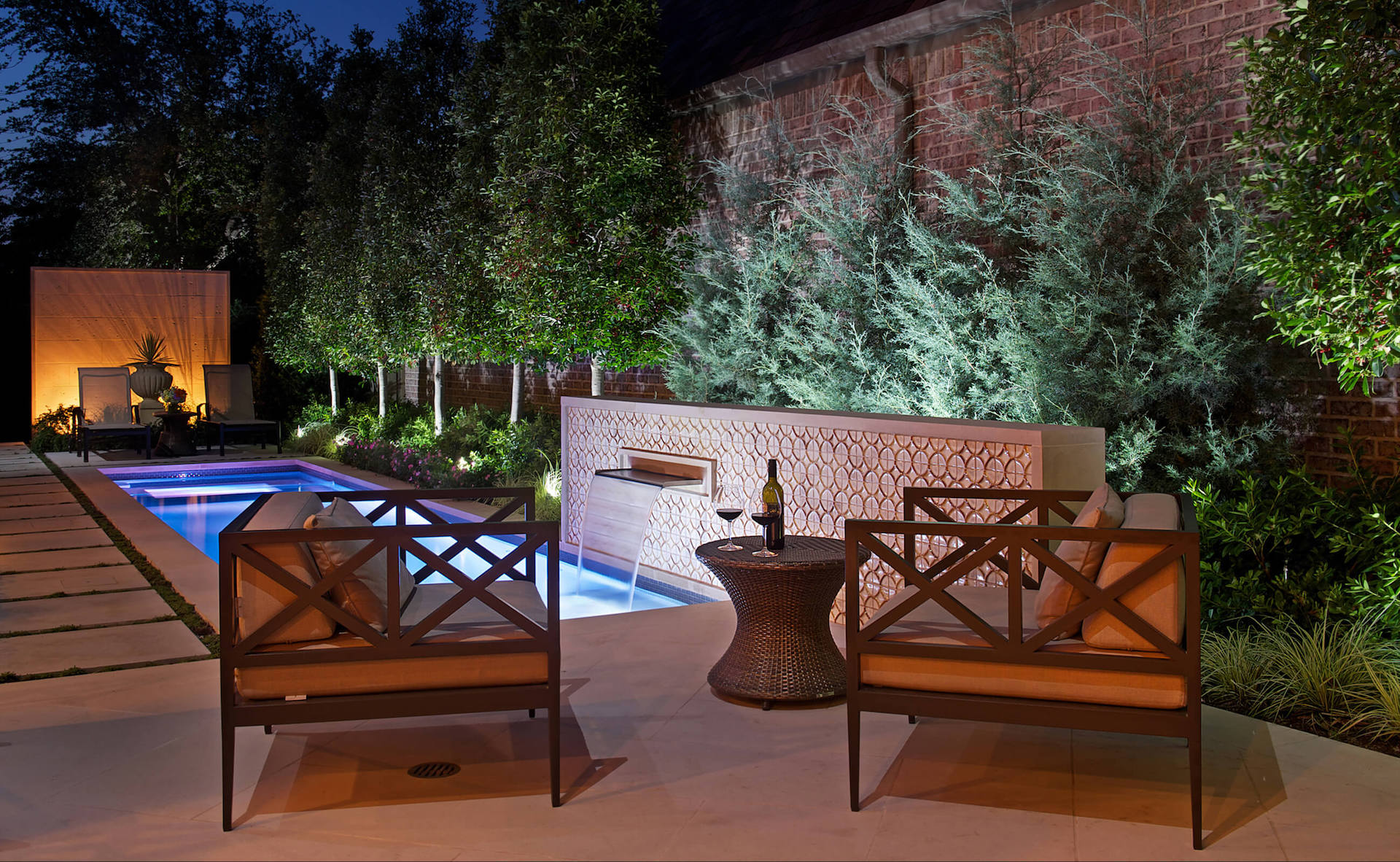 Spectacular layered lighting sets the tone for a relaxing evening
4) Set the Mood
Cast a spell for the senses by selecting the consummate quality and tone of light for your outdoor environment. The color temperature of your landscape lighting affects how your eye perceives color, creating a psychological impact by rendering the right mood.
Warm Up
Lower temperature light enhances warmth. Amplify your architecture and plants with truer colors or create drama with dancing shadows among the trees.
Cool Down
Utilize higher temperature light to mimic the moon and cool down the ambiance. Choose cool tones to highlight pools and blue-toned plants like blue spruce.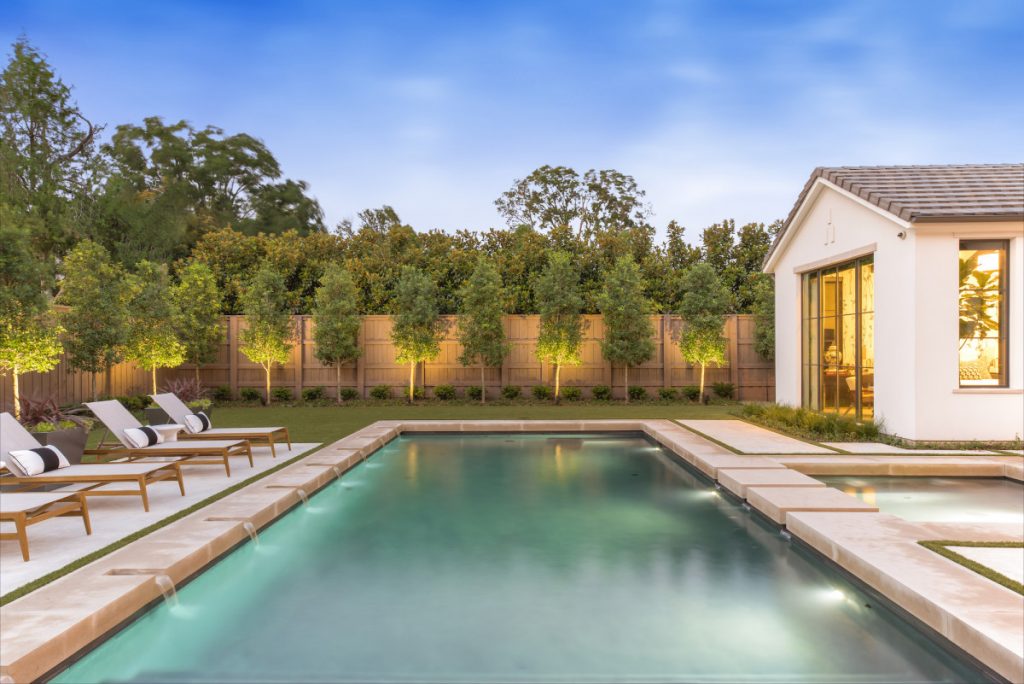 Simple, but stunning pool and landscape lighting (Collaborative project with SHM Architects, Faulkner Perrin, Bonick Landscaping, & Studio Thomas James)
5) Vary Your Technique
The key to a successful scenic seduction is combining a variety of techniques to achieve layered landscape lighting. Proper positioning produces rewarding results. Accent shape, texture, or unique architectural details by varying the direction and intensity of light. Balance your landscape lighting right and you'll elicit more stars in their eyes than in the evening skies.
Uplighting
Illuminate structures by positioning lights upward. Highlight your towering cedar's canopy, magnify the leaves of your Japanese maple, or show off that sultry, new sculpture.
Downlighting
Lower your focus toward attributes that might otherwise get lost in the dark. Generate a glamorous glow toward your garden beds, cast a wave of wonder from your water features, or entertain guests under an awestriking arbor.
Simple uplights on trees make a sophisticated impact (Hocker design, Bonick installation) 
6. Stay Sustainable
Conserve energy and enhance your outdoors with landscape lighting longevity. Not only do LED lights reduce energy consumption, but their enduring, eco-friendly illumination produces an ample color spectrum easily maintained through today's smart technology. Plus, since they emit less heat and UV light, they also lure fewer bugs. So, revel in the romance of an alfresco dinner without worrying about being devoured. Take it a step further and amplify your garden's green factor with solar LEDs. Excellent for paths and porch lights, these lights leverage the power of the sun for the ultimate in sustainability.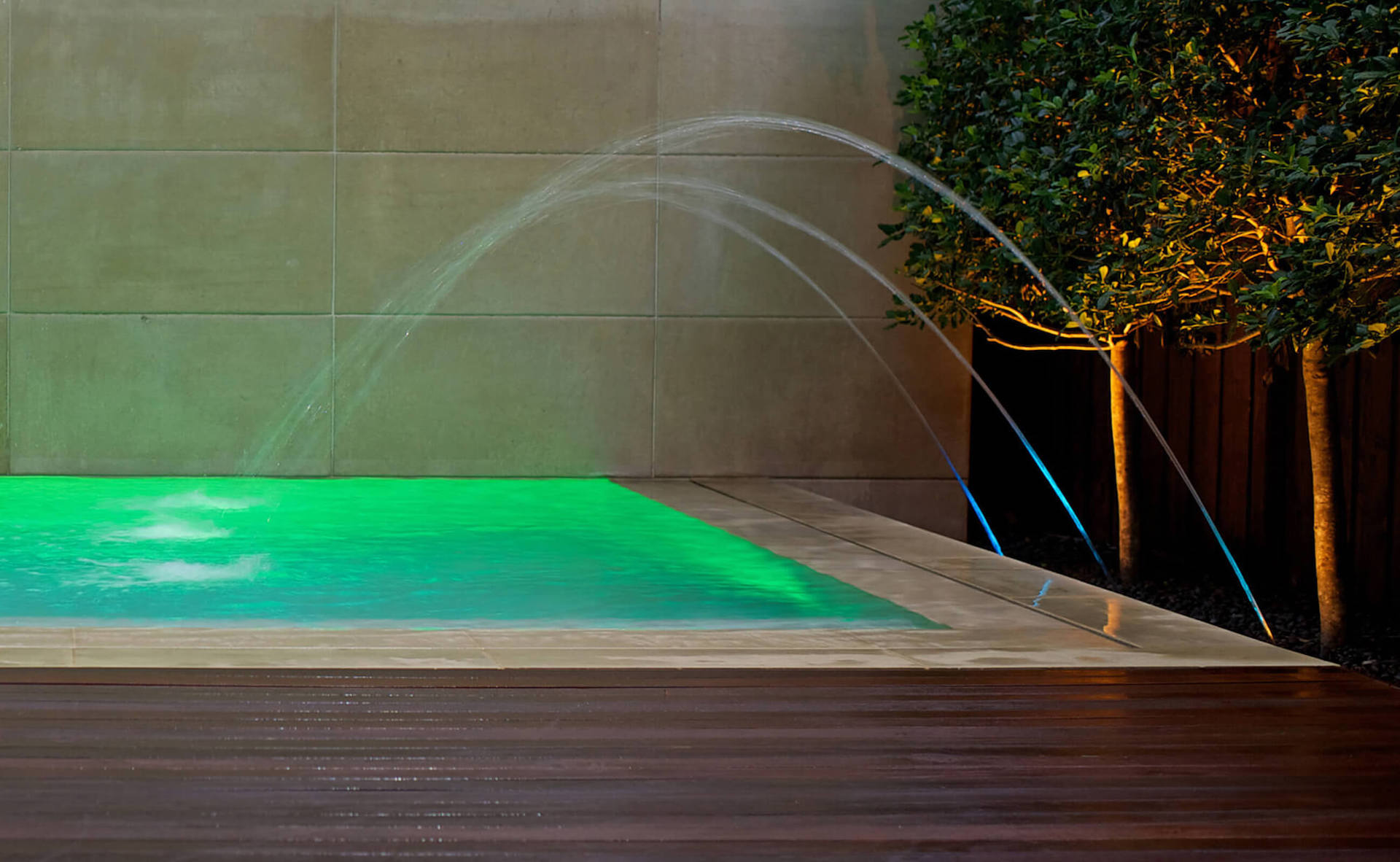 Led pool lights with laminar jets and uplighting on trees (Hocker design, Bonick installation) 
7. Hire a Professional
Finally, the essential step to culminating optimal outdoor optics is to enlist the help of a landscape professional. Allow us to enliven your outdoors with seemingly effortless execution. Don't be left fumbling around in the dark; contact us for a landscape lighting overhaul.