< Back to News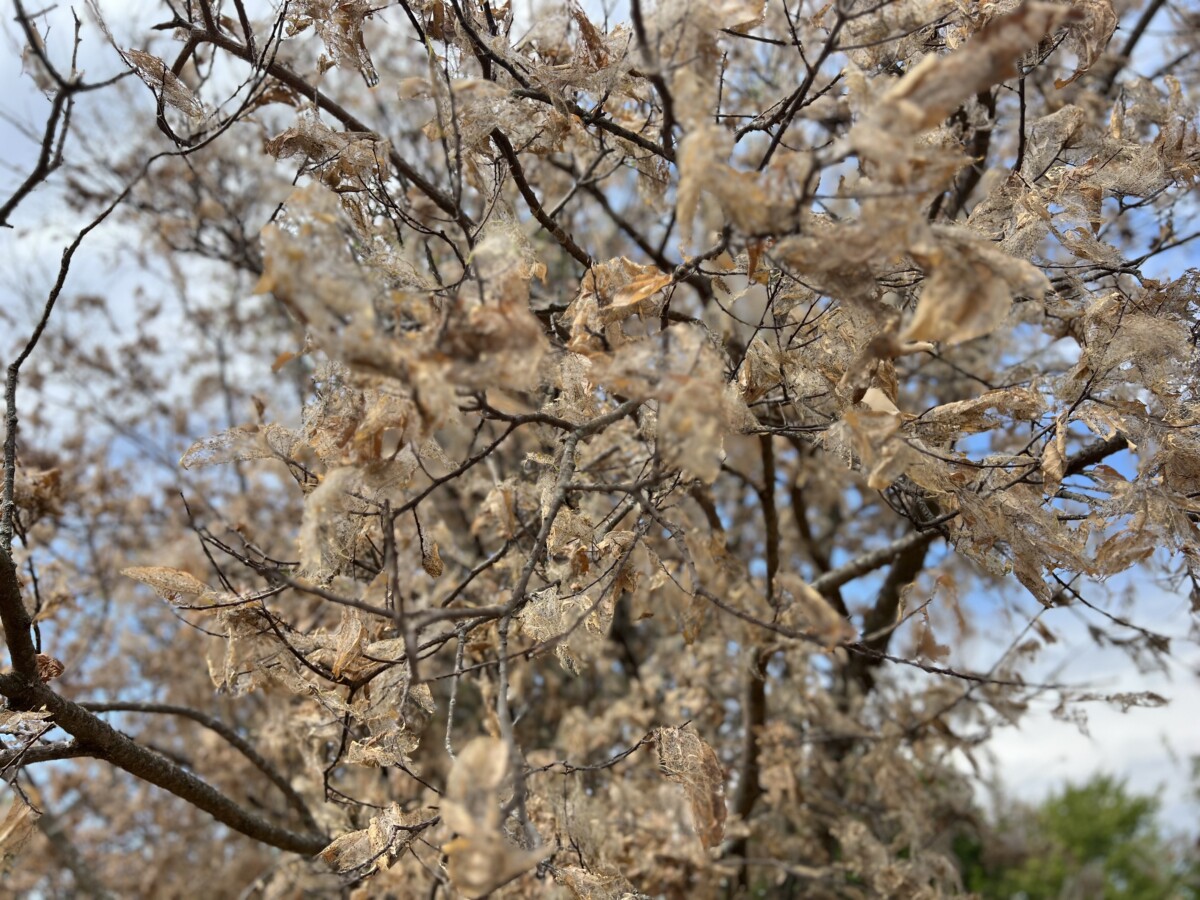 Essential Fall Landscaping Services for 2023
Combatting Autumn's Landscape Challenges
It may be September, but after another sweltering summer, we're still in for more oven-like temperatures and drought-related aftermath. According to the National Weather Service, our record-breaking heat in DFW has registered as the 5th hottest summer of all time, with the end looming well past the 10-day forecast. We tied last year's streak of 21 straight stifling days of triple digits and as of this writing, we're sitting at (50) total days this year. Also making a comeback are the apocalyptic aphids, spinning delicate, silky webs in our trees and churning out clumps of lacy leaves after feeding. While the scorching sun and reduced rainfall have led to plenty of landscape challenges, luckily, our valued clients have our veteran expertise in diagnosing, treating, and providing preventative solutions. Discover how we can help you handle the heat-related hurdles in this year's guide to essential fall landscaping services.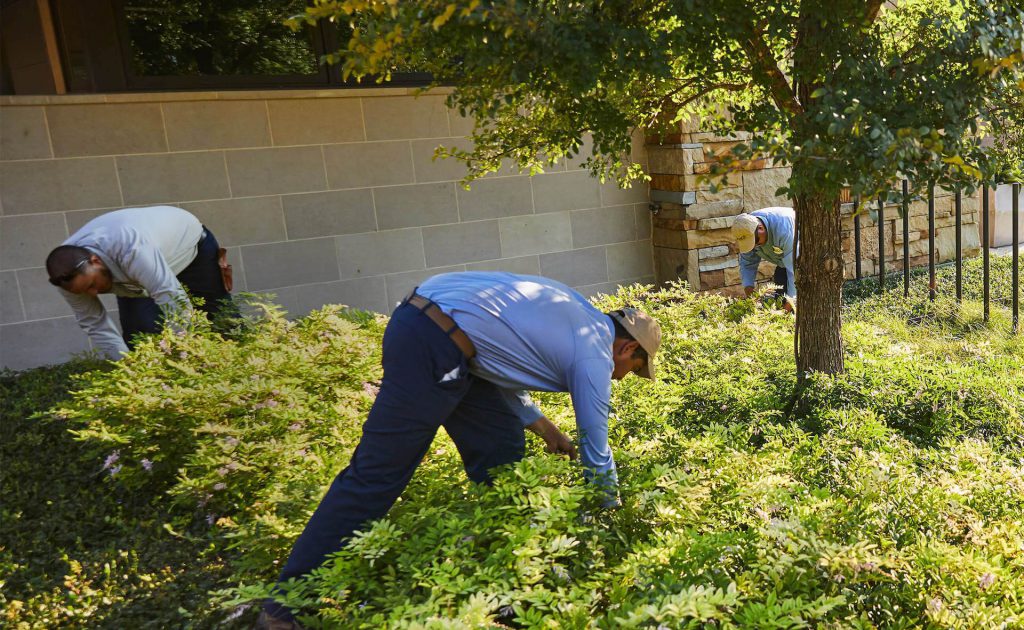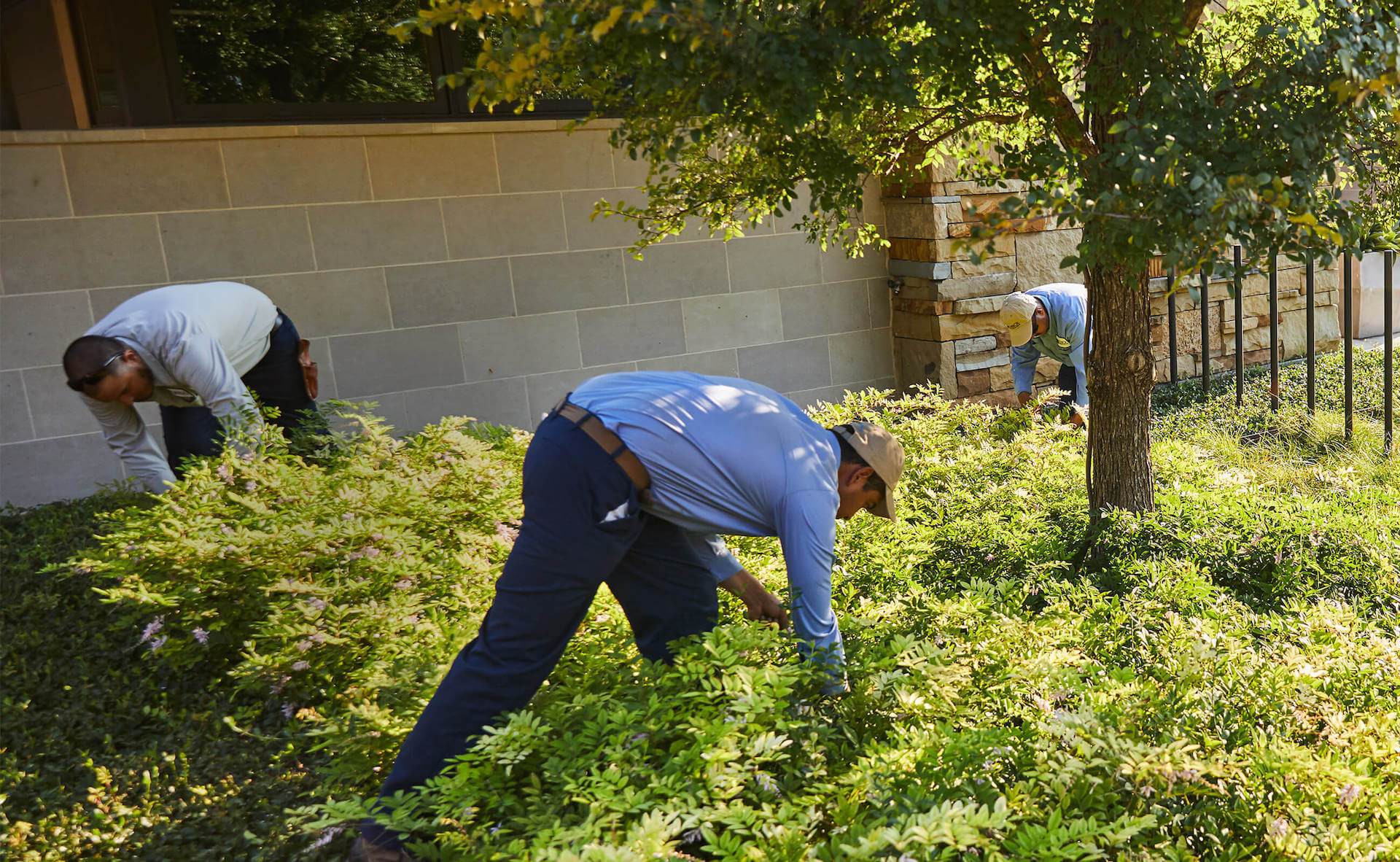 Challenge #1: Messy Lawns and Garden Beds
If it seems like the second you sweep your porch, another wave of woeful webbed leaves graces the threshold, you're not alone. Between our ecosystem being out of whack and autumn looming, lawns and garden beds are becoming overwhelmed by falling debris.
Solution: Landscape Maintenance
Awaken the natural splendor of your outdoor living space with landscape maintenance from Bonick Landscaping. As part of our estate management services, our team of expert arborists, designers, and landscape specialists will provide year-round maintenance to protect and beautify your garden. Through a range of comprehensive concierge services including plant and tree healthcare, seasonal color design, and management of your irrigation and sprinkler systems, Bonick will preserve your landscape investment and enhance the curb appeal and value of your estate.

Challenge #2: Reduced Fall Foliage
As Texas A&M Forest Service suggested last year, "A summer without significant rain could lead to autumn without significant fall colors. Despite patches of late summer rain, much of Texas remains abnormally dry or in some stage of drought, and trees across the state are continuing to show signs of stress."
Sadly, these canopies in calamity will likely cease to produce such vivid reds, oranges, and yellows we're accustomed to seeing come November.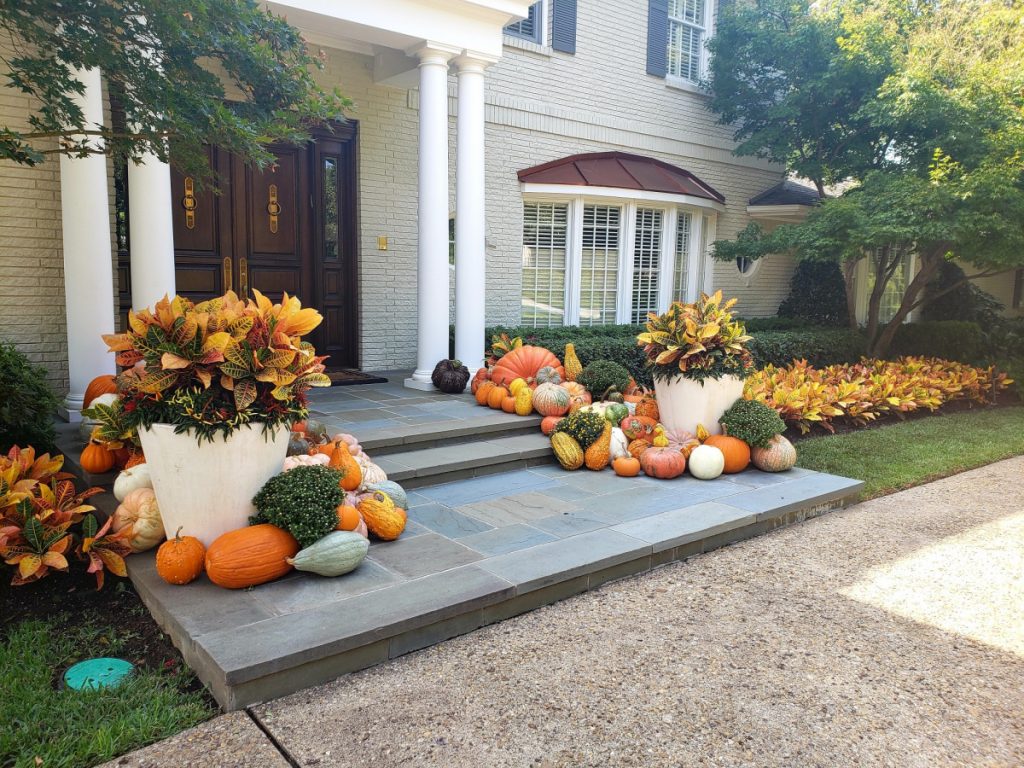 Solution: Plant & Tree Care +  Adding Seasonal Color
Plant health care is a vital step towards comprehensive lawn and garden maintenance. After this scorching summer, our expert plant care specialists will provide TLC to your stressed plants, and manage all aspects of soil management, weed control, root health, and the vitality of your lawns, gardens, shrubs, and trees.
In addition, our team of landscape designers can transform tired landscapes and cultivate curb appeal by adding beautiful fall blooms, pumpkins, gourds, and auspicious annuals.

Challenge #3: Insect Infestation
Aphids
Aphids, also known as "plant lice" feast annually on agricultural and horticultural crops. Their favorite suitors include chrysanthemums, ash, barberry, boxelder, crape myrtle, jasmine, flowering almond, gardenia, hibiscus, hydrangea, mountain ash, oaks, oleander, peach, pear, pecans, pines, roses, vegetables, and viburnum. Aphids don't notably cause trouble to healthy plants, but once again, due to another extreme drought and hellaciously high temperatures, these calamitous creepy crawlers are multiplying at an alarming rate. In fact, aphids reproduce faster than any other insect. Although their lifespan is only around a month, this hungry colony feasts on the limited supply of luscious leaves, literally leaving our plants lifeless.
Aphids suck sap from plant tissue, foliage, twigs, limbs, branches, fruits, flowers, or roots of plants. Due to this year's ample aphid population, and overlapping lifecycles, we're seeing exponential remnants of their exoskeletons adorning plants and trees, often falling in clumps onto our lawns, decks, and patios.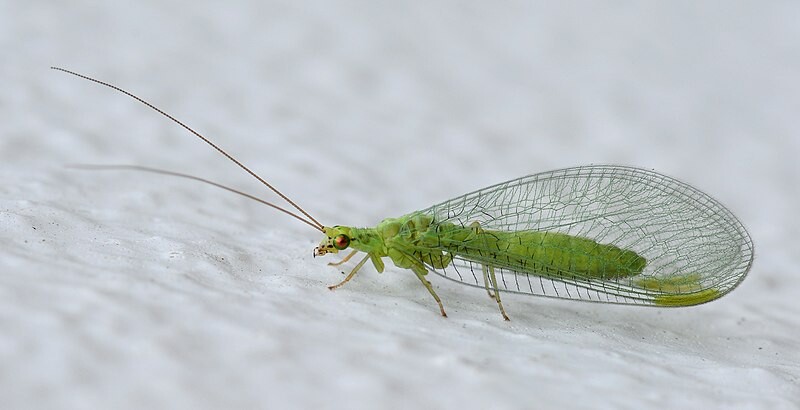 Solution: Patience & Beneficial Bugs
Never fear, nature is busy combating this phenomenon and we can see it at work through the food chain. Beneficial bugs such as ladybug larvae, praying mantes, parasitic wasps, and green lacewing larvae, help reduce our rampant aphid population. So, sit tight and allow nature to run its course.

Challenge #4: Dirty Pools
With swimming weather extending well into September, it's crucial to continue to maintain your pool in order to maximize enjoyment and entertain guests. In addition to debris raining onto lawns and garden beds, pools positioned near trees are targets, if left uncovered.
Solution: Pool Cleaning
If you're not already enrolled, we offer stand-alone weekly pool cleaning & maintenance service in the DFW area, or we can maintain your pool or water feature as part of our monthly garden care maintenance packages.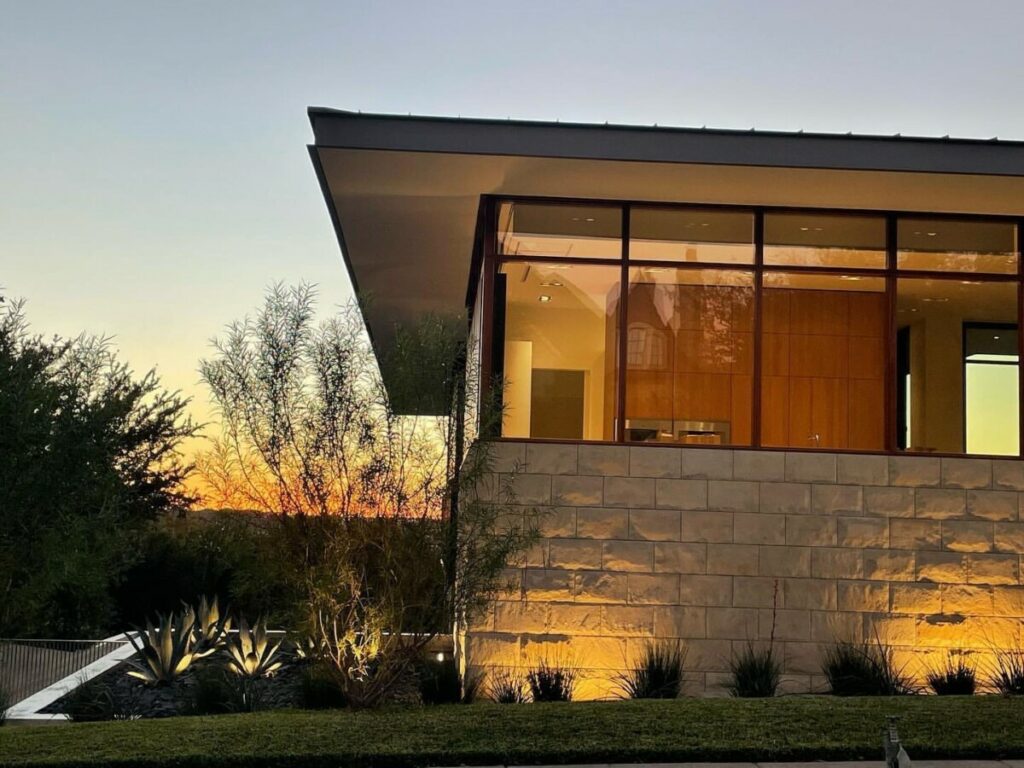 Proactive Planning
In addition to grounds cleanup and care, autumn is the ideal time to engage in proactive planning to ensure a healthy landscape and prepare for next spring. We offer preventative fall landscaping services to ensure that your estate can survive the seasons.
Fertilizing
Feeding your lawn strengthens its roots and helps it stay healthy throughout the winter months. Fertilizing will simultaneously provide a strong base to thrive next spring.
Overseeding
In DFW, our clients' lawns boast beautiful warm-season grasses such as St. Augustine, Bermuda, Buffalo, and Zoysia. In the winter, when these grasses go dormant, they turn brown. Overseeding a warm-season lawn with cool-season perennial ryegrass or fescue provides an attractive green lawn year-round.
Autumn & Beyond
Here at Bonick, we're constantly educating ourselves and exploring how to stay proactive as climate change, weather patterns, and phenomenons perplex, challenge, and motivate change. While our trained garden managers can certainly assess and address any potential damaging threats, our best advice rather than combatting the critters is to be patient and allow nature to take its course. Winter will be here before we know it and we'll be awaiting the next hurdle.
For now, our teams have access to a plentiful supply of pumpkins, gourds, and festive annuals and perennials to adorn your estate for fall. Contact us for a seasonal spruce-up with fall landscaping services and treat your Halloween and Thanksgiving guests to a well-manicured estate and colorful curb appeal.
---
Resources:
https://www.weather.gov/fwd/danncon10
You may also enjoy:
Dazzle Your Landscape with Fall Color
Five Tips for a Flourishing Fall Vegetable Garden