< Back to News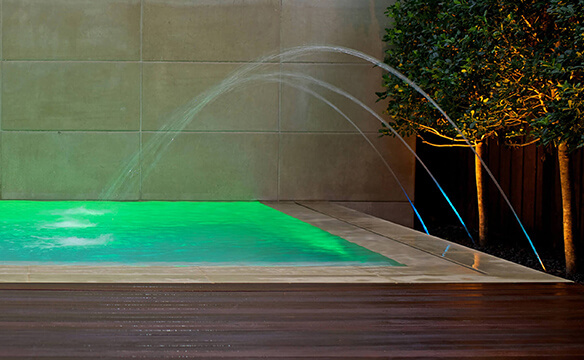 New Looks in Natural Stone Landscape Design
Defining the character of your landscape design is not only achieved by the design itself; equally important are the materials and textures chosen. One of the many benefits of working with a landscape design professional is their knowledge of, and access to materials that reach beyond run-of-the-mill to create a truly custom and beautiful outdoor environment for your home.
In hardscape design, natural stone continues to be the most desired material and offers a wide array of options in colors, textures, patterns, and beauty that simply can't be achieved with other materials. New choices are changing the way we can dress up walls, paving, and other hardscape features.  Below are few of the more popular stone choices, along with some of the newer textures available today.
LIMESTONE continues to be a popular choice for landscape design projects of all kinds. It is a durable, sedimentary rock that has been a popular building material for centuries (the Empire State Building in New York is made of limestone). It's quarried all over the world and comes in various grades of durability and many colors from white to black and even red. Light-colored limestone deflects heat and stays cool, making it a good choice for patios and pool decking. But limestone is also a good choice for walls, footpaths, fireplaces and fire pits, fountains, stairs, columns, and other hardscape features.
New On Our Design Boards: Limestone with interesting textures are trending, like black honed limestone. A honed finish is created the same way a polished finish is except a coarser grade of grit is used. The finish is like a smooth, matte finish; the opposite of a polished finish. Honed finishes are popular choices indoors and out for flooring, mantels, hearths, and vertical surfaces. Another great look is grey adze limestone. The adze finish is named for a stone-age cutting tool shaped somewhat like an axe. It is a beautiful, no-slip, highly-textured finish that adds interest and takes pavers, stair blocks, coping, columns, fireplace surrounds and other outdoor hardscape features to the next level. Also shown here is black corduroy limestone. The corduroy finish is belt sawn to produce a smooth surface with slight grooves that provides a rich texture and feel for architectural elements and paving projects. Limestone is always a popular choice with our clients, especially Leuders limestone, which is known for its color range, distinctiveness, and durability.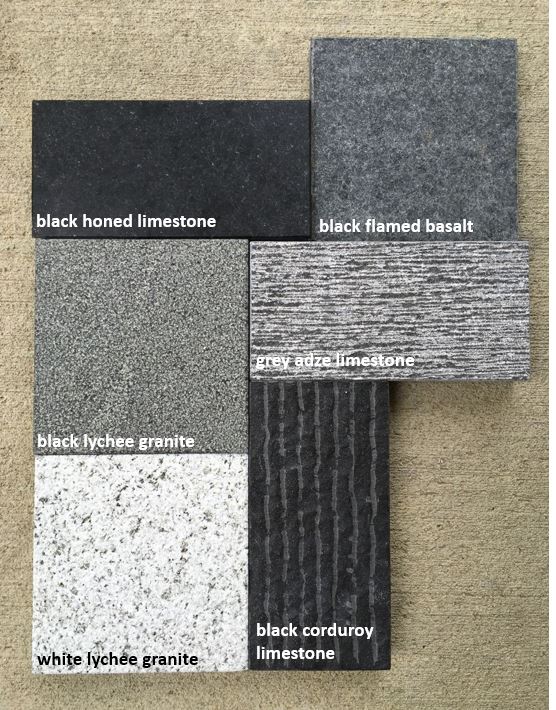 GRANITE is an igneous rock that has been quarried since ancient times and comes in a wide range of colors and is available in large hunks. It has long been valued in building for its beauty, strength, superior weathering durability, and abrasion-resistance. Granite has innumerable landscape design applications including stair treads, pavers, flagstone, fountains, outdoor countertops, gravel, and more.
New On Our Design Boards: Popular for many years for commercial use, granite with a lychee finish is finding its way into more residential designs. Both black and white lychee granite are pictured here. White lychee granite, in particular, is widely used in hotels, restaurants, public buildings but seems fresh and new in outdoor home settings. The lychee finish gets its name from the lychee fruit skin, which it resembles. Lychee is an even, non-directional, hammered finish that brings a depth and richness to granite and other natural stones. Honed and sandblasted granite are popular choices with clients.
BASALT is a dark, fine-grained volcanic rock that is one of the densest stones on earth. Like limestone and granite, it has been used in building for centuries. (Basalt was used in stadium seating and as street pavers during Roman Empire.) Basalt is valued for its hardness, uniformity of color, and endless finish possibilities. It is suitable for exterior applications where freeze-thaw cycles are a concern and is a unique alternative to everyday paving materials and a good choice for landscape design features such as patios, garden terraces, pathways, walls, fire and water features, etc.
New On Our Design Boards: Textured basalt, like the black flamed basalt pictured top, right. The flamed finish is achieved using an extremely hot flame (thus, the name) that removes the outermost grains and results in a rough, textured surface that resembles naturally weathered stone. It creates a non-slip finish that is a good choice for pavers and flagstones.
These are just a few of the many choices that are out there today that our designers at Bonick Landscaping are excited about for their projects.
For over 30 years, Bonick Landscaping has served Dallas area clients with the highest standards looking for out-of-the-ordinary luxury landscape design and pools by offering the best in service, workmanship, and plantings. Services include hardscape and landscape design, pool designs, pool construction and installation, lawn care services and garden maintenance, pool maintenance, and more. For discerning clients in Dallas who want to express their own distinctive style through their landscaping, Bonick Landscaping can help you realize your dream. Call us at 972-243-9673 or visit our website at www.bonicklandscaping.com.