< Back to News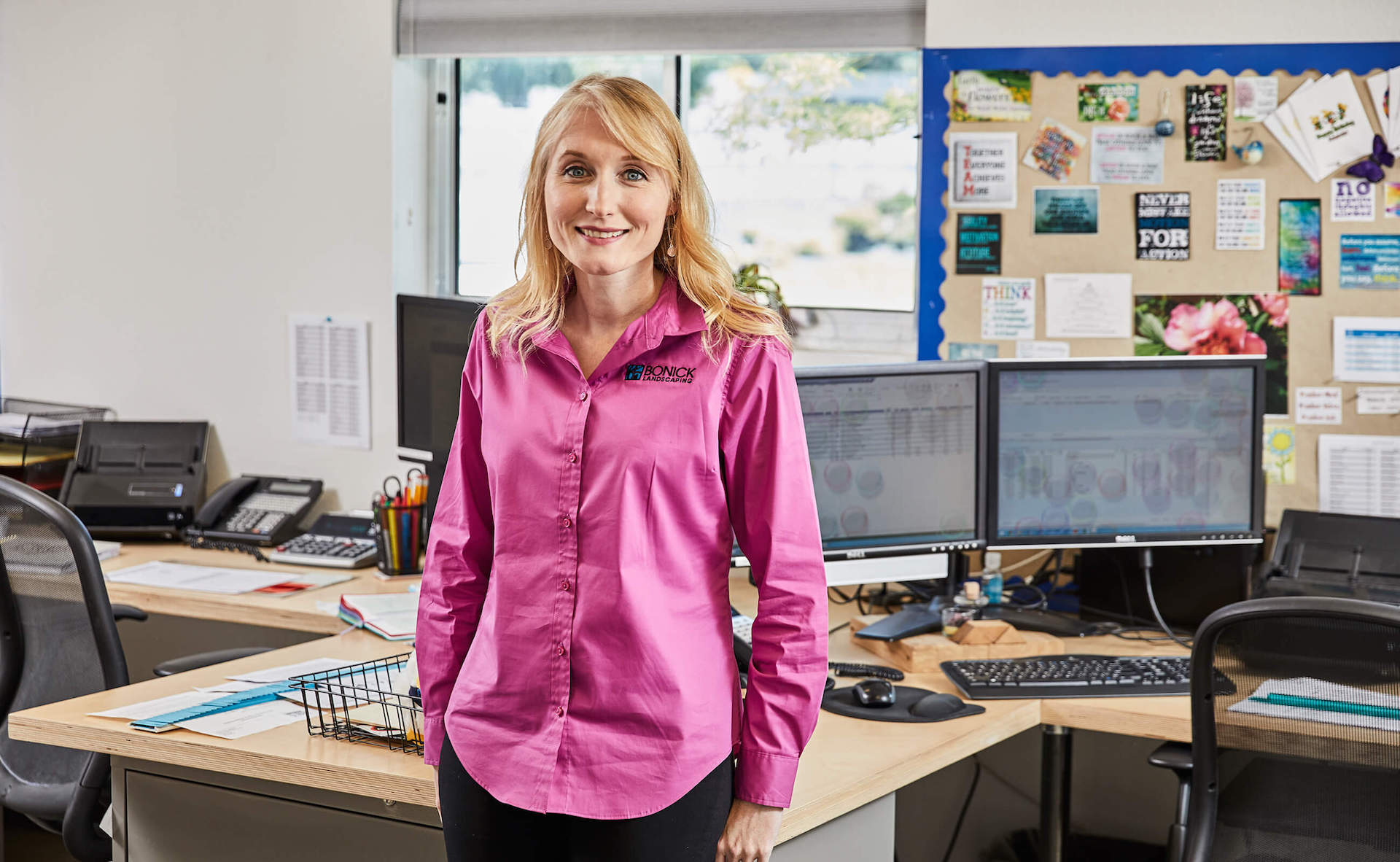 Behind the Backbone of Bonick: Amanda Acosta
In our second installment of our Behind the Backbone of Bonick series, we're shining the spotlight on our dedicated and versatile administrative superstar, Amanda Acosta. Utilizing her skill set like a Swiss army knife, Amanda has graciously stepped in to assist numerous staff, departments, and clients over the years, fulfilling roles in construction, production, accounts receivable, and basically helping our entire office to run smoothly. Read on to learn how this passionate client advocate and administrative juggernaut juggles a busy family while keeping all the Bonick office balls in the air.
Interview by Tammy Vanderkolk
---
Hello, Amanda! Glenn says you've held many positions within Bonick. Can you talk about the different hats you've worn over the years?
My first position was Office Manager when I started back in 2013. I answered the phone, set up new clients, and since this was before we transitioned to a digital filing system, I spent an insane amount of time filing paperwork!
Oh my! Been there. Done that. So thankful for technology! What other roles have you filled?
A year later I was moved into the role of Contract Administrator, which basically encompassed all the duties involved in billing for our larger construction projects. I was in that position for about 4 years until our Production Assistant relocated, and then I assumed that role. I enjoyed assisting the project managers and production manager with product orders and working with the vendors. That was by far my favorite time so far with Bonick. Currently, I am fulfilling the Accounts Receivable Manager position, and I am responsible for the billing for every department.
Wow. Sounds like you've become very familiar with the inner workings of Bonick! What is a typical day look like in your world these days?
A typical day starts by checking my emails and following up on any responses from clients on billing-related issues.  The project managers, designers, and garden managers are extremely busy so I advocate for the clients to make sure any special requests or issues are noted and addressed by the rest of the team. We all work together to provide a level above the typical customer service experience and are always seeking new ways to improve our process and communication.
That's fantastic! What sort of challenges do you face in this position?
The majority of the challenges I face are related to keeping the machine moving.  I am the type of person that will pick up a dropped ball (regardless of who dropped it) so our seamless flow can continue. For example, if there is a change to a job on the fly, I will work directly with the garden manager or salesperson to account for the change on the billing side. This prevents the production team from being bogged down unnecessarily so they can focus on what they do best. I like to save time and our resources to get the job done in the most cost-effective and efficient method possible.
Sounds like you are a talented team player! So, have you encountered any funny or memorable moments at Bonick?
Over the years of working at Bonick, I have made some fabulous friends. One is Brandy Salinas, and she is a whole vibe all her own! I think every funny story I have will involve her. Another friend is Lisa Tran, our AP Manager. We've shared an office and lots of laughs over the years.
Great girls! Brandy is definitely very spirited! Would you mind sharing a specific story for our readers?
Let's see…at our old office on Brockbank, we found a former employee's 4XL shirt, and Brandy thought it would be funny to try it on together. We paraded around the office, amused that we both fit in the shirt that 1 person wore, and Lisa took photos. The happy ending to that story is that the man who originally wore the shirt made a huge life transition and lost around 300 pounds!
Another time, the ladies planned a surprise celebration for Glenn's birthday and we all wore black dresses like in the old 1980's Simply Irresistible video!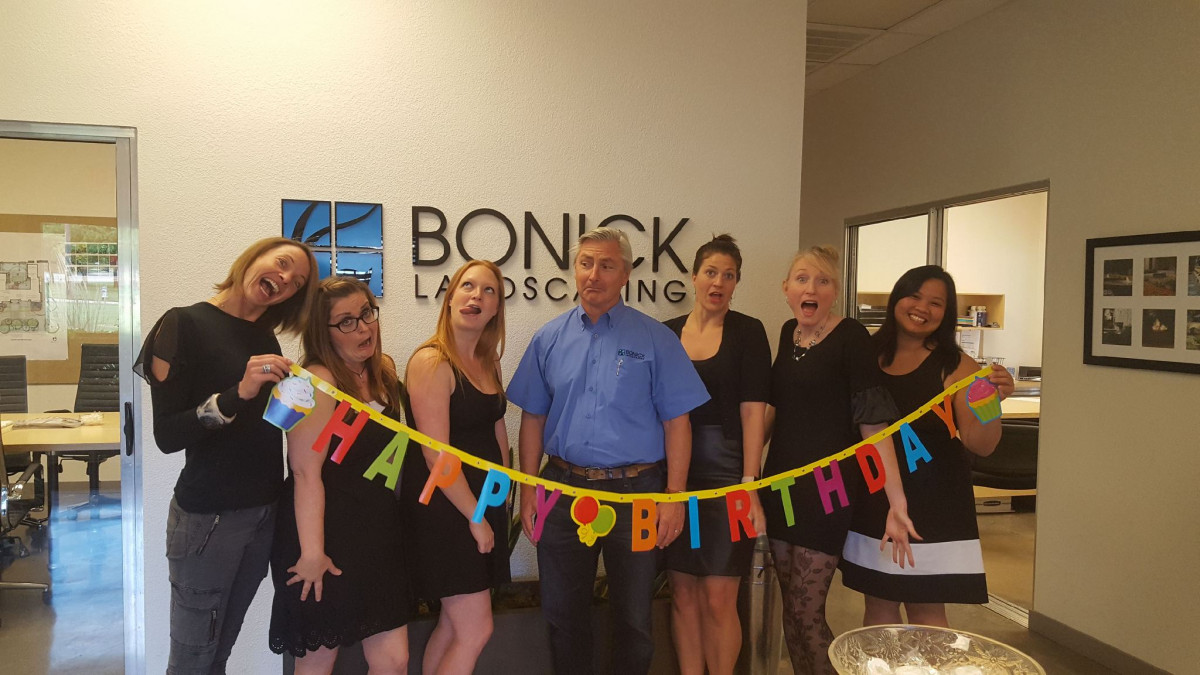 Those are some fantastic photos! How about a memorable moment at Bonick?
Here is a special story about my journey to finding Bonick: As I mentioned, things were pretty rough at my last company, so I began exploring other opportunities. I interviewed with Todd at Bonic, but the company I was working for made me a counteroffer when they learned I was looking elsewhere. In December 2012, I jumped off my trampoline and broke my heel, and had to take a couple of days off work. My old company reneged on their counteroffer and made me feel devalued, so I reached out to the recruiter and asked if the position at Bonick was still available. I was hired the next week—broken heel and all! I was on a knee scooter, crutches, and a cane for several months before I was able to walk on my heel again. Everyone at Bonick was so patient and understanding.  It humbled me and gave me a new appreciation for the gift of simply being able to stand upright and walk, and of course, a wonderful workplace!
Wow. That really says a lot about the culture at Bonick! Ok, let's talk family—I understand you have twin boys & a daughter? 
Yes! My sweet daughter Amaya will be 20 in January. She loves children and animals, and she lives on her own in Las Colinas.  My twin boys Nicholas and Stephen are 15 and they are different as can be.  One is a skateboard and motorcycle enthusiast. He is already trying to get his driver's license and start his own business. The other is extremely passionate about basketball. He plays JV for Irving High School and plays for an AAU team as well. They both started playing sports with T-ball and it was so adorable. I saw then how sports could be a great opportunity for them so I have tried to keep them active. Nicholas is just way more naturally talented in basketball. I nurture their individual gifts and passions as much as possible.  I also have a grey Tabby named Junior.
Sounds like they keep you awfully busy! Do you have any time for hobbies?
My son's basketball takes a huge time and energy commitment, but I do love watching him play so it is worth the sacrifice. I am very fortunate to have other single moms that carpool with me so I can take some time off. I enjoy cooking and gardening and taking beach vacations. I am in the process of remodeling my house so that project has taken on a life of its own. I am ready to get by house back in order. I have a giant tomato plant that my son planted back in March which has become a fun hobby as well. Before I moved to Dallas I grew up with fresh fruit trees, berry bushes, and vegetable gardens so I was absolutely thrilled when my son told me he wanted to start a garden. The tomatoes are just the beginning.
Glad to hear you're able to take some time out for yourself! Ok, last question—what's your favorite part about working at Bonick?
The fresh herb and vegetable garden, duh!  Just kidding! It is awesome but my favorite part is the serenity I feel being here. I worked in an extremely raw and harsh environment for 7 years before coming to Bonick and it was rough mentally, so being in an environment that is peaceful and has pleasant energy is very attractive and rewarding. I like that I can get my job done, feel like I am part of a great team, and know we are all working to accomplish something. Invoices in and of themselves are not very interesting or creative but it's the work they represent that I am proud of.
You are most definitely essential to the success of this team, Amanda!  Thanks so much for taking the time out of your busy day for this interview, Amanda! (I need to come to check out that Bonick garden!)
Yes, you do! Thank you!
Stay tuned for the next installment of our Behind the Backbone of Bonick series with CFO, Todd Coleman.
_________________________________________
You might also enjoy:
Meet Susie Lin, Garden Manager
Meet Landscape Architect, Tom Nugent
Exceeding Client Expectations: An Interview with Glenn Bonick, founder of Dallas-Based Bonick Landscaping
For over 35 years, Bonick Landscaping has served Dallas area clients with the highest standards looking for out-of-the-ordinary luxury landscape design and pools by offering the best in service, workmanship, and plantings. Services include hardscape and landscape design, pool designs, pool construction and installation, lawn care services and garden maintenance, pool maintenance, and more. For discerning clients in Dallas who want to express their own distinctive style through their landscaping, Bonick Landscaping can help you realize your dream. For more information, call us at 972-243-9673 or email us. Visit our website at www.bonicklandscaping.com.