< Back to News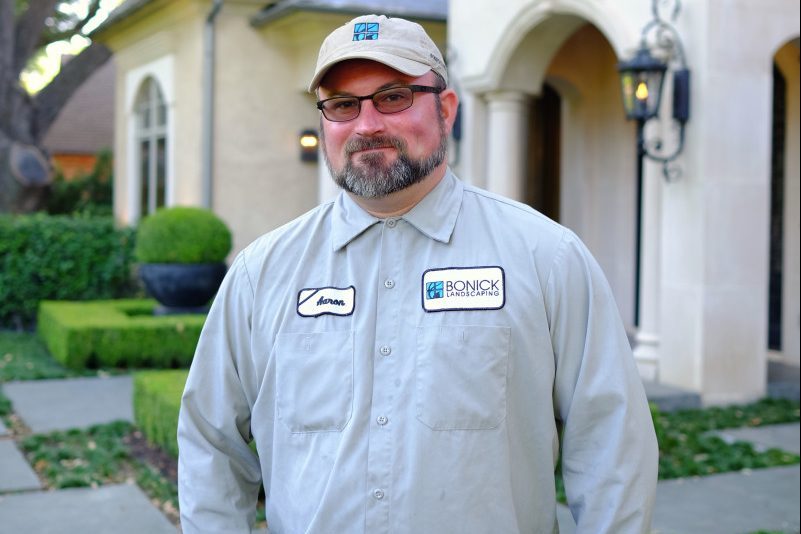 Meet Aaron Dunlap, Dallas Plant Health Care Specialist
As June brings sweltering temperatures to North Texas, the heat and humidity contribute to changes in our soil and outdoor environments. Get to know our Plant Health Care Specialist, Aaron Dunlap, and learn about solving plant and pest issues that may arise in your gardens.
Bonick Landscaping owes its success to the commitment, creativity, and expertise of our employees. Our staff is our largest asset and our biggest differentiator, and we love taking the time to showcase them.

Interview by Tammy Vanderkolk
---
Hello, Aaron! Can you please tell us about your role at Bonick Landscaping?
Sure. I am the Plant Health Care Specialist here at Bonick landscaping. I work directly with the Garden Managers and Maintenance Crews to assess all insect and disease issues in our customers' landscape and turf.
What does a typical day look like in your world?
Nowadays, I start my day by having my temperature checked to maintain a safe workplace. Next, I make my rounds with the crews and garden managers to assess issues that need to be handled from our daily lists. Then I load up and go make the world a more beautiful place.
Love it! So, what was your background before coming to Bonick?
I have 15 years of previous experience as a Chemical Manager at various companies.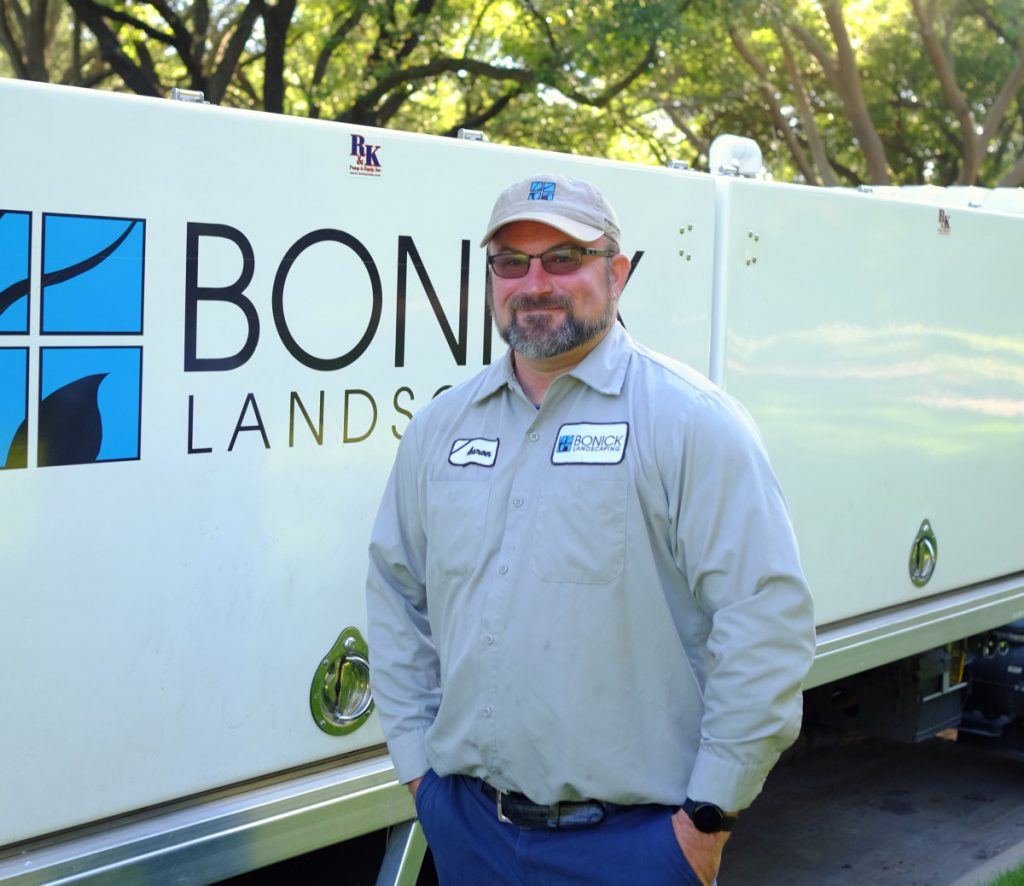 Great! What would you say is the most rewarding part of your job here at Bonick? 
Coming up with new solutions for our customers has been one of the joys of working here. We strive to do better every day and truly care for our customers' outdoor experience.
That's wonderful! I'm sure our clients greatly appreciate you! One of the ways you help is providing mosquito control solutions. Can you share some details with our readers about the various types of options Bonick Landscaping offers?
We offer mosquito fogging bi-weekly and weekly, depending on your preference. Organic mosquito spraying utilizes natural ingredients such as garlic and lavender to repel mosquitos, while traditional spraying kills mosquitos. For the most part, they both work effectively and are safe around pets and people. Both require a 15-30 minute wait time before re-entry. We can also install new mosquito misting systems or fill and maintain existing systems.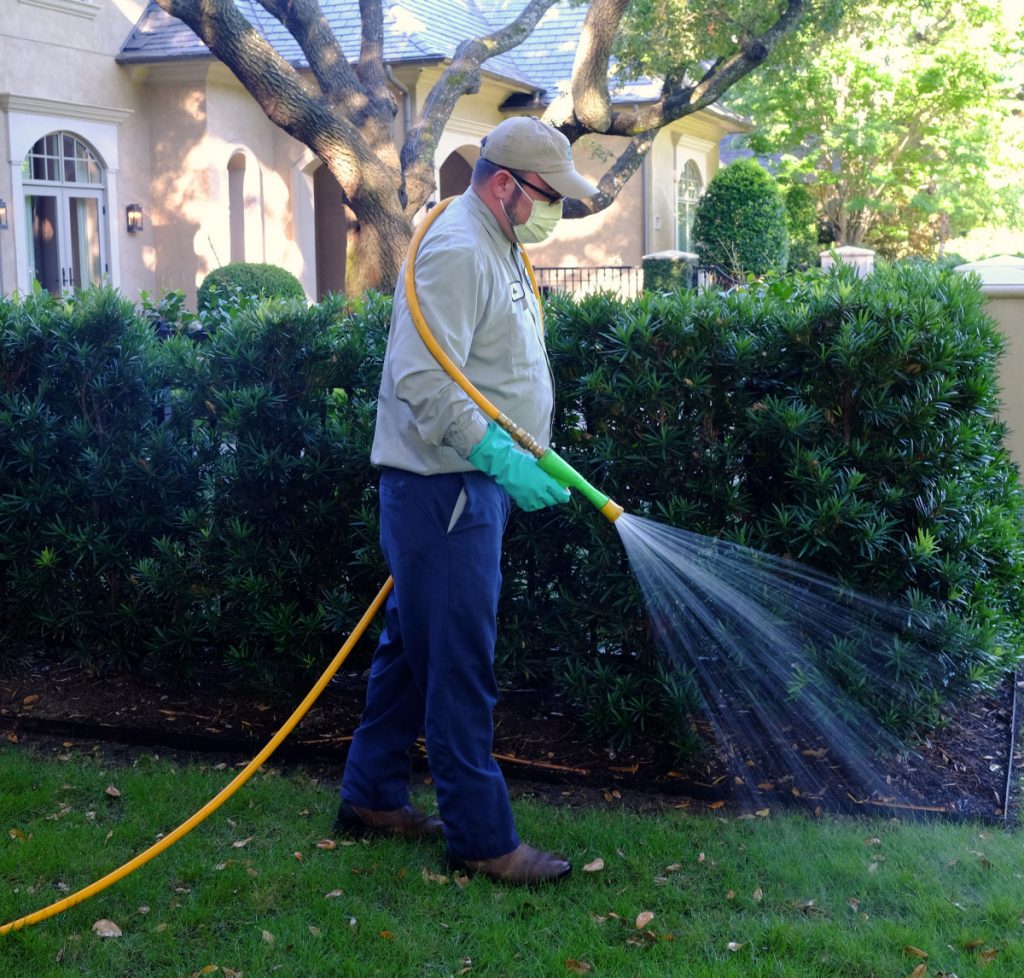 Talk about an essential service! Could you tell us a bit about the importance of soil health and how we address specific issues here in Dallas to assist with plant sustainability?
Since I have become part of the team, we have assessed and addressed new and exciting ways to help maintain healthy lawn and landscape practices. We are now offering aeration and top dressing using organic material to help address the thick, heavy layer of clay we have here in North Texas. To aid in the basic principles of soil mechanics, we add organic material and silt to loosen the clay. This procedure also opens the roots to allow them to grow deeper and collect more water. Thus, less watering is needed, which is one important key to healthy plant sustainability.
Fascinating!  Ok, let's switch gears. Tell us more about yourself— What do you like to do when you're not at work?
I have always wanted to be a chef, but just over the past few years became any good at it. I'm still trying and it is fun. 
So, you're cooking for the next Bonick party, right? Ok, tell us about your family and what they do.
I like to hang out with my son. I take him to his band "stuff" and go bike riding with him. He is enjoying his new school in Grapevine and we are happy with our new life here on the Bonick Team!
Speaking of the Bonick Team, how have you been enjoying your new role? 
It has been my pleasure over the past 1+ years to work in unison with such a wonderful and knowledgeable team! I look forward to working with our clients to handle their individual needs in the future! 
We're thrilled to have you, Aaron, and I'm sure our clients are, too! Thanks for taking the time to answer our questions.
---
You may also like:
Award-Winning Lawn Care Services
Meet Services Division Manager, Ralph Edge
Meet Susie Lin, Dallas Garden Manager
Exceeding Client Expectations: An Interview with Glenn Bonick, founder of Dallas-Based Bonick Landscaping
For over 30 years, Bonick Landscaping has served Dallas area clients with the highest standards looking for out-of-the-ordinary luxury landscape design and pools. We pride ourselves in offering the best in service, workmanship, and plantings. Services include landscape design, construction, plant health care, garden management, pools, and collaborative projects with landscape architects, home builders, and other industry professionals.
For discerning clients in Dallas who want to express their own distinctive style through their landscaping, Bonick Landscaping can help you realize your dream. Call us at 972-243-9673 or email us.